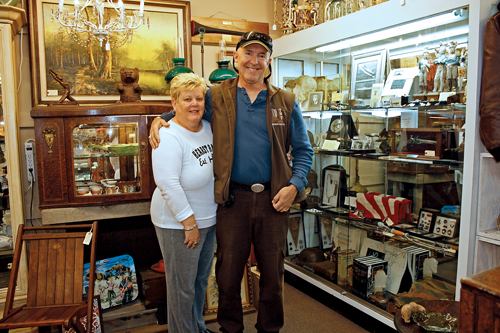 Rich Man Poor Man Antique Mall opens in Redwood Center
"I love Cambria!" Jo Anna Crebs said, "Residents are so welcoming and warm." She was referring to the welcome she and her business associates have enjoyed since Rich Man-Poor Man Antique Mall moved to Cambria in the East Village's Redwood Center. Crebs and her husband Myles have owned the business since 1999 and relocated to Cambria opening on November 1st. "This was an expansion for us," she explained, "and now I wish we had done it earlier. We've had so much community support."


The antique mall occupies a large building in the East Village and houses the collections of approximately 35 dealers. "Our dealers have stayed with us," Crebs said, "We're family." Crebs brother Larry Greene and husband Myles work in the mall with her. Here you can find 18th and 19th century Italian, French, and American furniture, French and Portuguese textiles, French quilts, Native American artifacts and jewelry, Roseville pottery, Waterford crystal, military collectibles, antique toys, and the ever growing popular "Mantiques."
"Nostalgia is what drives this business," Crebs said. She became a dealer herself at one time after amassing her own collection of antique items. Husband Myles used to collect 33rpm vinyl recordings and an assortment of them are sprinkled throughout the place.
A walk through the site shows each dealer's space. Huge 17th century Aubusson tapestries hang from one of the walls. A glass encased cabinet shows off a collection of Santans dolls from Provence, France. Originally constructed for nativity scenes, "Santons de Provence" means little saint of Provence and have been made there since the Renaissance.
Dealers Shelly and Michael Mininni offer a diverse collection of antiques, but Michael especially offers military collectibles and has items from the two World Wars. "I'm always looking for military things that people have kept for a long time," Michael said, "There are a lot of collectors interested in these things."
One of the areas has a display of Bakelite jewelry. Bakelite was a precursor to plastic but has its own distinctive look and feel. It was produced during the Second World War
Should you need a replacement of particular silverware pieces, the mall has an abundant supply of knives, spoons, and forks, all 100% solid silver in a variety of patterns. Have a penchant for Native American items; there is a collection of Kachinas, jewelry, and other handmade Indian items from Arizona.
Several cases hold beautiful diamond and precious stone jewelry. "If someone is looking for good jewelry they should check us out," Crebs said.
Crebs has plans to add garden antiques and other outdoors items to an area out back soon. She also will be having someone who can offer appraisal service joining the group. And furniture refinishing and estate sales service is coming soon too.
Growing in popularity with male collectors is what Crebs has dubbed the" Mantiques." This encompasses things like old tools, knives, fishing gear, and more. "Many men find that these old tools work better than the modern ones," Crebs said.
John Weigand who deals in Roseville Pottery and other antique collectibles has created the section "Big John's Man Cave" at the mall. This is an area devoted to unique and memorable collections that might appeal more to men than women. For instance there are antique toys, trains, and toy cars, baseball cards, antique signs, and service station memorabilia. One section is devoted to old oil cans. "These are very popular with men," Weigand said, "as are the antique toys." The assortment brings to mind the current Cable TV shows "Pawn Stars," and "American Pickers." "I am a picker," Weigand said with a smile. But he doesn't buy junk. "The collectibles have to be in good condition," he said, "For instance the toys have to be complete." Weigand surveys the section with a practiced eye as he stands next to a Bob's Big Boy statue. "I used to go to one of these in Pasadena," he says with a hint of nostalgia.
"It's nostalgia, "Crebs said, "some people just remember how something felt or smelled or they had as a youngster and they have to have it." Whatever the reason time spent at Rich Man Poor Man will open your eyes to the wonderful world of antique collecting.
— Ruth Ann Angus
comments