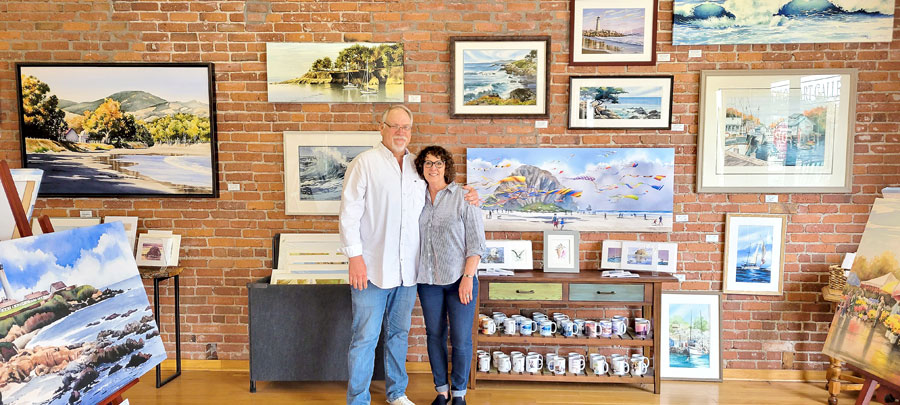 Watercolor Artist Brings Vibrant Landscape and Seascape Art to Morro Bay
—The beautiful seaside town of Morro Bay has long been the perfect location for artists of all backgrounds to hone their skills and draw inspiration. It's no surprise, then, why it was the ideal place for David Rogers, a watercolor artist with 25+ years of art experience, to open his thriving art gallery.
Along with his wife and business partner, Peggy, he established the David J Rogers Fine Art Gallery in downtown Morro Bay in 2018. River Alexander serves as their director of marketing and customer service.
"When we lived in the valley, we came to the Central Coast for mini vacations and fell in love with the area," David said. "We have been welcomed into this area with open arms and we are so appreciative of the positive response to our gallery and the art instruction. Morro Bay is obviously a very beautiful place to live, but the people are just as beautiful."
Self-taught artist
Even as a young child, David said he never questioned his path in life as an artist. A self-taught artist destined to take his talent to the next level, David built on his skills with a trial-and-error approach to his pencil drawings and his preferred medium, watercolor.
"Watercolor is a natural transition from drawing, which was where I started," David said. "The two mediums are similar in that they are subtractive, meaning the artist is not only preserving the light but, at the same time, removing the light with shadow."
In other mediums, he explained, the reverse is true. It's also why watercolor has a reputation for being the toughest of all mediums, and why many find it difficult to switch from mediums such as oils or acrylics to watercolor.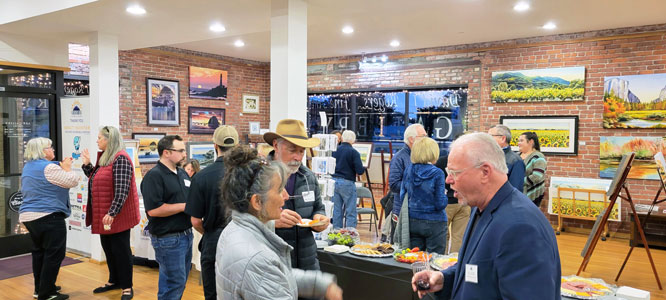 Workshops & commissioned artwork
With his "learn by doing" method, David is able to share in minutes what took him years to learn. First explaining the how and why of each technique, he then guides students through a hands on process.
"We've had several students who have never picked up a paint brush before create beautiful works of art on their first attempt because they now have the confidence and belief in their abilities," he said. "Confidence comes from experience, and when your experience is successful, you gain even more confidence in yourself and your painting abilities."
In addition to his workshops, David cherishes helping customers transform their photos and ideas into stunning original pieces of art.
"There is something uniquely special about giving a client a personal memento of a loved one that you know is going to become a cherished heirloom for many generations to enjoy," he shared.
Sharing peace & serenity
As a couple, David and Peggy's goal has always been to give back, contribute to, and, hopefully, make a difference in the world around them in their own unique way. They apply this mindset locally as they witness people visiting the Central Coast to escape the everyday hustle and bustle of life and relax in the serenity of the area.
"They are seeking something they can't get anywhere else, David said. "My sincere hope is that, as an artist, I am able to provide them with a tangible part of the experience they can use as a touchstone, something that will transport them back to a place of peace and serenity."
The David J Rogers Fine Art Gallery is located at 407 Morro Bay Boulevard, Morro Bay. For more information visit davidjrogersart.com, follow on Facebook, or call (805) 225-5077.
—Meagan Friberg
comments