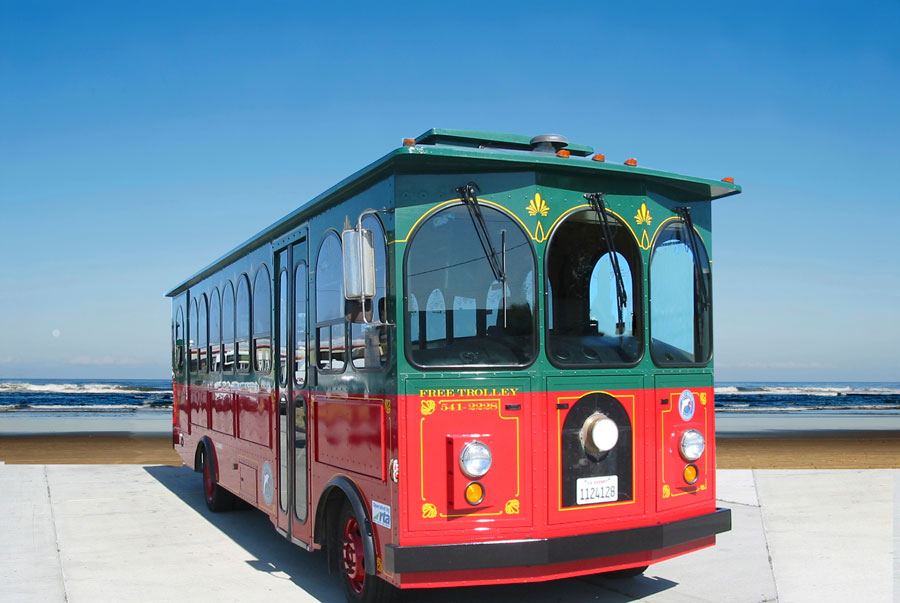 The popular fare-free Beach Trolley that travels from Pismo Beach to scenic Avila Beach and the Friday Night Avila Fish and Farmer's Market has increased its schedule for all San Luis Obispo County residents and visitors to enjoy this summer.
The Beach Trolley, which provides a tour of the area, operates from 10 a.m. to 6 p.m. Thursday through Sunday until September 1. Please see www.slorta.org/Avila for a complete schedule. Riders can enjoy world-class scenery while traveling on a rubber-tired Trolley replica that features a nostalgic livery, big windows, and brass and oak interior trim.
The safe and convenient hourly journey starts at the Pismo Beach Premium Outlets at the top of each hour and continues to Avila Beach Drive where passengers travel through a thriving canyon featuring wildlife, flora, hot springs, hiking and bike trials before reaching the picture-perfect Avila Beach waterfront and the Port San Luis pier.
On the return trip, passengers can enjoy numerous stops throughout Shell Beach and Pismo Beach, highlighting hotels, restaurants, shops, free beach access to sites such as Dinosaur Caves Park and experience why life in these small ocean front communities is renowned worldwide. The entire roundtrip takes only 60 minutes, so riders can depart the bus anywhere along the route and know that it will return every hour to the same spot to complete their trip.
During the non-peak season between September 5 and October 12, Beach Trolley services will be reduced to Saturdays and Sundays between 10 a.m. and 4 p.m.
An exciting destination is the Friday Night Avila Fish and Farmer's Market where a slew of vendors provide world-class food, fresh produce, a variety of booths and live entertainment. A second trolley is added for this service, which operates from 4:30 pm to 8:30 pm, providing service from the Avila Barn at the top and bottom of each hour. The route includes service to the Woodstone Marketplace in Avila Village, and a bus stop right at the Fish and Farmer's Market Plaza – closer than any nearby automobile parking spaces.
The fare-free Beach Trolley services are funded through a partnership between the County of San Luis Obispo and the Avila Beach Community Foundation. The Beach Trolley served more than 10,000 passengers last year.
The Beach Trolley services offer easy connections with San Luis Obispo Regional Transit Authority's Route 10, a regional bus service that connects Santa Maria to San Luis Obispo and communities along the way. Route 10 can be boarded at the Pismo Beach Premium Outlets. The Beach Trolley also connects with South County Transit's Routes 21 and 24 that serve the Five Cities Area.
Students this summer will also have the freedom to explore the Central Coast with free rides on all fixed route transit agencies participating in the "Youth Ride Free" program. The Youth Ride Free program is focused on expanding the travel independence of students through the 12th grade, and is provided through Regional Rideshare. Free rides for youth will be valid on RTA, SCT, SLO Transit, Paso Express and Morro Bay Transit. Young riders need to show their student identification to the driver as they board the bus, and the program operates between June 15 and August 15. Regular fares apply to Morro Trolley and on all Dial-A-Ride services in the region.
The program provides young county explorers with daily and safe passage to the beach, shopping, wildlife, biking, recreational areas, libraries, historical sites and many special events. Students can also take advantage of buses destined for Santa Maria, Hearst Castle or just enjoy other special summer services including the Beach Trolley.
Groups of ten or more can also take advantage of this program, but they must work with our operations staff to ensure other riders are not adversely impacted. Please see our guidelines at http://slorta.org/about/youthridefree.
RTA Executive Director Geoff Straw believes the Youth Ride Free program allows young people to be more independent and ease the need for parents to shuttle their children around.
"We hope that this program convinces our community's youth that public transit is a viable and cost-effective alternative to the single-occupant vehicles when making travel choices later in life," Straw said. "Welcome aboard!"
comments