Get new or used golf clubs, repairs, clothing and work on your golf swing
Golf and More is filled with 1500 square feet of clubs, drivers, irons, apparel, hats, spikes, gloves, push carts and most anything else a golfer wants or needs. It's the essential go-to golf shop in San Luis Obispo County. Need new spikes or grips? Want custom fitted clubs or your clubs lengthened or shortened? Clubs need repairs? Owner George Dodge and his team are ready to help. The wide selection of equipment, clothing and accessories caters to men, women, teens, and children. Find supplies for beginners to pros, instructional materials and expert services.
Dodge, following a dream to open his own golf shop, traveled to the Golfsmith training program in Texas then opened Golf and More in 2010. Since then, Dodge, friend Doug Kerr and the rest of the team have created the perfect spot for golfers to get help, tips and advice, equipment, repairs and practice their golf strokes. The entire team, with a combined 100 years golfing experience, is sure to help your find exactly what want.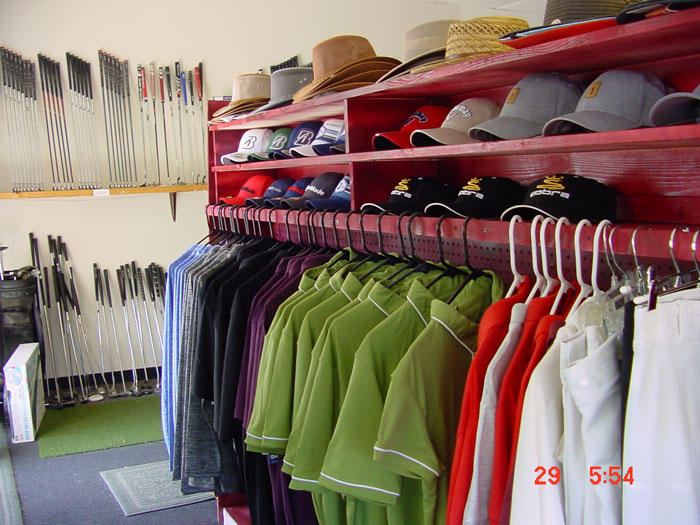 Looking for a place to practice? Doug Kerr can help you at Golf and More's indoor hitting bay where his informative lessons inspire beginners, teens and children to practice their swings. Kerr prepares beginners to enter the real world for training on a range and Dodge is a certified putting instructor.
Need a repair? Golf and More has efficient service and a quick turnaround. Dodge said, "We particularly specialize in used clubs which will save you a lot of money," said Dodge. "The Central Coast is home to world-class courses, and our shop is the perfect place to visit before playing a round."
An avid golfer for over 50 years, Dodge has personally played the Central Coast golf courses. "I like all of the golf courses around here equally but I play Morro Bay a lot and Chalk Mountain; they are all really great courses," said Dodge. "We are very lucky and blessed to live in a place where people can go out and play golf for reasonable fees. We have around 15 great courses within 30 miles."
Leading up to opening Golf and More, Dodge spent 23 years in Army Intelligence. He also ran the Atascadero based "The Link," an organization that helps families and children in connection with schools throughout the county.
Golf and More is located at 9965 El Camino Real, in Atascadero. It's open Monday- Saturday from 9 a.m.- 4:30 p.m. For more information visit golfandmore.us or call (805) 460-6900.
comments