Check out the wide selection of new and used golf clubs, accessories, clothing, golf simulator
The Central Coast of California is not only a beautiful place to visit, but is also home to many world-class golf courses to choose from. Golfers can expect to find approximately 15 courses up and down the coast and can play year-round in a comfortable, relaxed Mediterranean climate.
On any given day, golfers can play a game in the cool ocean breezes of Los Osos, Morro Bay, SLO, Nipomo or Arroyo Grande. In the North County, play in Paso Robles or Atascadero, and discover your favorite place perfect for an afternoon of golf and great views. The many beaches, rolling hills and resorts cater to a golfer's every whim and visitors can find wonderful, and well-suited golf courses. SLO County is home to more than 200 wineries where golfers can enjoy a diverse range of places where wine tours and golfing go hand-in-hand.
Golf and More was opened eight years ago by golf enthusiast George Dodge, who has over 50 years of history and experience with golf. The shop's employees boast a combined history of 100 years in the golf world, which makes it the perfect spot to get help, tips and advice on golf club selections and repairs. Dodge spent 23 years in Army Intelligence, followed by schools for business. He also ran a non-profit, "The Link" for 10 years, which is based in Atascadero. It operates throughout the SLO County to assist families and children in connection with schools and Junior Highs.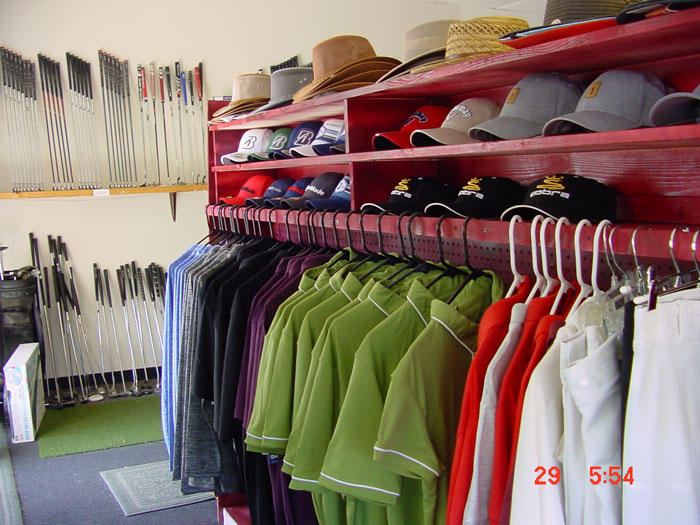 Dodge had a dream of opening up his very own shop so he traveled to Texas where and attended a training program operated by Golfsmith for club fitting and repair. For the past eight years, Dodge has helped local golfers with their clubs, and he's operated Golf and More with the help of friend and employee Doug Kerr. Their specialty and their knowledge is sure to help customers find exactly what they are looking for.
Looking for a place to practice? Doug Kerr can help you at Golf and More's indoor simulator, where his informative lessons can help inspire starters, teens and children to practice their swings. On a regular basis, Kerr prepares beginners to go out and get in the real world for training on a range and Dodge is certified by Seemore Putting to give putting lessons.
Golf And More has over 1,500 square ft. of clubs, drivers, irons, apparel, hats, spikes, gloves, push carts, and much more. It's the place to go in SLO County for every essential golfer service- like changing spikes, grip installation, shortening clubs, lengthening clubs, replacing the shaft, or installing and resetting heads. The golf shop is ready to help select the right club, or help repair your favorite your one. Their wide selection of clothing and accessories caters to men, women teens, and children. Find supplies for beginners, instructional materials, and many expert services.
Need a repair? Golf And More has efficient service and a quick turnaround for re-gripping with excellent sales every day. Dodge said, "We particularly specialize in used clubs which will save you a lot of money and late model used clubs. The Central Coast is home to world-class courses, and our shop is the perfect place to visit before playing a round."
Dodge said," I like all of the golf courses around here equally but I play Morro Bay a lot and Chalk Mountain; they are all really great courses. We are very lucky here to have a lot of reasonably priced courses where you can play for as low as $10. I just got back from San Diego at a tournament where it cost $100 to play not including the cart! We are very lucky and blessed to live in a place where people can go out and play golf for a reasonable amount of money, and have a number of great choices within 30 miles with around fifteen courses."
Golf And More is located at 9965 El Camino Real, in Atascadero. It's open Monday- Saturday from 9 a.m.- 4:30 p.m. For more information, call (805)460-6900 or visit www.golfandmore.us.
– Cassandra Frey
• Atascadero Travel Guide
• Atascadero Daily News
comments