Family-owned business run by avid RV camping enthusiasts
With miles of pristine coastline, hundreds of wineries, and multiple lakes decorating the region, San Luis Obispo County is the ultimate destination in RV Camping. More personal than a hotel and more luxurious than pitching a tent, renting from Get Away RV in Templeton, will make all the difference on your next vacation.
Craig Hanson, avid RV camper and lifelong resident of the Central Coast has established his family owned and operated business on the premise of excellent customer service to give visitors the hassle-free vacation they have been hoping for. Whether you want to wake up with the ocean right outside your door, parked under an oak tree by the lake or touring vineyards and sampling the local wine, Hanson can point you in the right direction.
If you've been RV camping before or are trying something new this year, Hanson and his son Brandon offer a wide variety of tow-behind travel trailers, fifth wheel travel trailers, and toy haulers. "We have everything from 16-foot trailers to 40-foot motor homes. We try to make it as easy and stress free for our customers to enjoy their stay and that starts with not requiring them to bring the necessities," says Hanson. At your request they will not only personally deliver your rental to your campsite or residence, stocked with pots, pans, dishes, coffee pots, and toasters; but will hook up your RV for you, walk you through how everything works, and answer any questions you might have as well.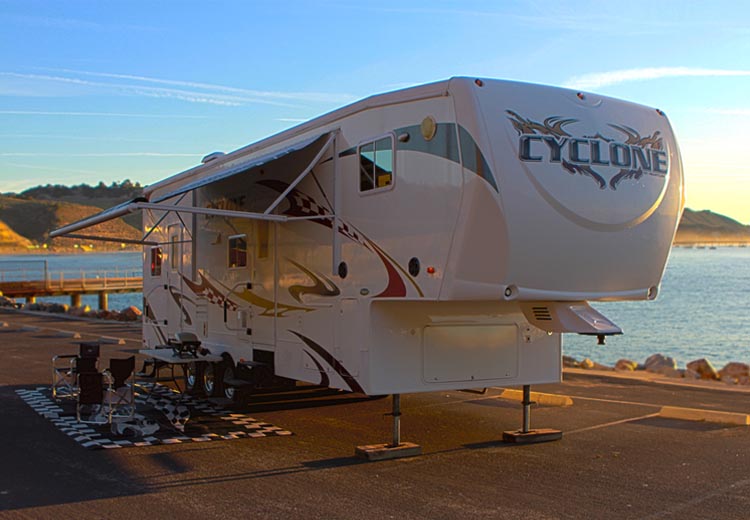 Some popular RV destinations on the Central Coast include: Port San Luis, a beautiful campground overlooking the ocean near Avila Beach; San Simeon Campground, which is located in pristine and remote San Simeon, conveniently close to Hearst Castle, and Lopez Lake, where boating, fishing, or hiking enthusiasts would feel right at home.
As a small local business, they have managed to raise the bar for RV rentals on the Central Coast. They are reachable twenty-four hours a day, and their personalized services ensure that you know who will answer when you call — Craig and Brandon. "We don't do a lot of advertising so it's important that our service reputation speaks for us," says Hanson. With countless reviews raving about just that, it's no surprise that Get Away RV is the place to start your vacation.
With the temperate climate here on the Central Coast, there is no bad season for RV camping, so if you postponed your summer trip you're in luck! Craig is offering discounts on a three-night stay or more starting in September 22.
Located at 61 South Main, Templeton, CA 93465, they are available by phone at (805) 801-3968 or at Get Away RV Rentals. 
– Katie Marchetti
comments