Get out on the waters with Bay Cruisers and Lost Isle Cruises
High tide, warm temperatures, plenty of sun, no fog – it's time to get out on the water in Morro Bay! Taking advantage of some rare winter weather we journey down to the dock behind the Otter Rock Café to meet up with Thomas Pauley and Joli Truelson, owners of Bay Cruisers and Lost Isle Cruises. Our choices for a nice bay adventure are an electric boat rental for an hour or a guided cruise aboard Lost Isle's Tiki boat. We chose the Tiki – probably the best ten dollars we've spent in a long time.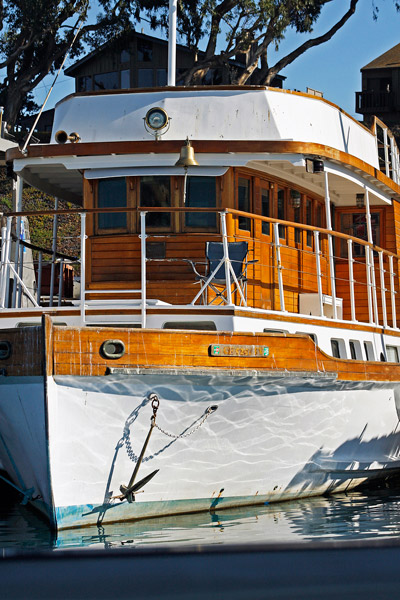 Winter is the best time to see the volume of bird species that frequent Morro Bay. We set off down the harbor alongside fishing boats, yachts, and sailboats. Near one of the piers is an interesting sailboat. "This is a replica of the sailing vessel that Joshua Slocum used to be the first person to circumnavigate the world," Pauley says. We also see a huge vessel with big lights that are used to attract squid and another fishing boat that once operated a drag net, but now aids the California Fish & Wildlife department in deep-sea research.
Busy sea otters floating in the kelp munch on shellfish – they are part of the weasel family and they rarely come up on land, even giving birth in the water. They have from 250,000 to one million hairs per square inch on their bodies to help them keep warm and can dive up to 200 feet down to get food.
We head over to the floating dock, literally covered with California sea lions. Pauley then steers the Tiki into a cove and approaches the sand spit. We ride up to the shore and are let off to stretch our legs for 10 minutes and then we're back on the boat. The Tiki also carries out water taxi trips for those wanting to visit the sand spit for longer periods of time.
We see the large green island in the estuary where white pelicans, shorebirds, herons, and cormorants are roosting. Pauley turns the Tiki and has us look back at the Rock as he points out the shape of an Indian's face on the left side.
The Lost Isle Cruise boating tour is $10 for adults, $5 for children, special Sunset Tour available. Bay Cruisers Electric Boats are $75/ hour; bring along a picnic and beverages. Call (805) 771-9337 for more information or go to www.baycruisers.com.
– Ruth Ann Angus
comments