Folks who remember the good food and wine at Pacific Cafe in Morro Bay will be glad to hear this. Abba is back! Abba Imani opened Abri Waterfront Restaurant on the Embarcadero in October.
Imani, who came to Morro Bay in 1985, has a long history in the restaurant business. "I learned to cook while going to school in Reno, Nevada," he said, "and later worked at restaurants in Palm Springs. On a visit to the Central Coast with my wife, we fell in love with Morro Bay and decided to move here and open a restaurant."
Imani ran Pacific Cafe at the Front Street location for nearly 20 years and also had a restaurant in town called Bay City Grill. Running a restaurant is not a nine-to-five job and when his children complained that they never saw their father, he decided to take some time off. "I retired for a while," he said, "but now I am back."
Imani believes that the way to people's hearts is not only through their stomachs but in offering them good service. "I have to train my staff and I like doing that," he said, "I want them to enjoy the experience of serving the public as much as I do."
While Imani is the executive chef, he doesn't spend too much time cooking although he will do just about anything that is needed even washing dishes. But he is happiest out front greeting people. He trains his cooks in his method of cooking so that the food is exactly what he would turn out.
"You have to love this kind of business," he said, "Every day you come to work and you have to love it more than yesterday." Imani feels that running a restaurant is not dissimilar to any other relationship. "It's like a marriage or like having a baby," he said, "You don't just get to enjoy the good times with the baby, like taking it to the park, you have to change the diapers sometimes too! You have to love the restaurant business when it is busy and when it is slow."
At Abri Waterfront Restaurant Imani serves breakfast, lunch and dinner. Breakfast and lunch are American style food, but dinner is continental or Mediterranean style with pasta specials, lobster, lamb shank, salmon, cod, and calamari just some of the offerings.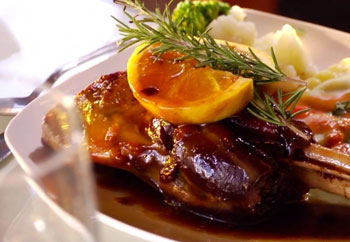 The restaurant is located in the Salt Building at 571 Embarcadero. It is the same spot where the Hofbrau once was located. Imani has decorated stylishly with plenty of comfortable seating and diners have a choice of indoor dining or sitting on the patio where they can enjoy the view of Morro Rock and the harbor.
It is a safe bet that many of the people who loved dining at the Pacific Cafe will be making their way to this new location to enjoy dining with Abba again – you have to love it!
– Ruth Ann Angus
comments