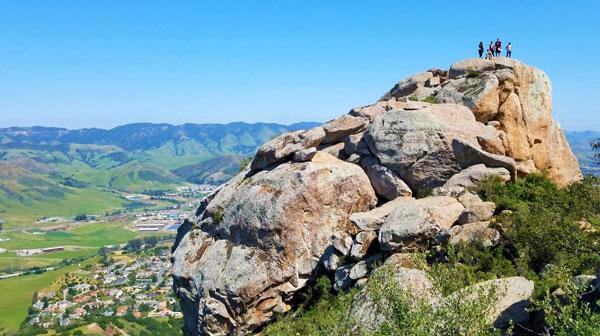 – The Central Coast is a family destination as well as a wine lovers' paradise. It has parks, museums, golfing, and lots of outdoor adventures, including great hiking trails. Whether your idea of taking a hike is a casual stroll with the family or challenging yourself over varied terrain and elevations, the Central Coast has some of the best day hiking in California.
Take half a day to go exploring. Paso Robles offers a number of opportunities for hiking and walking as you enjoy the beautiful weather and gorgeous landscapes. A short drive to the coast or to San Luis Obispo brings even more opportunities.
From young to old, experienced to novice, there's a hiking trail in the Central Coast with your name on it. Trade your glass of wine for some water bottles and take in the beauty that the Central Coast of California has to offer.
Salinas Riverwalk
If you're looking for something on the easy side the Salinas River Parkway Trail, located in Paso Robles, is a 1.6-mile mostly paved trail from the Larry Moore Park to the 13th Street Bridge. The path includes a short section of a low‐grade dirt slope. This trail is perfect for a quick walk and is easy enough for those who may not be physically up to advanced hikes. A section of the trail in the park is wheelchair accessible. Biking is also encouraged.
There are access points from the trail to the riverbed, which can be very scenic. Use caution when the river is flowing.
Visit https://www.prcity.com/268/Recreation-Services and download the Paso Robles Parks and Trails map for more trails.
Shoreline Trail at Lake Nacimiento
Located west of Paso Robles, the Shoreline Trail at Lake Nacimiento is a 5.6-mile looped trail that gives you incredible views of the lake itself.
You'll also enjoy the views of the Santa Lucia Mountains as you walk this dirt trail with an elevation gain of about 1100-feet. You'll also get to experience the local wildlife like deer, hawks, and a variety of native birds.
Cerro Alto
Cerro Alto is located 20 minutes southwest of Paso Robles between Atascadero and Morro Bay on Highway 41 West. The Cerro Alto summit, at 2,624 feet, is one of the highest points in San Luis Obispo County. As a reward for reaching the top you'll be able to see the Nine Sisters, a chain of volcanic peaks stretching to the Pacific Ocean.
There are a couple of ways to hike to this incredible summit from the Cerro Alto Campground. The quickest route is a steep nearly 2-mile hike. If you are not that ambitious take the gradual 2.75-mile route. It's best to research the trails ahead of time since there are additional loops that can be combined to create a little over a five-mile experience. Don't forget to bring water!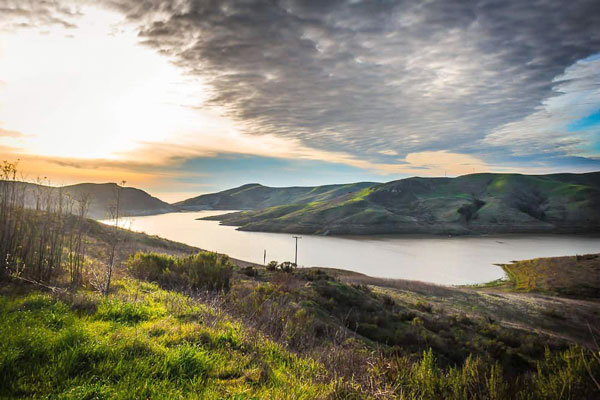 Stadium Park
Stadium Park is located near downtown Atascadero. Take Capistrano Avenue from Highway 41. Continue to Hospital Drive to find parking at the trailhead under the bridge of Highway 41. This 26-acre park is a hidden gem and great for a quick hike. Blue oaks break way to chaparral on this loop hike that has one ascent/decent providing a sharp switchback improved path to a more meandering ascent/descent at the other end. The trail is popular for mountain biking as well.
Whale Rock Reservoir
Whale Rock Reservoir is about a 20-minute drive from Paso Robles on Old Creek Road, which is a winding canyon throughway from 46 West to Cayucos. The hike is a 4.1-mile loop with one main access point off Old Creek Road. It's good for all skill levels and best from April until November. The trail is great for hiking, walking, and trail running. Leashed dogs are welcome.
Valencia Peak Trail
Valencia Peak Trail is a 4.2-mile loop in Montana de Oro State Park with incredible views of the ocean. You'll experience about 1000 feet in elevation gain, so if you have a hard time with inclines this may not be the hike for you, but the views of Morro Bay, Cayucos, and the coastline are well worth the trek.
Bishop Peak Trail
Like the Valencia Peak Trail, you're going to have to drive a little way to access the Bishop Peak Trail, but it's well worth the 30-mile drive.
This 3.4-mile trail is one of the more popular in the area so expect to meet other hikers. The mountain views that seem to stretch forever are the best part of this trail. You'll climb about 1100-feet as you walk towards the summit of Bishop Peak. This trail is for the more advanced hikers and not recommended for those without the physical ability to navigate rocky terrain.
– Jamie Guzman, Paso Robles Wine Country Alliance
comments