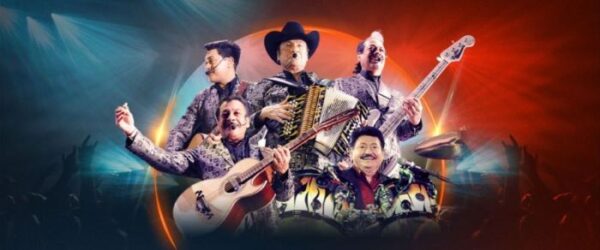 The 2022 California Mid State Fair, which is set for July 20-31, has started to announce headliners for the Bud Light Seltzer Concert Series and the free concerts at the Frontier Stage and Mission Square.
"We're so very happy to be back in 2022! After being forced to cancel in 2020, and then have a modified fair in 2021, it feels really good to once again bring back the big names to Paso Robles. We have worked, and continue to work, very hard on partnering with some of the biggest artists in the music industry. Everyone is very excited for the last two weeks in July," said Tom Keffury, fair spokesman.
For tickets to the fair and concerts or more information, visit midstatefair.com.
---
Darius Rucker — July 21
Darius Rucker, who has cemented himself as a true icon in the music industry, will perform at the California Mid State Fair for the first time on July 21. Rucker is perhaps best known for Hootie & the Blowfish, of which he was the lead singer and guitarist. After transitioning to a solo country act in 2008, Rucker has dominated the Grammys, the Country Music Awards, and the Billboard Country charts. His song "Wagon Wheel" went nine times platinum.
Old Dominion — July 22
For the second time, Old Dominion is set to perform on July 22 with new songs from their recent album "Time, Tequila & Therapy", as well as much loved previous hits. For almost a decade, Old Dominion has seen over one billion streams of their songs, eight singles ranked at number one, two Grammy nominations, and wins from the Country Music Awards and American Music Awards.
Dan + Shay — July 24
Grammy award winning artists Dan + Shay will perform for the first time at the California Mid State Fair on July 24. Dan + Shay are a true country duo powerhouse, winning awards at the Grammys for their songs "10,000 Hours", "Speechless", and "Tequila", at the CMA Awards for Duo of the Year, and many more. Following the recent release of their fourth album "Good Things", which includes the record breaking song "10,000 Hours (with Justin Bieber)", Dan + Shay performed a sold out show at Madison Square Garden and are touring with Kenny Chesney this year. Special guest Carly Pearce will join the duo on stage.
Skid Row — July 25
The first rebellion started in 1986. New Jersey kids, punk and metal attitude, set out determined to conquer the world. The battlefield was the stage, the songs their arsenal in an us-against-them musical coup d'état. Top Ten singles "I Remember You" and "18 and Life" earned gold and multi-platinum sales. Their second Album "Slave to the Grind" debuted at No. 1 on the Billboard 200 album chart. Hit songs include "Youth Gone Wild," "I Remember You," "18 and Life," "We Are The Damned," "Monkey Business," and "Let's Go."
Los Tigres Del Norte — Jul 27
Throughout five decades of recording & touring, Los Tigres continues to be at the forefront of Latin music popularity – still performing regularly throughout the US, Central, and Latin America to audiences up to 100,000+ a night, releasing chart-topping albums and singles, and continually blazing new trails for their music. The group recently released their "La Reunion EP," which appropriately finds the band reconvening at an extended family gathering, once again embracing and strengthening the family bonds between generations that saw them through a long separation. A full-length album version is set for release this spring. The band has sold over 40 million albums worldwide while notching 24 #1 albums, more than 50 #1 singles, and placing more tracks (66) on the "Hot Latin Songs Chart" than any other artist or group. Los Tigres del Norte has received multiple platinum records and numerous awards including the Hispanic Heritage "Legends" Award at The Kennedy Center.
Kane Brown — July 28
Another first time performer at the California Mid State Fair is Kane Brown, who is set to take the stage on July 28. Brown's two studio albums, "Kane Brown" and "Experiment" have landed him on the New York Times Top 10 Best Albums of the Year, number one on the Billboard Country charts, and winner at the American Music Awards. In 2021, Time placed Brown on their most influential people in the world list for his record breaking discography and contribution to the country music genre.
As leader of Creedence Clearwater Revival, John Fogerty forged a distinctive sound all his own, equal parts blues, country, pop, rockabilly, R&B, "swamp boogie," and "Southern-fried rock 'n' roll," all united by his unique lyrical perspective. Fogerty is a Grammy winner and has been inducted into the Rock & Roll Hall of Fame as well as the Songwriters Hall of Fame.  He is the only musician to be inducted into the Baseball Hall of Fame for his song, "Centerfield," a staple at baseball stadiums across the country.  Among Fogerty's many hit songs, both as a solo artist and as leader of CCR, highlights include "Centerfield," "Proud Mary," "Susie Q," "Fortunate Son," "Born on the Bayou," "Bad Moon Rising," and "Have You Ever Seen the Rain," among many others.
comments