Winetasting destination is only minutes from Downtown SLO
Edna Valley is a charming coastal valley located just south of the city of San Luis Obispo and north of Arroyo Grande that boasts dozens of vineyards and wineries. With its gentle sunshine, cool maritime fog and rich oceanic and volcanic soils, the Edna Valley appellation has California's longest growing season.
Driving the back roads of San Luis Obispo County's picturesque Edna Valley is spectacular any time of the year with its rolling hills and vineyards, panoramic views, and historic schoolhouses and barns.
Taste wines in a historic schoolhouse
Traveling down Orcutt Road from San Luis Obispo, the Baileyana, Tangent & True Myth tasting room is the first you will encounter as you enter the Edna Valley. Open year-round, the tasting room is housed in a quaint schoolhouse built by the local farming community 110 years ago. When in operation, the schoolhouse served students ranging from kindergarten through twelfth grade who hailed from the surrounding farmland areas.
For 45 years and three generations, the Niven family has farmed their historic Paragon Vineyard, the largest family-owned and operated vineyard in the Edna Valley. It spans more than 700 acres, producing 11 different varieties of grapes that are used to craft the many wine styles expressed within the family's different brands: Baileyana, Tangent, True Myth, and Zocker.
The wine tasting experience is designed to accommodate all visitors' individual needs, according to Karl Boone, the Winery's Direct to Consumer Manager. "With around 35 different white, red and rosé wines to choose from we can find a wine for every palette, whether the guest is a first-time wine taster or a wine expert," says Boone. With extensive picnic grounds and views, the tasting room is family-friendly and provides a memorable and fun wine tasting experience for every guest.
The Baileyana, Tangent & True Myth tasting room is located at 5828 Orcutt Road, San Luis Obispo. It is open from 10 a.m.- 5 p.m. daily. Group reservations are required for eight or more people, (805) 269-8200.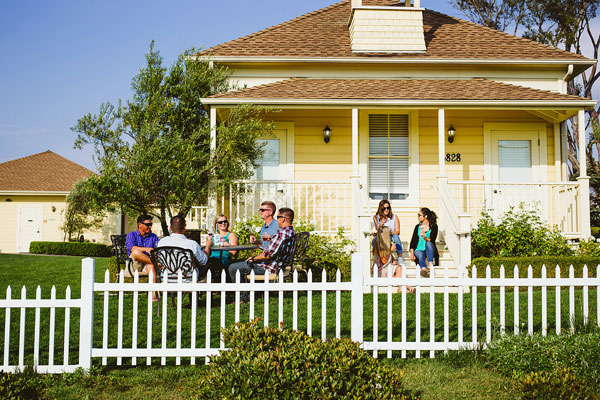 Sustainability championed at Laetitia
The Laetitia Estate property is conveniently located midway between San Francisco and Los Angeles on California's scenic Highway 101. The Tasting Room perches on a hilltop surrounded by Laetitia vineyards with picnic areas, bocce ball courts and a walking trail—all with breathtaking ocean views.
Since 1982, the Laetitia Vineyard & Winery has produced elegant wines that champion the exceptional character and diversity of the Arroyo Grande Valley AVA. Originally founded by an established French Champagne house, the Laetitia estate carries on in the longstanding traditions of Burgundy and Champagne with a focus on small-lot Pinot Noir and sparkling wines.
The winery has employed creative methods such as cover cropping and goat grazing, which preclude the need for harmful pesticides and herbicides or tractors that run on fossil fuels. General Manager and Winemaker Eric Hickey has been instrumental in completing and championing the Vineyard Team's progressive Sustainability In Practice (SIP) certification process, of which Laetitia is a founding participant.
The Laetitia Vineyard and Winery tasting room is located at 453 Laetitia Vineyard Drive in Arroyo Grande. They are open daily from 11 a.m. to 5 p.m., www.laetitiawine.com, (805) 481-1722.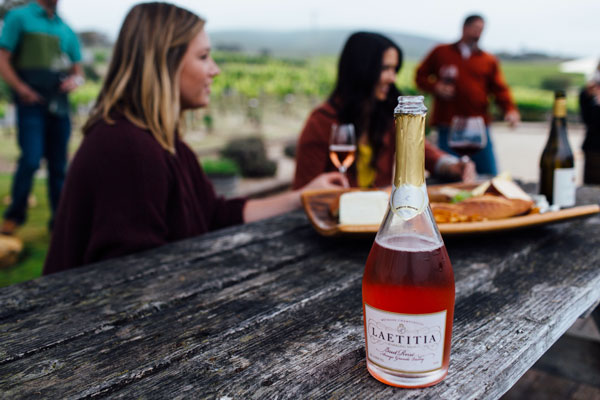 Check out Claiborne and Churchill
Claiborne & Churchill, still run by original owners Claiborne Thompson and Fredericka Churchill Thompson, has been producing Alsatian-style "alternative whites" in San Luis Obispo since 1983. In 1995, Clay and Fredericka built their pioneering, eco-friendly strawbale-constructed winery and opened their tasting room in the Edna Valley, and over the years they have expanded their picturesque garden area to accommodate more guests and larger parties for tastings and seasonal events.
Upscale indoor renovations to the winery's welcoming tasting room, which is, to the delight of visitors, right in the barrel room, allow the popular producer to accommodate more visitors comfortably. For guests who are interested in holding their own private parties at the winery, they take reservations for small, special events such as birthday, anniversary, and graduation parties.
Their guest cottage is perfect for couples hitting the road for a weekend, for parents visiting students at Cal Poly, or for anyone just looking for a relaxing "getaway." The unit is available for vacation rental through the VRBO/Homeaway website, or by emailing elizabeth@claibornechurchill.com.
Centrally located in SLO Wine Country, Claiborne & Churchill's vacation property is only a ten-minute drive from Pismo Beach, San Luis Obispo, or Arroyo Grande, and a fifteen-minute drive to Cal Poly.
Visit the tasting room at 2649 Carpenter Canyon Rd., in San Luis Obispo's Edna Valley; open every day from 11 a.m. to 5 p.m. (except major holidays), www.claibornechurchill.com, (805) 544-4066.
Wine, grappa, and apple brandy at Autry Cellars
Nestled in the heart of Edna Valley, overlooking rows of vineyards and a 40-mile stretch of the Santa Lucia mountain range is Autry Cellars. Owner and artisan winemaker Steve Autry and his tasting room staff pour wine varietals, brandy, and grappa borne from some of the best grapes selected from across the region, along with his signature apple brandy.
Autry Cellars' informal, unpretentious tasting room is, "decorated in early American warehouse" style, jokes Autry. However, don't be deceived by the modest décor. In this tasting room visitors can experience superb wine varietals ranging from best selling petite sirah to malbec and viognier. In addition, you can taste gold medal best-in-class grappa and silver medal-winning American oak and Hungarian oak brandies, awarded by the California Mid-State Fair.
With over 18 years of winemaking experience, Autry became a commercial winemaker 10 years ago and a fully licensed brandy distiller in 2012. A visit to Autry Cellars is about discovery. He says people who visit his tasting room, "come for the wine and discover the brandy." At Autry Cellars, visitors gain access to impressive wines and brandies that are available exclusively in the tasting room. Every wine is unique, and each is produced only in small quantities.
Visit Autry Cellars tasting room at 5450 Edna Road in San Luis Obispo; open 11 a.m. to 5 p.m. daily, autrycellars.com, (805) 546-8669.
comments