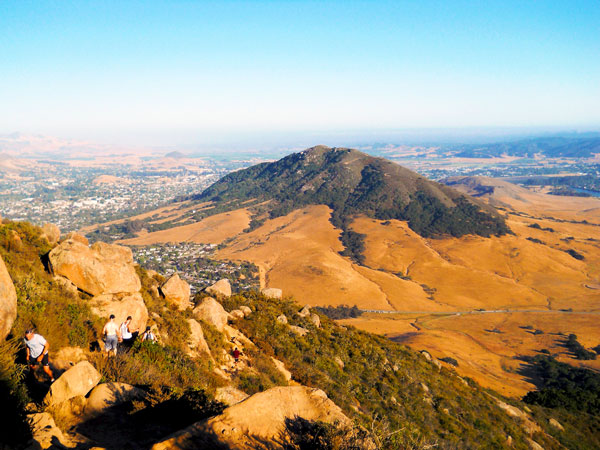 Panoramic views, family-friendly and more
—San Luis Obispo is rich with trails for viewing wildlife, native vegetation and panoramic views of the coastline, valleys and mountains. The city has preserved the natural beauty and resources of thousands of acres of open spaces at various locations for the enjoyment of the public.
Descriptions of the hiking trails and trail maps are available from the San Luis Obispo Parks and Recreation Department (805) 781-7300. Here are some hiking and cycling trails that are easily accessed from San Luis Obispo. Most are leashed dog friendly, but some of the trails can be challenging for a dog or a person not in good physical shape.
Bishop Peak is the highest in the string of Nine Sisters volcanic peaks spanning 12 miles between San Luis Obispo and Morro Bay. The reserve has two interconnecting trails that total close to 8 miles with varying degrees of difficulty. The Summit Trail climbs 1180 feet and is a 3.8-mile round trip. The Felsman Loop Trail climbs 580 feet and is a 3.5-mile round trip hike. Both trails can be accessed from the Patricia Street or Highland Drive trailheads but hikers will first find themselves on the Summit Trail from Highland Drive. There are a number of connectors between the Summit and Felsman Loop trails from Highland Drive. Both trails merge for a short distance from the Patricia Street trailhead then branch off in separate directions.
Cerro San Luis is a 1292-foot peak in the Nine Sisters volcanic chain. It has two trails, the Lemon Grove Loop and the "M" Trail. Cycling and hikers are allowed on the 2.1-mile Lemon Grove Loop. Hiking only is recommended for the "M" Trail, a 2.6-mile loop and a 640-foot climb. The trails merge for about a half-mile at one point. The primary trailhead is from Carriage Road.
Irish Hills was given the name by Irish Immigrants. The old schoolhouse that was once the center of the Irish Hills School District still stands near the trailhead. The Irish Hills reserve is full of interconnecting trails for both hiking and cycling with the highest climb being 960 feet. Levels of difficulty range from easy to advanced. Trail names like Bog Thistle, Mariposa and Poppy promise a variety of views and adventures. Access to the reserve is on Isabella Way.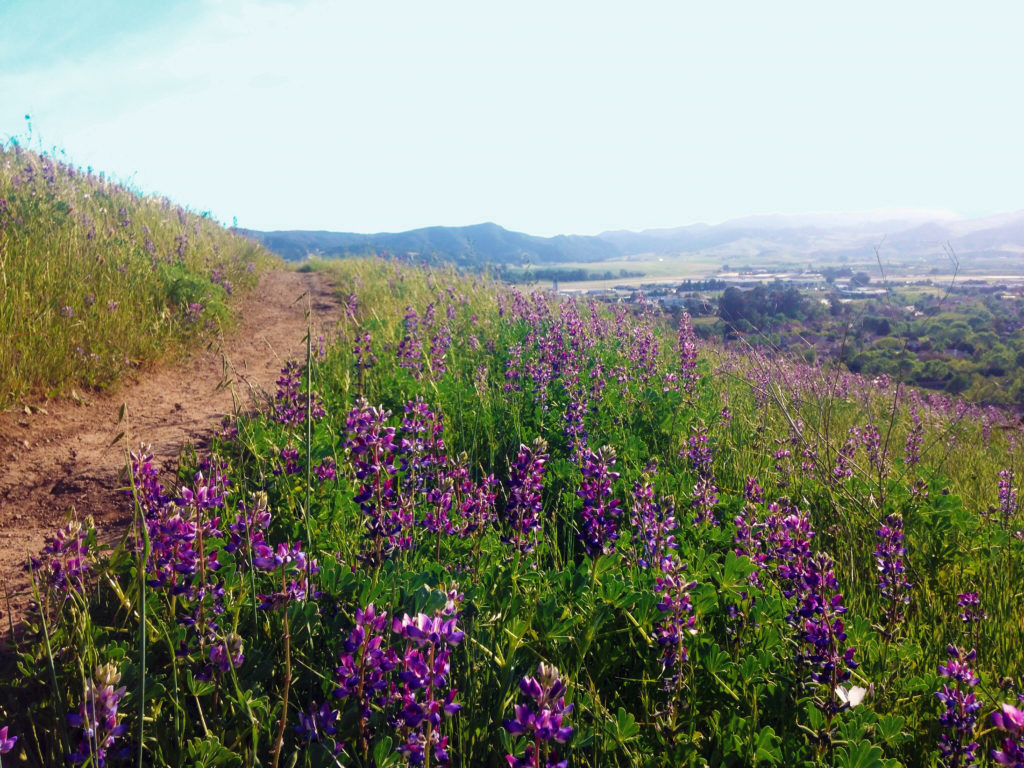 Islay Hill is a smaller peak in the Seven Sisters formation. There are three different access points linking to the Islay Hill Trail, ending at 776 feet providing a panoramic view of Edna Valley and the Santa Lucia Mountains. There are three access locations to trailheads the most common starts at the top of Sweet Bay Lane. The other two are from Spanish Oaks Drive or Huckleberry Lane.
The Johnson Ranch Loop is a two-segment trail. The 2.6-mile segment is recommended for cycling and the 2.3-mile segment for hiking. There is also the Filipponi Connector that hikers can take to trails in the Irish Hills Nature Reserve. Originally a 242-acre working ranch, the land has been preserved by the City of San Luis Obispo. The landscape is rolling grassy hills accented by serpentine rocks. The trailhead is just off of Highway 101 between San Luis Obispo and Pismo Beach.
Four intersecting trails bring hikers and cyclists to the edge of Laguna Lake. Two trails, the Allen K. Settle trail, and the Lakeside Trail are ranked as "easy." Laguna Lake Upper Loop Trail is ranked as an intermediate trail. Laguna Lake Ridge Trail is ranked as "expert only." The entrance is located at 504 Madonna Road in San Luis Obispo.
Reservoir Canyon Trail is a 5.35-mile round-trip moderate to difficult hike through oak and eucalyptus groves, featuring waterways, a waterfall and 360-degree view from the top. Leashed dogs are welcome. Mountain bikes are prohibited.
Stenner Springs Natural Reserve trails total a little over 20 miles with varying levels of difficulty. Stenner Creek Trail to Elevator Trails is a 2.9-mile moderately challenging loop. The Morning Glory, Botanical and Shooters Loop for hikers and mountain bikes is a challenging 9.3-mile loop that takes over four hours to complete. For mountain bikers, the two-section Eucs trail covers 6.9 miles. The Flying Ewok section is a 3.4-mile moderate trail and Jailbreak is a 3.5-mile challenge. Elevation reaches 867 feet.
This is a 5-mile round trip paved trail that takes you from San Luis Obispo to the pristine coastal town of Avila Beach. Park your car in the lot on Ontario Road and walk or bike over a path that takes you along the San Luis Obispo Creek and through the Avila Golf Course; sprawling oaks provide enough shade for hot days. You'll see jogging strollers; bikes and walkers making their way to the coast and back on this family-friendly trail.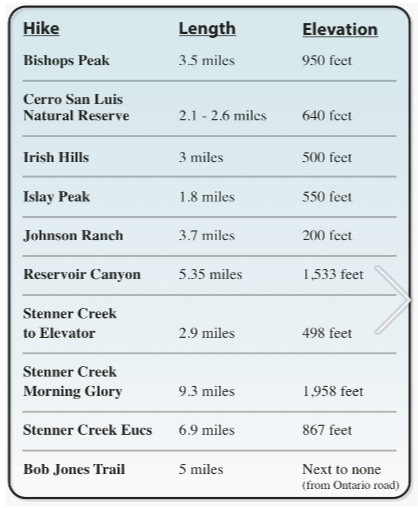 comments