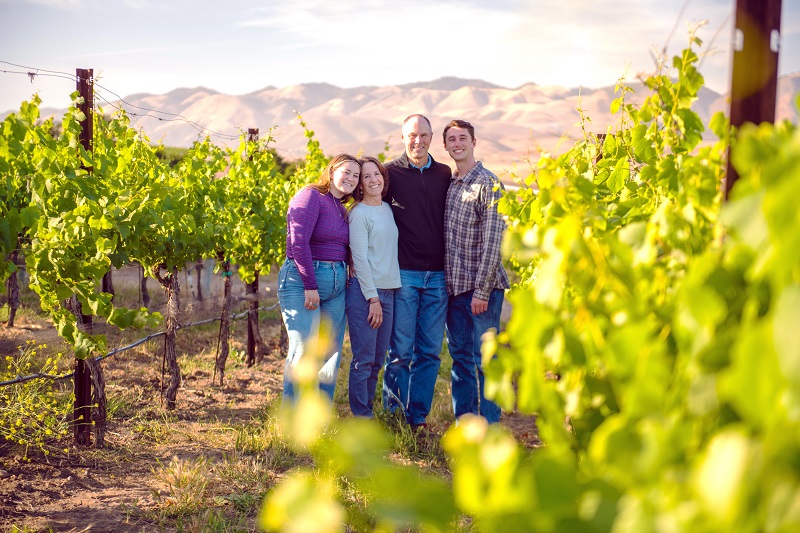 —Stephen and Paula Dooley launched Stephen Ross Wine Cellars in 1994. Neither had a background in farming, and neither had anyone in their families. Stephen had been winemaking for 17 years in Napa Valley, Edna Valley, South Africa and Australia. It was an exciting adventure based on their love for wine and for each other.
"We when started our winery 29 years ago, I don't recall what Steve and I envisioned as our future, but now every day we count our lucky stars that we are able to be in this industry and produce spectacular wines from the Edna Valley and the San Luis Obispo Coast AVA. The energy that our wines derive from our proximity to the Pacific Ocean is unique and unequaled," said Paula Dooley.
The urban-based winery and tasting room is located in San Luis Obispo and produces mostly single vineyard pinot noirs along with other varietals that flourish in the cooler coastal climate such as chardonnay and albariño. Blanc de noir sparkling wine and pinot noir rosé are included in the winery's production totaling 4,000-5,000 cases per year. The quiet tasting room keeps the focus on wine with knowledgeable staff who walk guests through a flight of five wines for a $20 tasting fee (the fee may be applied to a wine purchase of $50 or more). One of the perks of having the tasting room located at the winery location is that guests have the opportunity for a winery tour.
The couple owns a 10-acre estate vineyard, known as Stone Corral Vineyard, which they planted in 2001 exclusively to several pinot noir clones and rootstocks covering a rolling southeast-facing hillside in the Edna Valley. The Stone Coral Pinot Noir is their top-selling wine with the 2019 collecting several 94-pt ratings.
Another pinot noir to try is the winery's 2021 Pinot Noir, Arête – only 50 cases of this barrel-select pinot noir are made each vintage. Arête means glacial peak or pinnacle of excellence. This wine was named in honor of Steve's mother who was a geographer. This is the most exclusive of their pinot noirs with a full rich mid-palate. The black label and wax-dipped bottle provide an elegant package.
Stephen Ross strives to promote sustainable practices in the winemaking process. A key aspect of the sustainability efforts is being mindful of only sourcing grapes from SIP Certified vineyards to ensure they are doing their part to preserve the environment. They have long-term growing contracts in place to produce a consistent line of wines vintage after vintage.
While they were working on their very first vintage, they found themselves with large expenses for purchasing barrels, while they did not yet have a product to sell. They decided to sell futures and created the Adopt-A-Barrel program. They held an intimate dinner and found people interested in "adopting" a barrel. The members receive two cases of wine the following year. The program was so popular they continued to offer membership vintage after vintage with membership capped at 55 members. Members not only receive two cases of wines based on their selections, they are also invited to a dinner and receive discounts on other wines. A traditional wine club with two shipments per year is also offered.
The Stephen Ross Wine Cellars is located at 178 Suburban Rd., San Luis Obispo. Tasting room hours are Fri-Sun 11 a.m.-5 p.m. For more information visit stephenrosswine.com or call (805) 594-1318.
—by Lisa Pretty
comments