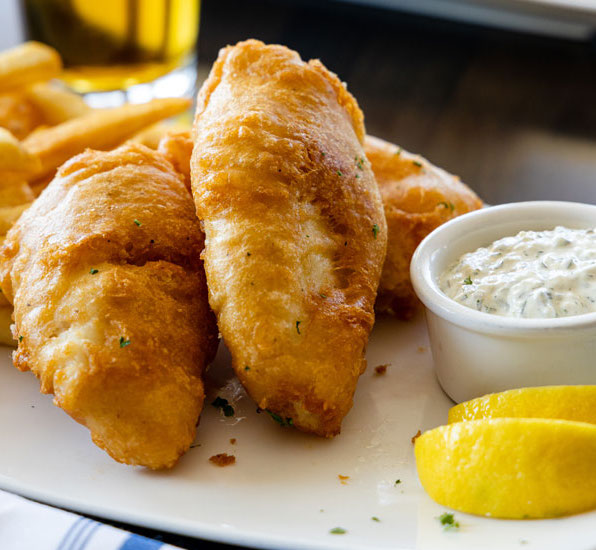 Doug MacMillan was destined to be a chef and restaurant owner. Parents, Rosa and Bill Mac Millan, started the original Rosa's Ristorante Italiano in 1961, later opening the Pismo Beach Rosa's in 1988. Doug learned the craft by working for his parents and at family restaurants in Italy, where he apprenticed in 1992.
Ada's Fish House came about in 2019. "We saw an available space across the street from my parent's restaurant and decided to open our own," said Doug. "Mom was born in Bonito, Italy and delivered by a midwife named Ada. She became known as Ada Rosa." Ada is the name Doug and his wife, Shannon, chose for Ada's Fish House.
The Italian apprenticeship paid off and when planning the menu for Ada's he also benefited from his father, Bill's influence. Bill hailed from Boston where Maine lobster is king. Ada's lobster roll is most favored among the restaurant's loyal following.
After deciding to open Ada's, Shannon took over renovating and decorating "It's her brainchild," said Doug, "everything from the decor to the menu. We work together on this."
Macmillan was instrumental in launching the culinary program at Arroyo Grande High School. Ongoing support for the program includes a scholarship program from the family restaurants and often hiring culinary program students to work at Ada's.
"I want to give these kids the tools to be successful." No matter what the job, whether it is busing tables or washing dishes, everyone is an important part of the team. MacMillan feels it is his job to make sure his teams are successful. This requires having a good teacher and more importantly, a good communicator. The MacMillan kids also help out, carrying on the family business tradition.
This year has been tough for restaurants but Ada's has persevered and has a delightful outdoor dining area with tables placed for social distance. Diners are kept cozy with heat lamps when the coastal fog blows in. Reservations are best, but walk-ins can be seated if space is available. Wine, beer, and liquor are available with meals. Take-out and curbside pickup are available.
The "east coast meets west coast" menu is known for freshness. Lobster, steamers, and sea scallops are flown in every few days as well as fresh live Pacific seafood from local fishermen and vendors. Lobster roll and fish and chips are favorites. Crisp fresh salads and a tasty clam chowder round out any meal. The clam chowder is a People's Choice and Judge's Choice winner at the Pismo Beach Clam Festival.
Ada's Fish House is at 558 Price Street, Pismo Beach CA. Open daily for outdoor and limited indoor dining from 11:30 a.m. -9:30 p.m. and 10 p.m. on weekends. Seating by reservation. Walk-ins are seated if space is available. Five or more guests are seated in the heated patio. For more information visit adafishhouse.com or call (805) 556-3077 for reservations.
– Ruth Ann Angus
comments