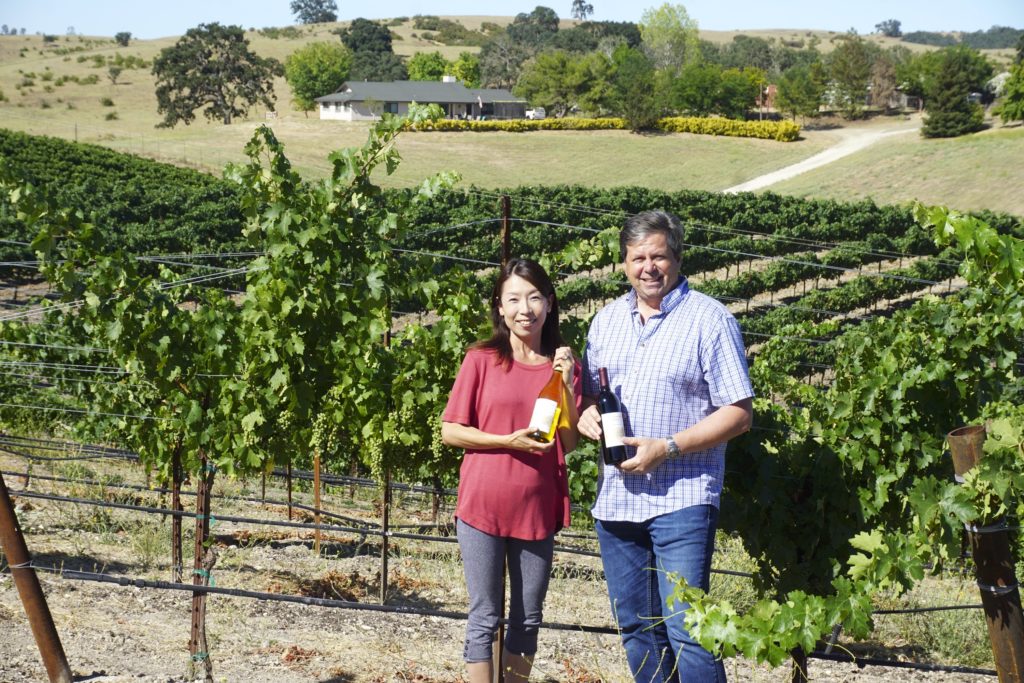 Kula Vineyards, a small family-owned vineyard and winery located in the El Pomar District of the Paso Robles AVA, produces some big, excellent wines. Starting as grape growers in 2014, owners Chris and Ayako Williams initially sold their Syrah grapes to some of Paso Robles best-known wineries. It wasn't long before the team decided to make their own winning wines from their own grapes.
Living on their vineyard gives the Williams the opportunity to personally watch over the vines and grapes. When harvest time arrives, they hand pick and hand sort the grapes, using only the best fruit for all of their wines.
Kula wines include the 2019 Picpoul Blanc, which was awarded with a Gold Medal and a Best of Class from Central Coast Wine Competition, and the 2018 Estate Syrah was also awarded with a Gold Medal from Central Coast Wine Competition. Other favorite wines include the 2019 Grenache Blanc, which was awarded with a Silver Medal from Central Coast Wine Competition, the 2018 Hana's Blend, which was awarded with a Silver Medal from Central Coast Wine Competition, and the 2016 Estate Syrah Reserve was also awarded with a Silver Medal from OC Fair Commercial Wine Competition.
The 2020 Viognier exhibits white wildflower aroma and fruit forward flavor of tangerine, white peach and apricot.
The 2019 Pinot Noir Sparking Rosé has exceptional aromas of strawberry and wildflowers while emphasizing a crisp fruity palette.
The 2019 Zinfandel. Delightful flavors of blackberry and plum, finishing with white pepper and licorice.
The 2019 Petite Sirah, exceptionally deep inky color and rich taste with notes of blueberry, blackberry and plum.
The 2019 Port Style Dessert Wine, late-harvested Petite Sirah 100-percent and enhanced with aged grape brandy. Amazing aromas of chocolate and caramel. Delicious, richly textured flavors of rich blackberry, fig and plum.
You can read all about Kula wines on their website, but the fullness of each wine can only be appreciated in person. Kula wines are available in their Atascadero tasting room, through the wine club, or at select restaurants, hotels and retail establishments in California or Nevada.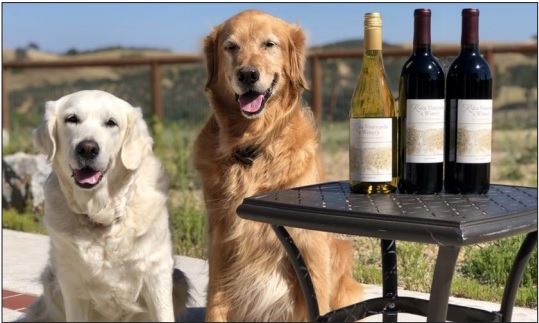 Kula Vineyards produces Cabernet Sauvignon Petite Sirah and Cabernet Franc in their vineyard. "While we are still selling our grapes to contracted wineries, we are making wines using our own grapes," says Chris. They also purchase grapes from neighboring vineyards for additional selections.
"Growing grapes and making wine is a big part of our lives. We pour a lot of love into everything we do, our business, pets, and home. Come into the tasting room, and meet our family and enjoy a tasting," says Chris. Bring your dog. The Williams are self-confessed animal lovers, and proudly feature their adorable Golden Retrievers, Ehime and Makana for Bow-Wow Thursday to enjoy dogs and wine with everybody. Paint & Sip classes and organic vegetable subscription pickups are also popular.
Kula Vineyards & Winery is located at 5990 Entrada Ave, Atascadero. Both Indoor and outdoor tastings are available including the beautiful patio or sidewalk tables. Hours are Thur and Sun 3-7 p.m., Fri and Sat 3-8 p.m. For more information, call (805) 296-7765 or visit www.kulavineyards.com.
comments