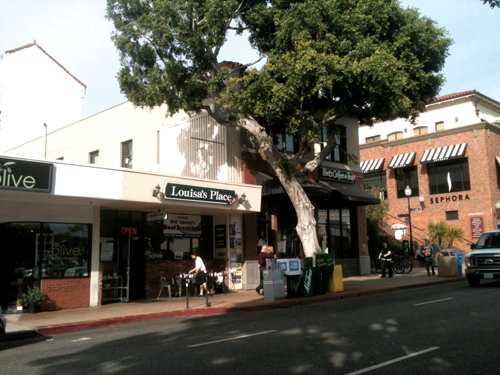 Fifties-style diner in downtown SLO is local favorite
Longevity is typically a rare and hard-won battle in the restaurant industry, and it's no different in San Luis Obispo. In fact, if you consult the unequivocal authority on SLO business history, the 1985 special edition "SLO Monopoly" game board, you discover quickly that of 30 featured main street shops and eateries, there are maybe four or five that still exist in the 20 years that have since transpired.
One of those precious few is Louisa's Place, a classic fifties-style diner and a San Luis Obispo stalwart of over 50 years, where the Monopoly board in question is soon to join the countless other photos and memorabilia enshrined on the wall.
From humble beginnings
Originally opened as the "Best Ever Grill" in 1958, the diner was purchased in 1976 by a woman named Louise Webb. And according to current owner Scott Sweeny, who took the business over from his parents in 2003, Louise's "Louisa's" was an instant success in the 70s. He knows this on good authority: he keeps in touch with the now-octogenarian namesake often, even though she no longer lives in the area.
Pointing out her portrait on the wall in the restaurant (which Louise gave them only after repeated requests, due to her somewhat stubborn particularity about photos of herself), Sweeny says with sweet sincerity, "We feel a lot of gratitude toward her because her name is still attached to the place. It adds to the history, I think, to keep the name the same. And we owe a lot of our success to her for starting it and making it successful in the beginning, even though we've had it now in our family—from '91 to now—longer than anyone, by far."
Sweeny also owes his independence as a longstanding business owner, in part, to his mom Christy Sweeny, who was the reason he got into the industry. When his mom and his dad, Edward Sweeny, who had made his career at the restaurants at Cal Poly, purchased Louisa's in '91, Sweeny had just left for college. It wasn't until 1999, after a brief career as a high school teacher, that he came to work in the family restaurant. He says, at the time, "I just wanted to spend more time with my mom, and with my son. I didn't get into it thinking that I would end up taking it over, but it just sort of happened that way." When his mother passed away suddenly in 2003, Sweeny took the reins and kept the Louisa's legend alive, soon joined in the work by his wife, Kuuipo.
Breakfast is a specialty
Aside from its deep roots in the community, Sweeny attributes the homey restaurant's enduring success to its authenticity. "We stay true to what we do best," says Sweeney.
And it is clear that breakfast is that specialty.
Every kind of breakfast you can think of. There are 26 omelets alone on the menu, in addition to the "build-your-own" option. There are also pancakes, local sausage, bacon, waffles (they are famous for their bacon Belgian waffles, with generous chunks of actual, house-cooked bacon folded into the batter), oatmeal, breakfast burritos and huevos rancheros. The menu goes on and on. "Anything you can think of for breakfast, we have," Sweeny says simply, without a note of pretention or exaggeration. Open from 6 a.m. until 3 p.m. every day of the year, they also have a full offering of lunch items like burgers and salads.
Good, home-style cooking
What you won't find on the menu are passing food fads. "Since I've been here, we've seen a pot pie place go in and go out, we've seen yogurt shops go in and go out and now they're back," says Sweeny, noting that at one time there were six frozen yogurt establishments downtown. "We stick to what we do best – good, home-style cooking and American diner food. But it's not the place for everybody."
Judging by the line out the door and the packed seating on any given weekend, though, it's clearly the place for most people. Sweeny says that regardless of the day or time of day, about 70 percent of their sales are breakfast items, and, after 20 years of Sweeny family management, they are not surprised when they are slammed with three times as many people on a holiday or weekend as they have on a regular weekday morning.
"Fifty people looks a lot different in our place than it does in a big place," Sweeny says with bit of a smirk. "We're only about 1,000 square feet. It's a tiny little hole in the wall, as they say. But we wouldn't change it for anything."
Start your day—or afternoon—out right and give a nod to the matriarchs of breakfast, Louise and Christy, at 964 Higuera St. in downtown SLO, call (805) 541-0227or visit louisasplace.com for more information.
– Jamie Relth
Subscribe to weekly travel news
comments