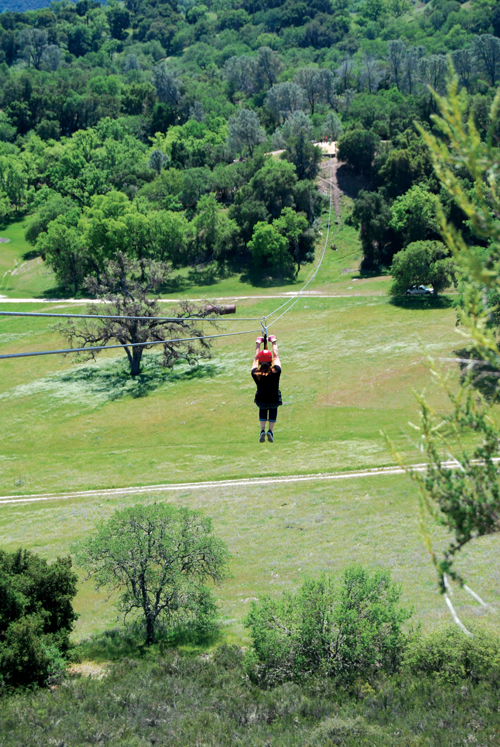 Wine country adventure like no other
We usually think of zip lining as an adventurous activity that we might do when vacationing in Costa Rica, Ecuador, or even Northern California – not something that we can do in the middle of Wine Country. That all changed in September 2011 when owner Karl Whittstrom's inspiration to create Margarita Adventures Zipline Canopy Tours on the Santa Margarita Ranch property became a reality.
Whittstrom, who owns Santa Margarita Ranch with Doug Filipponi and Rob Rossi, was inspired to create the zip line course as a way to get visitors out to the ranch to enjoy the beauty of the land in a low-impact way.
The zip line tour is just that – a fantastic tour that includes interesting tidbits about the history and geology of the area, resident animals, vineyard and cattle history, and native grasses and oaks. It is a 30-minute van ride to get from the downtown office to the start of the zip line course, and the knowledgeable guides make the trip seem like mere minutes.
Several guides accompany guests on each tour. The guides each have a climbing background, and each go through an extensive training process. They are each well-versed in zip line, gear, and harness safety, and they continue their training throughout the year. Each guide is skilled at rope rescue, although they have never had an accident of any kind.
The adventure begins at the top of a tall hill, where "The Renegade" zip line looms below. It is sure to give novice zip liners butterflies in their stomachs, but once taking off they will find that it is a surprisingly smooth ride. At the top of the hill, hawks and eagles fly at the level of the zip liners – it is truly beautiful. On the 1300-foot Renegade, zip liners soar 150 feet above the ground across a beautiful grass valley and through an oak forest.
The next line is called The Woodlander. This is an 800-foot line through canopies of native blue and white oaks. This is followed by the 500-foot Hilltopper, where guests get a running start before zipping to the final course, The Archway. The Archway descends through an 800-foot natural oak archway. Each course is varied in takeoff, landing, speed, and scenery, and it is a blast to watch the reactions and excitement of friends or family members.
For tourists and locals alike, Margarita Adventures Canopy Tours are a different and unique way to experience the Central Coast. Guests learn a lot about the area and enjoy some time outside. Each tour also includes a complimentary wine tasting at sister company Ancient Peaks Winery – sure to satisfy everyone after the adrenaline rush of the zip lines!
Margarita Adventures Zipline Canopy Tours are available Thursday through Sunday at 10:30, 1:00, and 3:30. Reservations can be made by calling (805) 438-3120. Tours begin in downtown Santa Margarita at 22719 El Camino Real. For more information, visit margarita-adventures.com.
— Laura E Zolnoski
Zip Line Lowdown
Tours last about 2.5 hours.
Wear closed-toe shoes and weather-appropriate clothing – shorts and sunglasses are okay!
Long hair needs to be tied back.
Children between 40 and 75 pounds need to ride tandem with an adult.
Maximum weight limit is 275 pounds.
Private tours are available.
Ancient Peaks wine club members receive a discount.
comments