Art, music, kites & more beckon visitors to the bay
No matter the season, there is an abundance of happenings taking place in Morro Bay. Visitors and locals are sure to enjoy all the bay has to offer while experiencing a variety of events during the springtime months.
Morro Bay Bands on the Run
April 18
Runners can take part in a half marathon, 5K, or 10K race to benefit the Morro Bay High School Music Boosters on April 18. The course runs along the beautiful Morro Bay coastline and runners will be entertained by different local musical groups including the local high school band students. Spectators are welcome along the course to cheer on the athletes.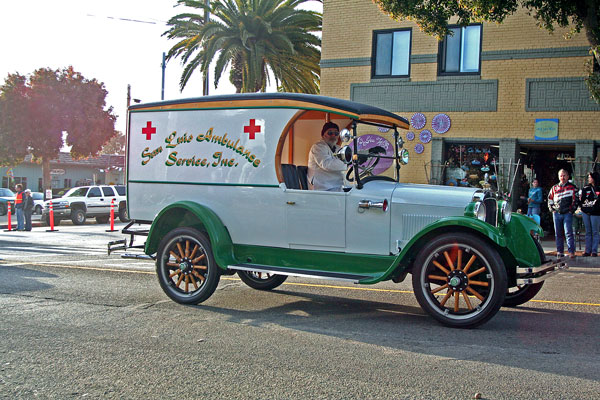 Emergency Vehicle Show
April 18
The annual emergency vehicle show takes place April 18 at the intersection of Main Street and Morro Bay Blvd. This family friendly event is hosted by the Morro Bay Neighborhood Watch and the City of Morro Bay. The Morro Bay Fire Department, Police Department, and Harbor District will display their emergency vehicles as well as military and special services vehicles. For more information see www.mbpd.info or call Mike Del Puppo at (559) 281-0902.
Morro Bay Kite Festival
April 25-26
The weekend of April 25 -26 once again brings this always-popular kite festival to the beach north of Morro Rock. This fun, free event for the whole family brings professional kite flyers and their huge kites of all styles – animal figures, dragons, bears, whirligigs and more – as they take flight over the waves; 500 kites are provided by Central Coast Funds for Children for kids. A "green" event offering fun for all ages, it's a good day away from technology for the kids. Come out and learn how to fly a kite – Saturday from 11 a.m.to 5 p.m. and Sunday, 11 a.m. to 4 p.m.
Cruisin' Morro Bay Car Show
April 30-May 3
This popular car show returns to the streets of Morro Bay for the 19th year April 30 through May 3. Thursday evening classic car owners arrive to register. Residents and visitors secure a prime spot on Main Street and Morro Bay Blvd. on Friday to view Cruise Night where classic and other rare cars cruise up and down, honking their horns and revving their engines. Saturday from 9 a.m. to 4 p.m. cars are displayed, hoods up showing off their engines, and folks can talk with the owners. Sunday morning wraps up the event with awards.
Art in the Park
May 23-25
Celebrate Memorial Day Weekend by visiting City Park for the Morro Bay Art Association's Spring Show, Art in the Park on May 23-25 from 10 a.m. to 5 p.m. as local artists offer paintings, sculpture, ceramics, jewelry, photography, and more. Poceeds from Art in the Park help support student scholarships, benefiting all high school, junior college, and college art students in San Luis Obispo County.
Morro Bay Music Festival
June 6
This one-day musical treat on Saturday, June 6 takes place at Tidelands Park on the Embarcadero from 11 a.m. to 7 p.m. and features local bands and art and craft vendors; beer, wine and food are available for purchase. Admission is $2 per person at the gate; children under 12 are free. Bring a lawn chair and enjoy a day filled with tunes all benefiting the Morro Bay Harbor Festival.
-Ruth Ann Angus
comments