Experience a wide variety of adventures, fine dining, gift shops, wine tasting & more
A walk down the Embarcadero takes one from the boat launch to the boardwalk out to Morro Rock – and it's a great way to get out and exercise. Along the way there are inns and motels, places to dine, outfitters for boating on the bay, cruise boats, museums, fishing charters, art galleries, and overlooks for viewing the birds and wildlife. Read along for some highlights many visitors and locals enjoy as they walk down the Embarcadero.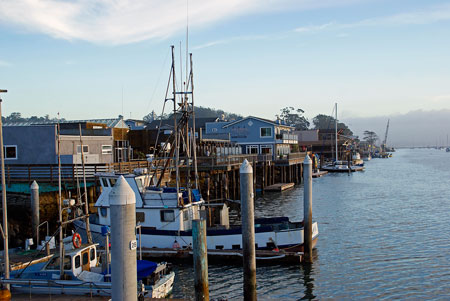 Begin at the boat launch just south of Tidelands Park to pick up J&T's Full-On Fishing Charters. From April 3 through September 30, Joe Anderton, a local salmon fishing expert, helps adventurers obtain that once-in-a-lifetime salmon catch on board his 22-foot Radon craft boat equipped with a fish finder.
The Estero Inn is one of the newer hotels on the waterfront with view suites on the water. Their in-house Awaken Harmony Massage and Spa welcomes visitors and locals to experience a variety of therapeutic massages and rejuvenating spa treatments.
Venture into Red Anchor Charters for a cruise on the Minerva, a 32-foot yacht. Cruise the bay while enjoying a beverage, take in the sights, or venture outside the harbor onto the open ocean. You might even take part in raising the sails or taking the helm.
At Abri Waterfront Restaurant you can sit on the patio and enjoy the view of Morro Rock. Abri serves breakfast, lunch and dinner using local organic ingredients. On the dock below pick up Captain Stew's Bay Cruise for a 50-minute boat ride on the bay to watch sea otters, sea lions, and a variety of sea birds.
The brand new building next door houses Smoobage, a unique boutique offering local art and handmade items. Looking for that special gift? This is the place for you!
Just a bit farther is the Shell Shop. Plan to spend some time looking through the amazing collection of marine sea shells that the Thomas family has specialized in since the shop opened in 1955.
The Marina Square complex houses the Gallery at Marina Square on the second floor where local artists and craftsmen sell their creations. On the same floor visit the Morro Bay National Estuary Program's Nature Center to see exhibits about the bay and its wildlife.
Downstairs visit the Morro Bay Skateboard Museum and view over 200 skateboards, some dating back to the 1930's. Then stroll over to Morro Bay Wine Seller to find local, regional and international wines and cheeses, olive oils, and chocolates.
Another interesting shop in the complex is the Salt Air Studio, home of the handmade "uber-cool wool dryer balls" and other eco-conscious products.
Blue Sky Bistro Café offers splendid spots to relax outside under the umbrellas on their dog friendly patio while enjoying breakfast served all day, or a lunch of fresh local seafood and sandwiches.
Stop in at Tango for women's wear and be sure to view the art and jewelry at Seven Sisters Gallery. When the sun starts setting enjoy a romantic evening dinner at Windows on the Water upstairs in Marina Square.
Outside and down the gangplank is Sub Sea Tours. Take a whale watching trip or a bay cruise on the yellow submarine where Captain Kevin will reveals underwater delights in Morro Bay.
Custom screened T-shirts and sweatshirts are the specialty at Dolphin Shirt Company, located on the north side of Dutchman's Seafood House, another fine dining establishment.
Artisan crafted body creams, washes, face creams, scrubs, shampoo and conditioners are abundant at Babylonian Soap Company. These products are made in a sustainable manner and are paraben and sulfate free.
Are you thirsty for some beer and ale? Stop by Libertine Pub and Brewery where their old-fashioned hand brewing methods utilizing local yeast and ingredients creates signature ales; food is served here as well.
Off the Hook Restaurant offers mouth-watering sushi. They also serve chowder, fish & chips, and shrimp and scallops linguini among other delectable dishes.
Under the Sea Gallery is an eclectic shop where mermaids, faeries and dragons dwell in a shop filled with unique gifts, clothing and hats.
At the Boardwalk Complex try some wine tasting at the Chateau Margene Tasting Room. Wines are from Estate Vineyard & Winery, a boutique micro-winery in Creston are offered including Cabernet Sauvignon and Bordeaux blends; open daily from Noon to 7 p.m. Next door, souvenir collectors and folks looking for gifts and clothing will find just what they are looking for at Crazy Otter and Best Kept Secret.
Have a kayaking adventure with a rental or guided tour from Rock Kayaks. Take along a sunhat purchased at the nearby Morro Bay Hat Company featuring multiple varieties of hats. For those preferring a different type of bay cruise, Lost Isle Adventures offers guests an opportunity to learn the history of the bay, see the wildlife, and visit the oyster farm.
For an elegant overnight stay try the Anderson Inn, a contemporary boutique hotel and watch the sun set out on your private deck. Journey downstairs and enjoy a touch of Hawaii with lunch or dinner at the Galley Seafood Grill where the fish is served naked with only a touch of sauces on the side.
There is a considerable amount of places to visit and experiences to enjoy along the Morro Bay waterfront – go scuba diving with SLO Divers, go Saturday brunch cruising on the Chablis, try stand up paddling, get a kite to fly on the beach at Farmer's Kites, enjoy French pastry at La Parisienne French Bakery and enjoy wine tasting and gourmet sandwiches at Stax Wine Bar. Can't do it all? Then be sure to come back over and over again to walk the Morro Bay Embarcadero!
-Ruth Ann Angus
comments