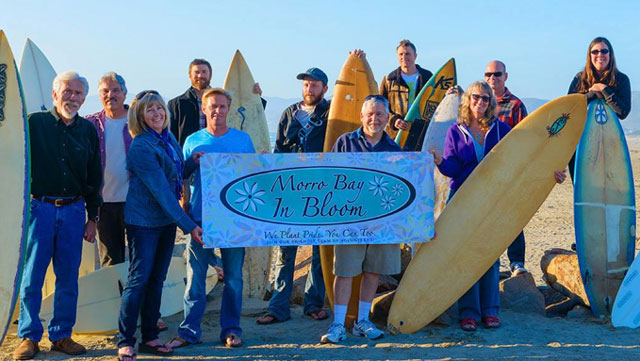 The first ever Morro Bay Surfboard Art Festival will showcase 30 pieces of public surfboard art during the month of November, concluding with an auction of the art held Nov. 29 at the Inn at Morro Bay.
Morro Bay in Bloom, a volunteer-based non-profit organization dedicated to the enhancement of public life in Morro Bay, has organized this inaugural Surfboard Art Festival. Proceeds from the auction will benefit Project Surf Camp, Morro Bay in Bloom, and the individual artists.
Surfboard art can be a painting that uses a re-purposed surfboard as the canvas or a sculpture that uses a surfboard as the substrate material. The Surfboard Art Festival features the works of several renowned local artists and of community groups such as the fifth-grade class of Del Mar Elementary School, three classes of students at Los Osos Middle School, and the senior residents of Bayside Care Center and Casa de Flores.
Project Surf Camp, one of the beneficiaries of the auction, is a charitable organization designed to educate individuals with special needs. It uses the beach and surf as a context for helping people with special needs to build self-confidence, self-esteem and self-efficacy.
The art pieces will be auctioned Nov. 29 at the Inn at Morro Bay from 2-5 p.m., with a VIP preview starting at 1 p.m. For more details visit www.morrobayinbloom.org.
About Morro Bay in Bloom
Morro Bay in Bloom is a volunteer 501c(3) organization whose members are residents of Morro Bay. The approximately 50 members help to restore and maintain public spaces as part of the City's Adopt-a-Park program, among other projects such as the Surfboard Art Festival. The group is an affiliate of the national America in Bloom program, which sends expert judges to the city annually year to evaluate progress against standard nationwide criteria.
comments