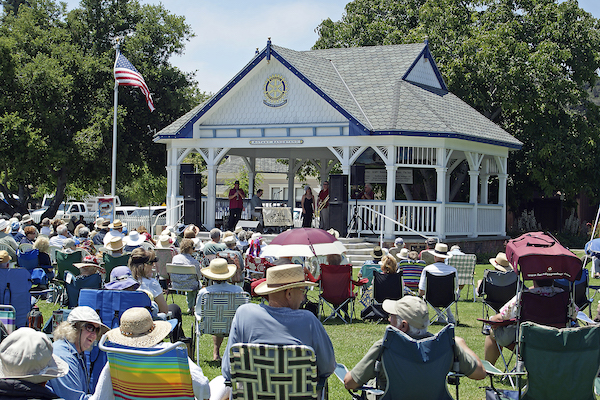 —Roosters, history, museums, ice cream, pizza, wine, beer, ghosts, farms, theater, festivals, and the gateway to adventure, all of this and more is awaiting in Arroyo Grande, known as the Village to locals.
The downtown village with shops, pizza and ice cream
Some places are successful in retaining that old-time flavor of days gone by and still offer modern-day amenities and fun. Arroyo Grande is one of those towns.
This charming village is filled with one-of-a-kind shops with antique and vintage items, collectibles, clothing, sporting goods, gifts and more.
Hungry after shopping? Stop in for a little piece of Alaska at Klondike Pizza. Specialty pizzas are on the menu and locals say the place is haunted. For dessert make your way to Doc Bernstein's Old-Fashioned Ice Cream Parlor and choose from a huge variety of flavors and local specialties. You can even create your own ice cream flavor that might be added to the menu. You'll enjoy watching the old steam engine model train chugging around overhead.
History, museums, a swinging bridge, summer concerts and roosters
As you walk around the village be sure to walk over the Swinging Bridge, the only one of its kind in California. The bridge is 171 feet long and swings 40 feet above the stream. Originally the bridge had no sides, but they were added in 1902. The bridge was donated to the city in 1911, destroyed by a storm in 1995, but since reconstructed.
Visit historic buildings dating from the late 1800s and early 1900s in Heritage Park. Summer concerts in the park offer live bands, dance troupes and other performances. Celebrate Independence Day at the July 4th Concert. Picnic facilities are available and all you need is your lawn chair.
Centennial Park hosts the weekly Farmer's Market and is home to a troupe of free-ranging roosters.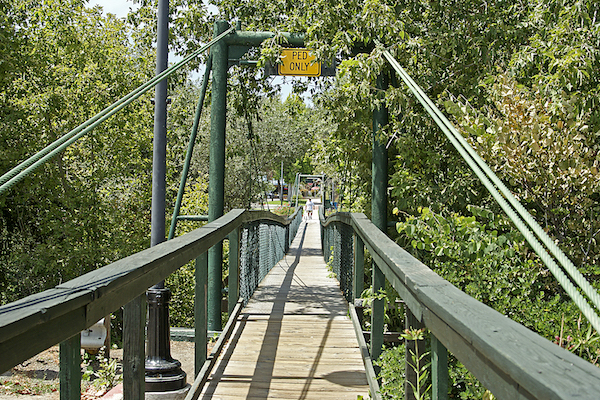 Festivals, Festivals, Festivals
Arroyo Grande hosts festivals for just about every occasion and season. From the Holidays on into the new year, celebrating spring, summer and the fall harvest, Arroyo Grande is the place for families to enjoy outdoor music, vendors, and lots of tasty food, beer and wine.
To discover what's going when you visit, check out the visitarroyogrande.org website.
Visit the Farm
Just outside town Windmill Farms on North Thompson Avenue is a great place to take the kids, Visit the Critter Corral and feed the sheep, goats, pigs, donkeys, turkeys, geese, and a miniature horse. In the barn find gourmet foods, gifts, pottery, garden art, succulents and more.
Adventures at Lopez Lake and Vista Lago Adventure Park
A short drive east brings you to Lopez Lake for camping, boating, water-skiing, fishing, swimming, and hiking. This is a great place to go bird watching or enjoy a wet slip and slide at Mustang Waterslides.
Exercise your outdoor adventure skills at Vista Lago Adventure Park. Start with zooming on one of three zip lines or tackle the rope courses. Constructed on free-standing poles, the Upper Park has four courses for beginner, intermediate, experienced and advanced with 40-plus elements including the Talley Wine Barrel Bridge to The Ledge for a 45-foot free fall. Chipmunk Park for the kids has 10 elements for children ages five to eight.
–Ruth Ann Angus
comments