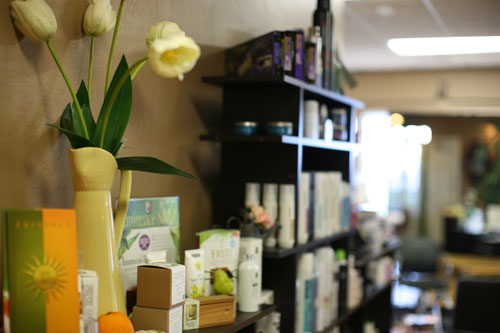 Oceanfront relaxation, friendly professionals
Located on the oceanfront in San Simeon, just minutes away from Hearst Castle and the quaint village of Cambria, Diva Day Spa has long been a local favorite and, as a spa and salon that welcomes new clients, it is quickly becoming the most desirable pampering station for visitors to the Central Coast of California.
Owner Judy Holland and her full staff of hair stylists, estheticians and massage therapists have a simple mission statement: to deliver the utmost in pampering and results-oriented treatments for both men and women in a relaxed atmosphere.
"There is truly a wellness approach to all that we do," says Barbara Purchase, a holistic practitioner and co-owner of the salon.
The two friends had a desire to create a place of wellness, beauty and comfort that was also accessible and affordable. Merging their talents and passion, Judy and Barbara, alongside their fellow professionals, built Diva Day Spa into a truly unique salon and spa. Now, as their list of local clients continues to grow, their welcoming ways have visitors to the area desiring a bit of that caring, personal touch as well.
Esthetician Christine Danse, showing a recent guest through the salon, explains the benefits of regular facials and describes how microdermabrasion and facial peels enhance the overall beauty of one's skin. She points out the importance of having hair and skin services performed by a licensed professional, saying, "Everyone at Diva Day Spa is wonderful and highly-trained. The environment we strive for is calming, comfortable and friendly."
As Christine leads her guest through the private manicure/pedicure rooms and continues on to the plush, luxurious massage rooms – set up for singles or couples – she explains a massage list of offerings that include Swedish, Hot Stone, Aromatherapy and more.
Need a pampering treatment and desire a bit of relaxation? The friendly professionals at Diva Day Spa offer a full menu of services. Whether desiring a massage, a customized facial, peel, or waxing; makeup tips, manicure or pedicure; a haircut and color, or even a full beauty makeover, look no further. Diva Day Spa specializes in making every day a special one – whether it's for a vacation, birthday, or just celebrating life – the friendly staff is equipped to make your celebration a memorable one.
Diva Day Spa is located in the Cavalier Plaza, 250 San Simeon Ave, Suite 4 in San Simeon. For more information or to schedule an appointment, call (805) 927-4252.
— Meagan Friberg
comments