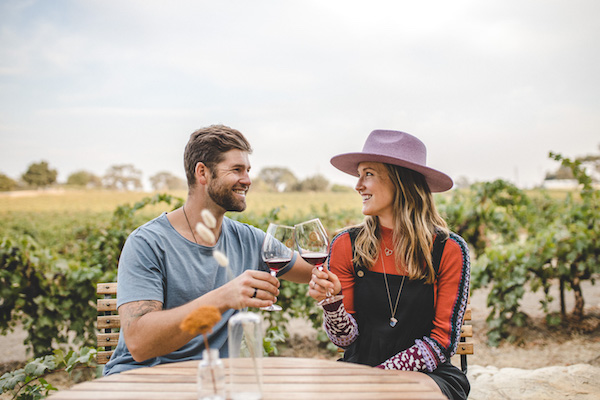 A wonderful place to sip wine, listen to live music and relax among the ancient oaks
Operating since 1983 and making their organically farmed "Dam fine wine" for almost 40 years, power-couple Bimmer and Niels Udsen are among the founding Paso Robles winery owners who continue to thrive and operate a very successful, forward-thinking winery and distillery.
Castoro Cellars and the Udsen family embody the true California lifestyle—laid back, warm and welcoming. The winery is child and pet-friendly, everyone is encouraged to come and enjoy the scenery and atmosphere. Castoro serves a special, delicious non-alcoholic grape juice, perfect for little ones. If you're feeling hungry, try their delicious snacks from olives to nuts, chocolates, cheese, salami, crackers and spreads.
The 50,000 case winery has been SIP certified since 2007, with wines sold worldwide and in 35 states across the US. Their first tasting room was located on the corner of Bethel Rd. and Hwy 46, occupied today by Peachy Canyon Winery. For the past 20 years, Castoro Cellars has been thriving in the rolling hillsides and misty valleys of Templeton located between Cambria and Paso Robles. This idealistic location on Bethel Rd. has been built up over the years and features an amazing backdrop for live music from an outdoor stage. For the past eight years, Castoro has hosted the highly popular two-day Whale Rock Music & Arts Festival, formerly known as Beaverstock. The winery holds a very popular monthly yoga brunch series, followed by mimosas. Visitors can also enjoy a round of fun at the 18-hole disc golf course, woven throughout the vineyard.
It all began when owner Niels returned from living in Italy and knew he had grown a passion for all things wine. After returning to California and graduating from CalPoly with an Agricultural Business degree, he ventured into the wine industry at Estrella River Winery. Gaining hands-on winemaking skills and working hard building from the ground up, the couple started making bigger batches of wine and acquired a large facility in San Miguel. It was a lot of extra space-so they started the first custom crush facility in the area, later adding a mobile bottling company.
In the beginning, the Udsens didn't own vines but today they are now proud to say Castoro Cellars wine is 100% estate grown and the largest organic grower on the Central Coast. With around 1500 acres certified organic, 400 acres of which are farmed biodynamic, the couple grows over 20 varieties of reds and whites. Castoro Cellars has among the most white wines in Paso Robles from chardonnay, to sauvignon blanc, moscato, and falanghina. The vineyards have a lot of variety and have been known to grow many types of red and white wine grapes over the years.
Castoro Cellars is focused on sustainability and is fully solar-powered. Solar power came in 2006 with 42 solar panels at the Cobble Creek vineyard. In 2012 more arrays were installed at Dos Vinas vineyard to power wells and a home. Today there is a three-acre solar array, remote mobile solar installation, and solar panels on the tasting room gallery roof. Son Luke Udsen said, "We are constantly improving and expanding, hoping to get all-electric ATVs and tractors charged by solar power. The next sustainability goal is getting away from gas and diesel power."
Udsen shares, "Future plans are looking bright. We are trying to constantly evolve and keep in touch with our beginnings. It's important we make sure that we don't become old school, complacent, or lose our identity."
Check out Castoro's Bethel Road Distillery where you'll find small-batch wines and a nice variety of quality brandy, gin, grappa, orange liqueur and walnut liqueur.
Castoro Cellars is located at 1315 N. Bethel Rd, Templeton. Open 7 days a week from 10 a.m.-5 p.m. For more information call (805)238-0725 or visit www.castorocellars.com
-Cassandra Frey
comments