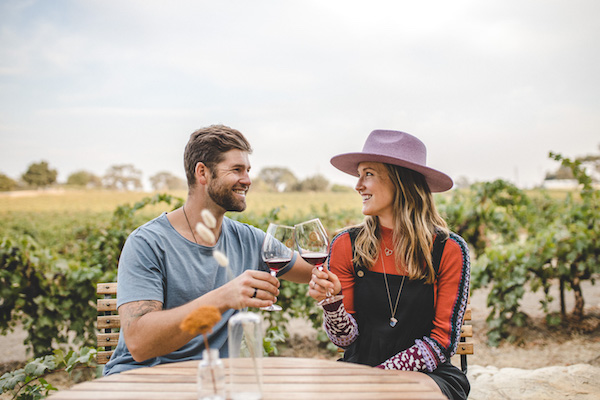 Wine, Whale Bones, Music, and the best Winery Disc Golf Course in the World
—Castoro Cellars isn't just a winery. It's a destination with wine tasting, the popular Whale Rock Music and Art Festival, and now a top-rated disc golf course.
Disc golfers have voted, and the tally is in! UDisc, the world's #1 disc golf app, rated Castoro Cellars the #1 disc golf winery course in the world. UDisc has a directory of all of the courses worldwide, and as players test them out, they rate each course. Castoro Cellars comes up top again and again. Their course is also rated #76 overall out of all disc golf courses in the world. It's pretty impressive.
It's an 18-hole disc golf course that winds through the vineyard. The signs along the way explain the types of grapes next to each disc golf stop. Guests are welcome to sip wine while they play. Why have a disc golf course in the middle of a vineyard? Everything about Castoro Cellars is centered around family, and Max Udsen is a disc golf fanatic. His passion for disc golf started in college, and eventually he approached his parents, owners Bimmer and Niels Udsen about the idea, and in 2013 the course was born.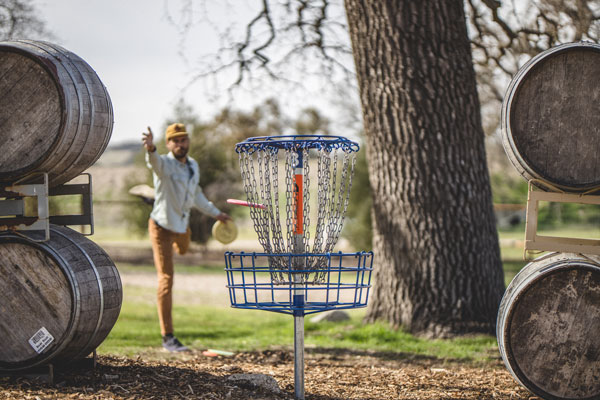 Passion seems to run in the family. Bimmer and Niels Udsen started Castoro Cellars in 1983. They started small and have been building it up over the years. They started by buying grapes then eventually owned vineyards. Then they created all estate wines, and later transitioned to all of their wine being made from organic grapes.  Bimmer and Niels are passionate about being certified organic. It started when Bimmer realized she didn't want the chemicals that were traditionally used in the vineyards around her small kids. That began their foray into organic grapes. They're now the largest organic grower in the Paso region with 1,400 acres of certified organic grapes by Certified California Organic Farmers (CCOF) and 500 biodynamic acres.
Niels Udsen explained, "It's been a long road to get there, but it's been great. Lots of learning. We're trying to encourage other people to do the same thing."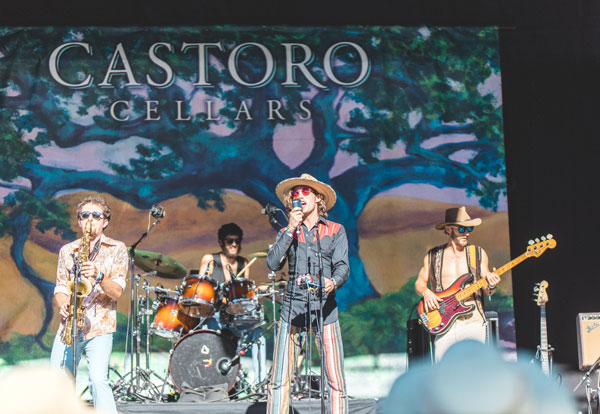 One thing is clear when they're passionate about something they rise to the top. Another passion is music and sharing it with the local community. The Whale Rock Music and Art Festival was originally supposed to be a one night "bash" with bands for their 30th anniversary. Bimmer explained, "then it got moved to the meadow, and then a stage was added." One night became two days, and a music festival was born. Now it's an annual festival that draws thousands of people each September. It was originally called Beaverstock, a play on Niels' nickname, Beaver. Castoro means beaver in Italian. However, the people at Woodstock kindly asked them to change it. So, they settled on Whale Rock because of the whale bones that are scattered around the property. Their Whale Rock Museum has the whale bones on display.
As if disc golf, wine, whale bones, and music aren't enough of a draw, they also hold yoga classes. Daughter-in-law, Lauren is among the teachers. There really is something for everyone at Castoro Cellars!
Castoro Cellars is located at 1315 Bethel Rd. Templeton, CA 93465. The tasting room is open from 10:00 a.m.-5:30 p.m. daily. The disc golf course is open from 10 a.m.-5 p.m., and is $5 per person to play. Check out other events at www.castorocellars.com.
—Karen Lycan
comments