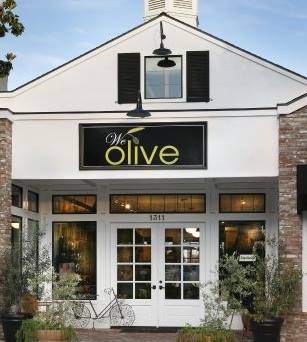 Olive oil tasting is just one of many enjoyable activities at the stores
-We Olive is not a run of the mill olive oil tasting room; instead, it innovates the traditional experience by showcasing quality local oils, bringing local professionals in the field to the store to interact with the tasters, and consistently putting customer education first.
"Everybody who works at We Olive is committed to the product and showing the guests how great the products are… we're here to give them the absolute best products," said Ruth Mercurio, who is one of the owners of the business, along with her husband.
Local olive oil is the trademark of We Olive, with their extra virgin olive oil and flavored olive oils being featured in the stores. The top-selling flavored olive oil is the organic meyer lemon, which can also be purchased on their website. The stores also sell unique food products from local businesses and We Olive's signature brand, such as mustards, tapenades, caramel sauce, and more. Speciality gift baskets are a perfect idea for a birthday, holiday, or anniversary gift with plenty of options ranging from skincare to unique creations that guests can assemble themselves.
We Olive has stores all over the nation, and the Paso Robles storefront has a unique history: it was the first store and it opened in 2003, was demolished during the earthquake two months later, and operated in a temporary location until their current location opened for business. The San Luis Obispo store opened around three years later.
"It's multifold… [the customers] love to come in and hear the connection between growers… they like to hear the stories behind the olive oil… and the education that comes with it," said Mercurio.
Whether you are looking to sample some delicious local olive oil or wanting to peruse the fun food products, We Olive is the prime spot for your next tasting adventure.
We Olive is located at 1311 Park Street in Paso Robles. Open Monday through Saturday from 10 a.m. to 6 p.m. and Sunday from 11 a.m. to 4 p.m. For more information about the Paso Robles location call (805) 239-7667 or (805) 239-7961 www.weolive.com . For the San Luis Obispo store, it is located at 958 Higuera Street. Open Monday through Wednesday and Friday through Saturday from 10 a.m. to 6 p.m., Thursday from 10 a.m. to 9 p.m., and Sunday from 11 a.m. to 5 p.m. For more information about the San Luis Obispo store call (805) 595-1376 www.weolive.com .
—Sadie Mae Mace
comments