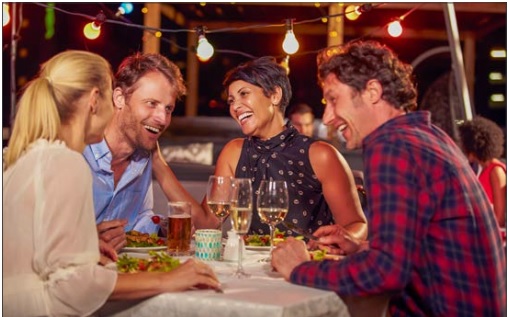 —Alfresco dining isn't new to Paso Robles restaurants. Many have been offering private patio and street front seating for a long time. But recently, to help restaurants stay open so locals and visitors alike can enjoy their favorites and discover new food experiences, city leaders have relaxed restrictions on outside food service. The response by the public and restaurants is creating an entirely new experience for Paso Robles dining. More restaurants are moving seating outside and the city is creating street-side spaces for food service.
Everything tastes better outside; that's why picnics are so popular. There's something old world about sipping morning coffee in the early sunshine. Freshly made sandwiches and crunchy salads taste fresher and dinner under a sky fading into twilight doesn't get much more romantic.
Added to the street side café atmosphere, the city has also opened up a section of the Downtown City Park dedicated to enjoying good food and good company. Pick up food to go from your favorite restaurant and enjoy a casual meal in the shade of trees, listening to singing and chirping birds. When you are finished, take a leisurely stroll around downtown. Stores are open for in-store shopping and browsing and many of the downtown wine tasting rooms are serving outside, too!
The free dining area in the park is the result of an alliance between Travel Paso and its #savorPaso campaign, the City of Paso Robles, Chamber of Commerce, Downtown Main Street Association and the Paso Wine Country Alliance. The area seats 164 diners and follows new COVID-19 rules that include wine and cocktails.
Reserve your table in the fenced area just west of the Carnegie Library through Yelp (www.yelp.com/biz/downtown-city-park-paso-robles). Then pick-up dinner at one of the local restaurants and take it to your table.
Downtown City Park dining is open from Thursday – Sunday beginning at 5:30 each evening. Alcohol consumption is permitted. A concierge service staff provides security and accommodates the diners. A sanitation team cleans the tables after each dinner party leaves.
The city plans on keeping free dining in the park open through Labor Day.
comments