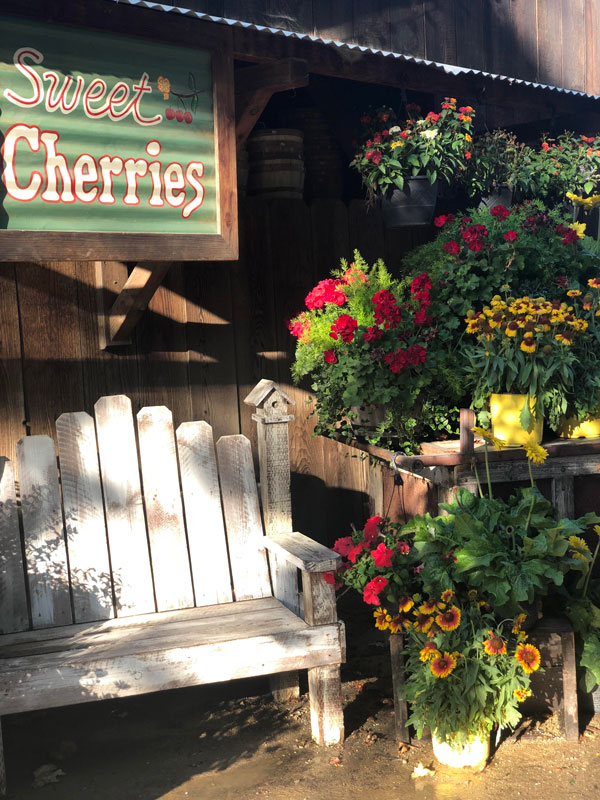 Fresh locally grown fruit and vegetables from the farm. Freshly baked hand made pies, turnovers, muffins, cobblers and more. Hot roasted corn on the cob served right from the corn roaster. Tractor rides and horses, goats, chickens and more, plus the opportunity to pick your own fresh produce. Don't forget the ice cream and fudge and other seasonal treats!
The Avila Valley Barn is a very special place to visit or to host a party or other event. Since 1987 the purpose of the farm has been to "Bring agriculture to the community, and have a place to connect," says owner Debbie Smith.
One way the Smith family brings agriculture to the community is through educational field trips that give children first hand experience with a working farm. Children gain a deeper appreciation of the food they eat and the environment when they get to see how their food grows. Field trips take place from May through October, with focus on produce that is seasonal to the month.
A family farm tradition
The Smith family currently co-owns this landmark destination with the founding family members. The original owner, local orthodontist Dr. John DeVincenzo, was looking for someone to work there and ran a small ad in the newspaper. Debbie Smith applied and got the job—chosen from 100 other applicants. As the seasons go, a few years later, Smith started to work on it together with DeVincenzo, and helped to develop the farm and watch it grow.
The very first pies Debbie baked in her kitchen using bruised or blemished fruit from the day's harvest, continues to be the same hand-rolled dough recipe used today. With the help of a lot of local support, and tourism in the summers, Avila Valley Barn grew their offerings from fresh produce and U-Pick-to gifts, a bakery, sweet shop and deli. Owners Debbie and Bruce Smith raised seven kids and many of them now work on the farm, helping out in every aspect.
The 46 acre family run farm grows seasonal fruits and veggies. "We wanted to make it an outdoor experience," Smith said. "Every year we put something new in and listen to the community. Twenty years ago, it was just a fruit stand."
Vegetables, berries, apples and pumpkins
Take a bumpy fun tractor ride into the fields and orchards to pick your own seasonal produce. Visit the goats, horses, cows, sheep, chickens, guinea hens and the emu. Find a variety of vegetables from May through September. Peaches have their own peak season in July and August and apples in August and September.
October is the best month to choose from 49 varities of pumpkin from small baseball sized all the way up to pumpkins that weigh hundreds of pounds.
The small valley on the way to Avila Beach is home to wildlife like owls, deer, squirrels, coyotes, bobcats, turkeys, and mountain lions. Avila Valley Barn is one of the few remaining beautifully pristine places where the public can wander the land and harvest fresh, ripe fruit straight from the field. Crisp, juicy apples are ready for picking at the beginning of August, and pumpkins at the end of September. They also offer several varieties of peaches, blackberries, raspberries, and flowers. All of their crops are watered with heavy mineral water, and Avila Hot Springs is just across the street with a soaking pool.
Preservation and sustainability
Avila Valley Barn is dedicated to the preservation of the area and uses absolutely no pesticides or herbicides on the farm. Sustainable farming practices include: cover cropping to protect and build the soil, reduced or eliminated tillage to foster healthy soil biology, and animal integration to increase nutrition within the animals, soil, and fruit. Avila Valley Barn strives to be a steward of the land. "My brothers, sister and I all grew up walking barefoot, picking fruit off the trees and even off of the ground. My hopes are that someday our grandkids will have the same opportunity."
Taste a variety of pies from apricots to peaches, apples to berries and cobblers. Every batch is handmade the old fashioned way, fresh from scratch seven days a week until 6 p.m. Son Jacob Smith loves what they offer, suggesting, "When you visit Avila Valley Barn, you gotta get the roasted corn, or the wagyu brisket which has been smoked for hours. You can't go wrong with the bakery's many options. Our family pie dough recipe is unchanged and over 20 years old, each pie crust is still carefully rolled out by hand. But as the farmer I have to say my favorite would be eating a Jonalicious right off the tree, super sweet and juicy, one of my favorites for sure."
Avila Valley Barn is located at 560 Avila Beach Dr. between San Luis Obispo and Avila Beach. Open daily from 9 a.m.- 6 p.m. For more information, call (805)595-2816 or visit www.avilavalleybarn.com.
comments