Have a wonderful time at this beachy sports bar
—Home to the big screen, live music and intimate events, Beach Bums Bevs & Bites is a happy place for all who enter. Watch the dolphins play, hear the crashing waves, and make some friends. This downtown Cayucos bar specializes in friendly service, local wines, champagnes, and beers, appetizers. Try a Premium Blend margaritas, Bloody Marys, Pina Coladas, Mimosas and Micheladas. This gorgeous location welcomes many visitors from around the world annually and offers many fun activities like surfing, fishing, whale watching, diving, hiking, camping and sunbathing. Cayucos has a long sweeping sandy coastline which continues all the way to Morro Bay and is very accessible, pet-friendly, and desirable.
Bask in the warm California sunshine on their deck, a glass of wine in hand. Beach Bums Bevs & Bites encourages a good time and the casual sports-driven beach bar features big front windows, tall tables, patio space, quartzite bar and a very laid back, chill atmosphere. Beach Bums is the perfect place to sit back, grab a brew and take in the views during a visit to Cayucos. Beach Bums is situated on a great little corner spot above an office and is a popular place for watching sunsets over the Cayucos Pier.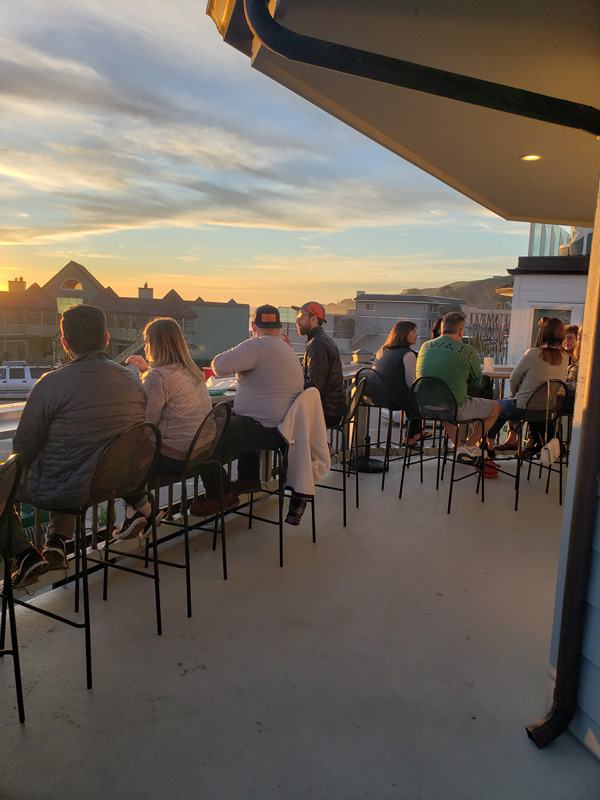 Owners Bruce Bucz and his partner Shelly established Beach Bums Bevs & Bites in 2018, after being regular visitors to Cayucos. Bucs said, "Life is great here in Cayucos, and we invite you to have fun, relax, and rejuvenate your soul. Our prime location at the beach features stellar outdoor deck seating with ocean and pier views. And inside you'll experience contemporary, yet intimate seating with the largest TV in Cayucos for viewing your favorite sporting events! Along with our friendly staff, we're dedicated to hosting a great experience and look forward to introducing you to our favorite new place along the central coast."
Aside from being an amazing little sports bar, the owners love to have fun theme nights and screen big stuff like the Academy Awards, and The Bachelor, and they have a rose ceremony at the end of the show. Groups come in to have a glass of wine, socialize, and watch a favorite show together. Nibble on something tasty from their menu. Try the Woody Charcuterie Board, Surf's up & Cali Rivera Panini, or Midwest Farmer's Daughter Hotdog.
Beach Bums Bevs & Bites frequently has special events- whether it is for a sports game, tv show discussion, musician, comedian or painting class, the intimate environment is always a great place to have a fun evening. The community has embraced this little beach bar and Bucz is currently a member of the Cayucos Chamber of Commerce Board of Directors, and regularly donates to local nonprofits. He loves to support the Morro Bay Women's Group ( for battered women support organization) and Cayucos Scholarship Fundraiser.
Bucz said, "We have a great ocean view location where you can get in touch with your soul in a comfortable clean atmosphere and get away from the daily hustle and bustle. Cayucos is unique and Beach Bums offers a laid back alternative to enjoy the weather, ocean, and sunsets while enjoying your favorite glass of wine or beer. The outside deck is a favorite for many visitors during the July 4th Celebration (with coveted paid seating) and Car Show Weekend event. The parade passes right by Beach Bums, and the view for the fireworks show is great from our deck. Take 220 steps from the front door to the sandy Cayucos beach."
Beach Bums Bevs & Bites is located at 10 N. Ocean Avenue in Downtown Cayucos. Hours of operation vary by season. For more information, call (805)900-5360 or visit www.beachbums805.com and @beachbumscayucos on social media.
-Cassandra Frey
comments