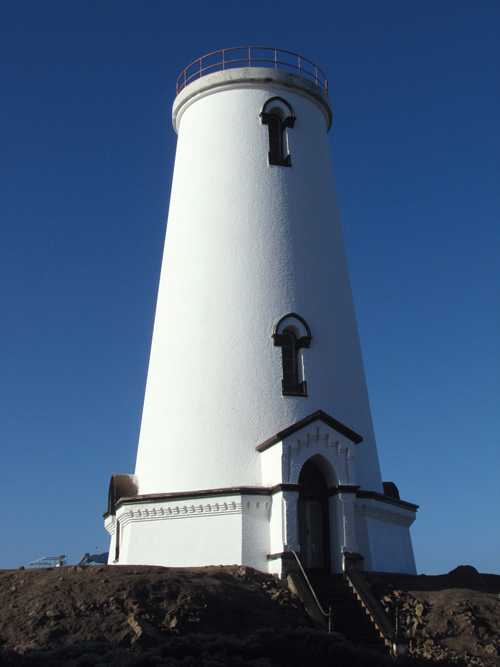 Beacon of history welcomes visitors
It's hard to believe that the quiet cove at San Simeon was ever a bustling seaport, but in the late 1800s that is exactly what it was. Whaling was a huge industry and ships that plied the waters off the Central Coast brought their catch to the San Simeon pier to offload to the Whaling Station. Juan Rodriguez Cabrillo noted the prominent rocks just north of San Simeon in 1542 and named them Piedras Blancas – white rocks. Naturally, ships' captains tried to be careful, but many a ship met its doom after slamming into them. A light station at Point Piedras Blancas, just north of the bay, was needed.
In 1894 building began and the tower was erected. Lighthouses in California were built on top of high cliffs, making the tall imposing lighthouses common on the Atlantic coast unnecessary to this local terrain. Even still, at Piedras Blancas a classic tall lighthouse was built; only two exist in the state, Pigeon Point being the other.
The lighthouse originally stood more than 100 feet high with a first order Fresnel lens on top. In 1949 the lens and the upper section of the structure were removed due to earthquake damage and a rotating aero-beacon replaced it, making the present height 70 feet. The Fresnel lens is now housed in an enclosure next to the Veteran's Memorial Building on Main Street in Cambria.
In the early days lighthouses were recognized by ships at sea during daylight hours by their special colors. Each lighthouse was assigned a specific set of colors and was painted accordingly. A ship passing by could tell where they were based on those colors. The ship's captain could spy them through his looking glass and say, "Aha, white with black, we must be at Point Piedras Blancas."
In 1906 a fog signal building was built. Inside was the latest equipment to make sound loud enough to carry out to sea. Different fuels, including oil and kerosene, were used over the years to burn and produce the light and were kept in a small concrete bunker below the lighthouse in front of the fog signal building. Light keepers and their assistants had to haul the fuel from the bunker up to the lighthouse and then ascend the winding staircase to the lens housing area.
Ongoing restoration
Piedras Blancas Light Station, once administered by the U.S. Lighthouse Service and then the U.S. Coast Guard, is currently managed by the Department of the Interior's Bureau of Land Management. The BLM and the Piedras Blancas Light Station Association are restoring this wonderful historical site to its former glory.
Volunteers have worked more than 100,000 hours restoring the lighthouse and surrounding buildings. The fuel oil house has been restored and a replica of the station's shingled watch room has been completed. Other historic structures on the site have also been repaired. The Piedras Blancas Light Station Association gift shop is housed in what once was a strip of small offices. The next project slated to be done is to replicate the tower's lantern room and although the Fresnel lens will not be moved back, this will have the lighthouse appearing exactly as it was when it was first built.
The lighthouse grounds consist of fields full of native vegetation. For many years the area contained overgrown ice plant called capobrotus, the type seen along California freeways. Volunteers worked long and hard pulling out this invasive plant and, miraculously, the native vegetation began to return on its own. Docents have placed interpretive signs near the plants to benefit recognition.
Access to Piedras Blancas is by guided tour only. Tours are offered Tuesday, Thursday and Saturday morning from Sept. 1 – June 14; from June 15 – Aug. 31 tours are offered Monday through Saturday. There are no tours on holidays. Visitors meet at 9:45 a.m. at the former Piedras Blancas Motel located 1.5 miles north of the light station on Highway 1. Do not wait at the gate to the light station! Wheelchairs and strollers are available upon request. No pets. Tours may be cancelled due to inclement weather. No reservations are necessary and tour guides will be waiting there. Tours last about 2 hours and include 1/2 mile of easy walking. $10 adults, $5 ages 6-17, no fee for ages 5 and under. For tour information, special arrangements, or groups of 10 or more, call (805) 927-7361, email: PiedrasBlancasTours@gmail.com or visit www.blm.gov.
— Ruth Ann Angus
comments