Visit the beach cities of Pismo Beach, Shell Beach and Oceano
The beach cities of Shell Beach, Pismo Beach, Oceano and Grover Beach run along the coast connected by first Highway 101 and then Highway 1. It is difficult to tell where one city ends and the next begins. The four cities attract visitors year round for their proximity to the ocean and the variety of activities individuals and families can enjoy.
The main attractions in Shell Beach are the vistas of the Pacific Ocean. Drive down to Ocean Boulevard where parking and a set of stairs provide access to the sandy beach below. There's a perfect lookout gazebo in Margo Dodd park.
Take a picnic basket and enjoy breathtaking sunset views.  Fishermen love to cast lines from the stretch of cliffs. Also popular in Shell Beach is kayaking.
If you are traveling to the seaside resort communities in and around Pismo Beach, let these recommendations serves as a tourists guide to the area. Enjoy your stay!
Attractions
Dinosaur Caves Park
Located at the corner of Cliff Street and Shell Beach Road, Shell Beach. This 11-acre park is popular with walkers, photographers, dog lovers, joggers and fishing enthusiasts. Observe dolphins, whales, sea otters and other sea life as well as sea and shore birds such as gulls, cormorants, and Peregrine falcons.
Oceano Dunes
Thousands flock to the Oceano Dunes State Recreational Park to camp along the ocean in tents and RVs every week. You can rent and ride dune buggies and ATVs on the beach and enjoy riding for the entire afternoon. There is a small cost per vehicle to drive on the beach and it is recommended you have a larger vehicle before attempting to drive on the dry sand; you don't want to get stuck in the dunes.
Pismo Beach Pier
This 1,200-foot pier is a major fishing attraction. For serious recreation, try kayaking, surfing, or scuba diving. For a more relaxed afternoon walk the pier and then head to the downtown area for shopping.
Pismo Beach Monarch Butterfly Grove
The Western Monarch Butterfly overwinters along the California coast from October to February and the Pismo Beach Monarch Butterfly Grove is one of the five overwintering sites. The best spots to see and learn more about the monarch butterfly on the Central Coast are the Pismo Beach Butterfly Grove and the grove at Morro Bay State Park. Visitors to the grove at Pismo State Beach, located on State Highway 1, are be greeted by knowledgeable and well-informed volunteer docents offering talks and information about the butterflies visiting the grove. For more information about visit parks.ca.gov. The grove is located at 400 S Dolliver St in Pismo Beach.
The Pismo Beach Monarch Butterfly Grove has recently installed interpretative panels as the first stop on the newly inaugurated Western Monarch Trail. The Pismo Beach grove is the first monarch butterfly migration and overwintering sites to receive the migration trail designation. Other California locations are being prepared for public education and the trail is expected to extend into other western states starting in 2023. For more information visit Western Monarch Trail.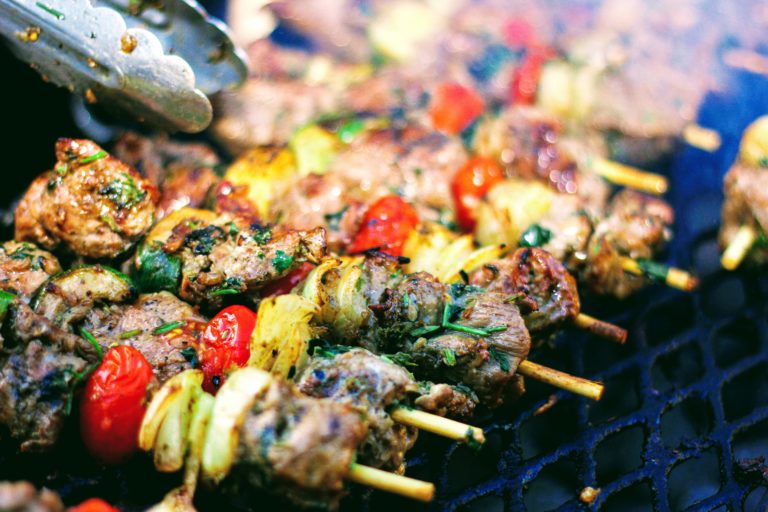 Pismo Beach Dining
Ada's Fish House
The "east coast meets west coast" menu is known for freshness. Lobster, steamers, and sea scallops are flown in every few days as well as fresh live Pacific seafood from local fishermen and vendors. Lobster roll and fish and chips are favorites. Crisp fresh salads and a tasty clam chowder round out any meal. The clam chowder is a People's Choice and Judge's Choice winner at the Pismo Beach Clam Festival.
Ada's Fish House is at 558 Price Street, Pismo Beach CA. Open daily for outdoor and limited indoor dining from 11:30 a.m. -9:30 p.m. and 10 p.m. on weekends. Seating by reservation. Walk-ins are seated if space is available. Five or more guests are seated in the heated patio. For more information visit adafishhouse.com or call (805) 556-3077 for reservations.
Brad's Restaurant
Award-winning clam chowder, best tri-tip sandwiches in SLO County, BBQ Buffalo Clams. Dine inside or on the patio. 1 block from the ocean. Brad's Restaurant is located at 209 Pomeroy Avenue in Pismo Beach. Open for breakfast Fri-Sun 8 a.m.-11a.m. Lunch and dinner hours are Mon-Thu 10:30 a.m.-8:30 p.m. and Fri-Sun 11 a.m.-9 p.m. For more information, call (805) 773-6165 or visit bradsofpismo.com.
Cracked Crab
This Pismo Beach restaurant has delivered fresh, local seafood in a casual atmosphere since 1999. The Cracked Crab is a one-of-a-kind restaurant on the Central Coast and a visit to Pismo Beach has to include a sampling of the best the sea has to offer at the Cracked Crab.
The Cracked Crab is located at 751 Price St., Pismo Beach, walking distance from the pier. Open for dining in and take out 11 a.m.-9 p.m. Sunday thru Thursday and 11 a.m.-10 p.m. Friday and Saturday. The patio is open all day on weekends and after 4 p.m. otherwise. For more information visit www.crackedcrab.com or call (805) 773-2722.
Oasis Restaurant
The only Moroccan restaurant on the Central Coast for nearly 30 years has a variety of different options for everyone's preference, such as vegetarian, chicken, couscous, lamb and fish dishes alongside many others. Every item on the menu has its own unique flavor and the recipes have all been handcrafted and refined by Karim Benbrahim, the head chef, owner and founder of the restaurant.
Oasis Restaurant is located at 1351 Price St. in Pismo Beach. Hours are Tue 4:30-9:30 p.m., Wed-Sun noon-9:30 p.m. Closed Monday. For more information visit oasisrestaurantslo.com or call (805) 295-6826.
Splash Cafe
This restaurant is a must-stop and is popular with the locals. There is often a line out the door to get clam chowder in a bread bowl. Pismo Beach is called the "Clam Capital of the World," so you shouldn't leave without trying a bowl. 197 Pomeroy, Pismo Beach.  For more information visit splashcafe.com/pismo-beach or call (805) 773-4653.
HotShots Family Entertainment Center
HotShots was voted best fish and chips in town. All ages, open late offering 14 pool tables, air hockey, arcade games and 30 beers on tap! Try the handmade pizza or fresh ground burgers. Located just one block from the beach. 250 Pomeroy Ave., Pismo Beach, hotshotspismo.com, (805) 773-4542.
Marie Callenders Restaurant
Dine with spectacular ocean views. Join them for Sunday brunch 9am – 2 pm for their famous quiche, omelettes, eggs benedict and mimosas. Try a slice of the famous pies. 2131 Price St., Pismo Beach, (805) 773-0606.
Activities
Skydive Pismo Beach
The ultimate skydive experience! Jump out of a perfectly good airplane and freefall over the Pacific Ocean at 120 mph–take in 10,000-foot views of the California Coastline as you descend over legendary Pismo Beach. Located at 201 W. Grand Ave. in Grover Beach. skydivepismobeach.com,  (805) 481-5867.
Thomas Kinkade Gallery
A showcase of Thomas Kinkade's famous works both new and classic.  Ask to see his lesser known pieces as well. Experience the many beautiful styles of Kinkade's artwork. 500 Cypress St., Pismo Beach.  (805) 773-9424.
Seaside Gallery
Always changing and affordable original paintings, sculpture and gicleé art by local and globally-acclaimed artists presented for sale in a warm and friendly atmosphere. Fine art in the heart of Pismo Beach. Daily 10 am-5 pm, Sunday 11 am-5 pm 580 Cypress Street, Pismo Beach, theseasidegallery.com,  (805) 773-8057.
Pismo Beach Travel Guide stories
Top things to do when visiting Pismo Beach
comments