Visit the beach cities of Pismo Beach, Shell Beach and Oceano
The beach cities of Shell Beach, Pismo Beach, Oceano and Grover Beach run along the coast connected by first Highway 101 and then Highway 1. It is difficult to tell where one city ends and the next begins. The four cities attract visitors year round for their proximity to the ocean and the variety of activities individuals and families can enjoy.
The main attractions in Shell Beach are the vistas of the Pacific Ocean. Drive down to Ocean Boulevard where parking and a set of stairs provide access to the sandy beach below. There's a perfect lookout gazebo in Margo Dodd park.
Take a picnic basket and enjoy breathtaking sunset views.  Fishermen love to cast lines from the stretch of cliffs. Also popular in Shell Beach is kayaking.
If you are traveling to the seaside resort communities in and around Pismo Beach, let these recommendations serves as a tourists guide to the area. Enjoy your stay!
Pismo Beach Travel Guide
Dinosaur Caves Park – Located at the corner of Cliff Street and Shell Beach Road, Shell Beach. This 11-acre park is popular with walkers, photographers, dog lovers, joggers and fishing enthusiasts. Observe dolphins, whales, sea otters and other sea life as well as sea and shore birds such as gulls, cormorants, and Peregrine falcons.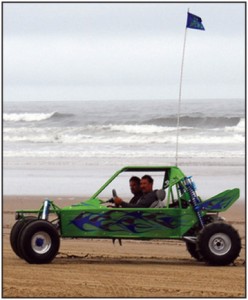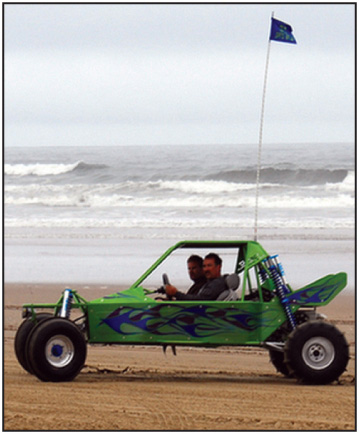 Oceano Dunes – Thousands flock to the Oceano Dunes State Recreational Park to camp along the ocean in tents and RVs every week. You can rent and ride dune buggies and ATVs on the beach and enjoy riding for the entire afternoon. There is a small cost per vehicle to drive on the beach and it is recommended you have a larger vehicle before attempting to drive on the dry sand; you don't want to get stuck in the dunes.
Pismo Beach Pier – This 1,200-foot pier is a major fishing attraction. For serious recreation, try kayaking, surfing, or scuba diving. For a more relaxed afternoon walk the pier and then head to the downtown area for shopping.
HotShots Family  Entertainment Center – HotShots was Voted best fish and chips in town. All ages, open late offering 14 pool tables, air hockey, arcade games and 30 beers on tap! Try our handmade pizza or our fresh ground burgers. Located just one block from the beach. 250 Pomeroy Ave., Pismo Beach, hotshotspismo.com, (805) 773-4542.
Pismo Beach Dining
Brad's Restaurant – Award-winning clam chowder, best tri-tip sandwiches in SLO County, BBQ Buffalo Clams. Dine inside or on the patio. 1 block from the ocean. 209 Pomeroy, Downtown Pismo Beach, (805) 773-6165.
Marie Callenders Restaurant – Dine with spectacular ocean views. Join them for Sunday brunch 9am – 2 pm for their famous quiche, omelettes, eggs benedict and mimosas. Try our famous pies. 2131 Price St., Pismo Beach, (805) 773-0606.
Splash Café – This restaurant is a must-stop and is popular with the locals. There is often a line out the door to get clam chowder in a bread bowl. Pismo Beach is called the "Clam Capital of the World," so you shouldn't leave without trying a bowl. 197 Pomeroy, Pismo Beach.  (805) 773-4653.
Activities in Pismo Beach
Skydive Pismo Beach – The ultimate skydive experience! Jump out of a perfectly good airplane and freefall over the Pacific Ocean at 120 mph–take in 10,000-foot views of the California Coastline as you descend over legendary Pismo Beach. Located at 201 W. Grand Ave. in Grover Beach. skydivepismobeach.com,  (805) 481-5867.
Thomas Kinkade Gallery – A showcase of Thomas Kinkade's famous works both new and classic.  Ask to see his lesser known pieces as well. Experience the many beautiful styles of Kinkade's artwork. 500 Cypress St., Pismo Beach.  (805) 773-9424.
Seaside Gallery – Always changing and affordable original paintings, sculpture and gicleé art by local and globally-acclaimed artists presented for sale in a warm and friendly atmosphere. Fine art in the heart of Pismo Beach. Daily 10 am-5 pm, Sunday 11 am-5 pm 580 Cypress Street, Pismo Beach, theseasidegallery.com,  (805) 773-8057.
Pismo Beach Travel Guide stories
Top things to do when visiting Pismo Beach
comments