Visit the beach cities of Pismo Beach, Shell Beach and Oceano
The beach cities of Shell Beach, Pismo Beach, Oceano and Grover Beach run along the coast connected by first Highway 101 and then Highway 1. It is difficult to tell where one city ends and the next begins. The four cities attract visitors year round for their proximity to the ocean and the variety of activities individuals and families can enjoy.
The main attractions in Shell Beach are the vistas of the Pacific Ocean. Drive down to Ocean Boulevard where parking and a set of stairs provide access to the sandy beach below. There's a perfect lookout gazebo in Margo Dodd park.
Take a picnic basket and enjoy breathtaking sunset views.  Fishermen love to cast lines from the stretch of cliffs. Also popular in Shell Beach is kayaking.
If you are traveling to the seaside resort communities in and around Pismo Beach, let these recommendations serves as a tourists guide to the area. Enjoy your stay!
Attractions
Dinosaur Caves Park
Located at the corner of Cliff Street and Shell Beach Road, Shell Beach. This 11-acre park is popular with walkers, photographers, dog lovers, joggers and fishing enthusiasts. Observe dolphins, whales, sea otters and other sea life as well as sea and shore birds such as gulls, cormorants, and Peregrine falcons.
Oceano Dunes
Thousands flock to the Oceano Dunes State Recreational Park to camp along the ocean in tents and RVs every week. You can rent and ride dune buggies and ATVs on the beach and enjoy riding for the entire afternoon. There is a small cost per vehicle to drive on the beach and it is recommended you have a larger vehicle before attempting to drive on the dry sand; you don't want to get stuck in the dunes.
Pismo Beach Pier Plaza
The Pismo Beach Pier Plaza is easy to find, just look for the seven-foot-tall bright letters spelling out Pismo Beach and a giant slide leading through the plaza floor to the beach. The slide is a feature of the nature-themed colorful Whale Surfing Playground that includes a Humpback whale creating waves as it breaches, the Clam slide and surfboards. The inspiration for the playground comes from the marine life, local nature and surfing culture around Pismo Beach.
The plaza is the gateway to the 1200-foot historical Pismo Beach Pier, which is a major fishing, kayaking and surfing destination.
Two more attractions include the three vintage Airstreams, housing the Pismo Beach visitor center and concessions and the Shell Beach Streetscape. The Shell Beach Streetscape features an 18-block walking and cycling path with updated waterways, landscaping and bike racks. The path meanders past shops and cafes, in full view of the great outdoors.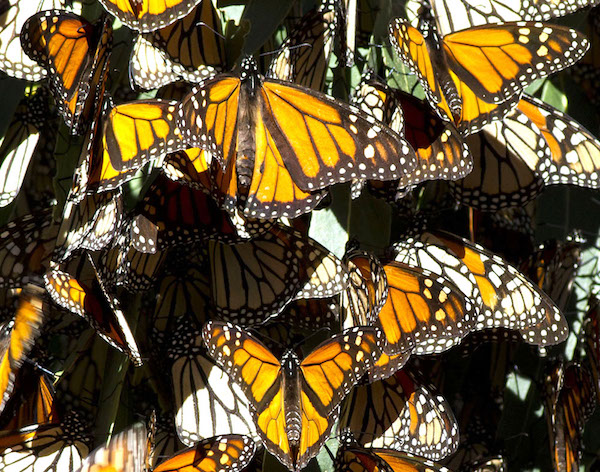 Pismo Beach Monarch Butterfly Grove
The Western Monarch Butterfly overwinters along the California coast from October to February and the Pismo Beach Monarch Butterfly Grove is one of the five overwintering sites. The best spots to see and learn more about the monarch butterfly on the Central Coast are the Pismo Beach Butterfly Grove and the grove at Morro Bay State Park. Visitors to the grove at Pismo State Beach, located on State Highway 1, are greeted by knowledgeable and well-informed volunteer docents offering talks and information about the butterflies visiting the grove. For more information visit parks.ca.gov. The grove is located at 400 S Dolliver St in Pismo Beach.
The Pismo Beach Monarch Butterfly Grove has recently installed interpretative panels as the first stop on the newly inaugurated Western Monarch Trail. The Pismo Beach grove is the first monarch butterfly migration and overwintering site to receive the migration trail designation. Other California locations are being prepared for public education and the trail is expected to extend into other western states starting in 2023. For more information visit Western Monarch Trail.
The Pismo Preserve
The 880-acre Pismo Preserve has over 11 miles of high-quality single-track trails winding through serene oak woodlands, canyons and coastal ridgelines with panoramic views of the Pacific Ocean. Opened in January 2020, the preserve offers exceptional experiences for hikers, mountain bikers and equestrians.
Wildlife is abundant, with many of sightings of deer, all kinds of birds, raptors including eagles and many different kinds of hawks. Squirrels are common and there are reported sightings of fox and coyote. Lizards and snakes are also around as are butterflies, bees and other insects. Even grazing goats and cattle may be encountered, doing their part to help reduce the risk of wildfires. The same rules for approaching wildlife apply to the goats and cattle: please don't approach, harass or attempt to feed any animals on the preserve.
Leashed dogs are allowed to hike along with their families. Please pick up after your dog. Follow the posted trail rules. Enjoy the trails, the views, and all of the wildlife and be safe.  Bring your camera!
The preserve is located at 80 Mattie Road, Pismo Beach, off exit 19B from US Highway 101. The entrance and parking lot are located on the east side of the freeway at the southern end of Mattie Road. For more information visit LCSLO.org/pismopreserve or call (805) 544-9096.
Dining & drink
Ada's Fish House
The "east coast meets west coast" menu is known for freshness. Lobster, steamers, and sea scallops are flown in every few days as well as fresh live Pacific seafood from local fishermen and vendors. Lobster roll and fish and chips are favorites. Crisp fresh salads and a tasty clam chowder round out any meal. The clam chowder is a People's Choice and Judge's Choice winner at the Pismo Beach Clam Festival.
Ada's Fish House is at 558 Price Street, Pismo Beach CA. Open daily for outdoor and limited indoor dining from 11:30 a.m. -9:30 p.m. and 10 p.m. on weekends. Seating by reservation. Walk-ins are seated if space is available. Five or more guests are seated in the heated patio. For more information visit adafishhouse.com or call (805) 556-3077 for reservations.
Brad's Restaurant
Award-winning clam chowder, best tri-tip sandwiches in SLO County, BBQ Buffalo Clams. Dine inside or on the patio. 1 block from the ocean. Brad's Restaurant is located at 209 Pomeroy Avenue in Pismo Beach. Open for breakfast Fri-Sun 8 a.m.-11a.m. Lunch and dinner hours are Mon-Thu 10:30 a.m.-8:30 p.m. and Fri-Sun 11 a.m.-9 p.m. For more information, call (805) 773-6165 or visit bradsofpismo.com.
Cracked Crab
This Pismo Beach restaurant has delivered fresh, local seafood in a casual atmosphere since 1999. The Cracked Crab is a one-of-a-kind restaurant on the Central Coast and a visit to Pismo Beach has to include a sampling of the best the sea has to offer at the Cracked Crab.
The Cracked Crab is located at 751 Price St., Pismo Beach, walking distance from the pier. Open for dining in and take out 11 a.m.-9 p.m. Sunday thru Thursday and 11 a.m.-10 p.m. Friday and Saturday. The patio is open all day on weekends and after 4 p.m. otherwise. For more information visit www.crackedcrab.com or call (805) 773-2722.
Oasis Restaurant
The only Moroccan restaurant on the Central Coast for nearly 30 years has a variety of different options for everyone's preference, such as vegetarian, chicken, couscous, lamb and fish dishes alongside many others. Every item on the menu has its own unique flavor and the recipes have all been handcrafted and refined by Karim Benbrahim, the head chef, owner and founder of the restaurant.
Oasis Restaurant is located at 1351 Price St. in Pismo Beach. Hours are Tue 4:30-9:30 p.m., Wed-Sun noon-9:30 p.m. Closed Monday. For more information visit oasisrestaurantslo.com or call (805) 295-6826.
Splash Cafe
This restaurant is a must-stop and is popular with the locals. There is often a line out the door to get clam chowder in a bread bowl. Pismo Beach is called the "Clam Capital of the World," so you shouldn't leave without trying a bowl. 197 Pomeroy, Pismo Beach.  For more information visit splashcafe.com/pismo-beach or call (805) 773-4653.
HotShots Family Entertainment Center
HotShots was voted best fish and chips in town. All ages, open late offering 14 pool tables, air hockey, arcade games and 30 beers on tap! Try the handmade pizza or fresh ground burgers. Located just one block from the beach. 250 Pomeroy Ave., Pismo Beach, hotshotspismo.com, (805) 773-4542.
Marie Callenders Restaurant
Dine with spectacular ocean views. Join them for Sunday brunch 9am – 2 pm for their famous quiche, omelettes, eggs benedict and mimosas. Try a slice of the famous pies. 2131 Price St., Pismo Beach, (805) 773-0606.
Shopping
Pismo Pickers Antiques & Vintages
Pismo Pickers is a great place to shop for vintage collectibles & antiques. With many vendors, they have items you're looking for from the Fab 40s, the Hip 50s, Cosmic 60s or Cool 70s and all the vinyl. 537 Five Cities Dr., Pismo Beach, facebook.com/ PismoBeachAntiquesandVintage, (805) 773-3777
Ashtie's Beach Shack
Ashtie's Beach Shack on Pomeroy in Pismo Beach is a gift, souvenir and clothing shop for the whole family. There's an assortment of trendy beach clothes, bathing suits (perfect since it's just up from the beach), sandals (dressy and flip flops) and loads of fun sparkly baubles. Come on in and see for yourself what Ashtie's has for you! Located at 240 Pomeroy Avenue, Pismo Beach, (805) 295-5055. Visit Ashties on Facebook for more information.
California Fresh Market
California Fresh Market provides groceries to the local community. Organic, Specialty, and Gourmet products. Full-service Deli & Bakery, Full Service Meat & Seafood, Specialty Wines & Cheeses, Unique Gifts and so much more! Located at 555 Five Cities Dr., Pismo Beach, CA 93449, (805) 295-7162 or 771 Foothill Blvd., San Luis Obispo, CA 93405, (805) 250-1425. Visit californiafreshmarket.com for more information.
Thomas Kinkade Gallery
A showcase of Thomas Kinkade's famous works both new and classic. Ask to see his lesser-known pieces as well. Experience the many beautiful styles of Kinkade's artwork. Located at 500 Cypress St., Pismo Beach, (805) 773-9424. Visit showcasegalleries.com for more information.
Vacation Rentals
Beach Bum Holiday Rentals
Offering wonderful accommodations. We make sure that your visit is one to remember whether traveling for pleasure or in need of a long term residence, we offer beautifully decorated houses, condominiums or cottages. Visit us at PismoVacation. Rentals or call toll-free (866) 737-7367
RV Parks
The Pismo Coast Village RV Resort, situated just steps from the beach, has been attracting tourists since the mid-1970s. Along with 26 beautifully landscaped acres, 400 sites, and a short stroll to the ocean, guests can enjoy the resort's many amenities that include a heated swimming pool, outdoor pickleball and basketball courts, miniature golf course, arcade, and bicycle rental. There is a restaurant on-site, complimentary wireless Internet access, and a general store stocked with items ranging from toiletries to local wines, RV supplies, and apparel. Access to popular Pismo Beach restaurants and shopping are within walking distance. Pismo Coast Village RV Resort is located at 165 S. Dolliver St. in Pismo Beach. For reservations or more information call (888) 782-3224 or visit pismocoastvillage.com.
Pismo Beach Travel Guide stories
Top things to do when visiting Pismo Beach
comments