Enjoy zip lines, wildlife tours, escape rooms, wine tasting, and more
Action, excitement, and memorable experiences await at one of the Central Coast's best kept secrets – Margarita Adventures. Located in the charming historical town of Santa Margarita, it's the ideal place to create unforgettable memories with family and friends. From zip lines and wildlife tours to escape rooms and wine tasting, there truly is something for everyone.
"Over the past couple of years, we have added more activities to our lineup at Margarita Adventures," said Company Controller Heather Rodgers. "And, with our Ancient Peaks tasting room across the street, we have a lot to offer. We are focused on groups and families and people who like to do things together. Some people in the group might want to do the escape room while others are doing the ziplines or wine tasting. This is definitely more than just a one-stop shop; everything we do is bigger and better than ever before."
Famous zipline tours
What started as four zipline tours back in 2011 has grown to a course of six award-winning ziplines spanning more than 7,500 total feet. Each zipline – The Double Barrel, The Renegade, The Woodlander, The Hilltopper, The Archway, The Pinot Express, plus a suspension bridge – is unique, thrilling, and exciting in its own way. Experience the breathtaking beauty of stunning valleys, magnificent native blue and white oak trees, and glorious mountainsides and vineyards.
Most tours last about 2.5 hours, including a guided tour of the area with information on sustainable winegrowing, local wildlife and flora, and a detailed history of Santa Margarita Ranch. Local family-owned by Rob Rossi, Karl Wittstrom, and Doug Filipponi since 2006, it is one of the oldest running cattle ranch in the state of California. Sustainability in practice is crucial to the ranch owners. As stewards of the land, and as cattle ranchers, farmers, and vineyard owners, conservation is key in their minds, and they value the importance of teaching others and sharing the beauty of the ranch with visitors.
"People truly enjoy the ride out to the ziplines and learning about the progression and formation of the town of Santa Margarita and the ranch," said Operations Manager Katrina Larson. "It's a fascinating and unique town, and it has a colorful history. Our ranch owners care so much about this land, and they like sharing its history with others."
Safety and professionalism is of the utmost importance to the staff, and something they take pride in at Margarita Adventures. Friendly and helpful, the guides help ensure a memorable and safe experience for guests of all ages.
Thanks to the mild climate in San Luis Obispo County, the ziplines run year-round, even in the rain.
"When it's raining, it's a really cool experience and one of my favorite times to zipline," Larson said. "Everything just looks different and it's quite magical."
Add a little something extra to your zipline tour with the Zip and Sip, a fun and informative wine tasting experience at the Ancient Peaks Winery tasting room. This package includes a cheese and charcuterie board, paired with a seasonal wine tasting menu. Sunset tours are also available; please book in advance for this adventure.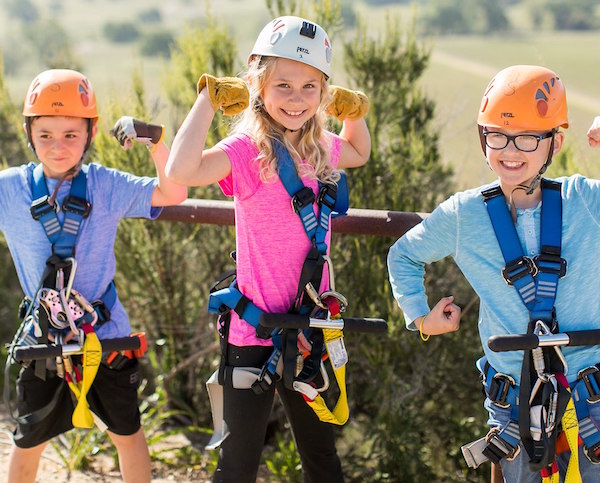 Nature tours
The team brought Jacqueline Redinger on board in early 2022 to lead California Wild, an offering of four nature tours showcasing the wildlife and diverse ecosystems of Santa Margarita Ranch. As the ranch naturalist, Redinger boasts a broad range of knowledge and experience gained through education and while working at the Monterey Bay Aquarium and with the California Department of Fish and Game.
Choose from The Nature Adventure Tour, Eagle Tour, Foraging Tour, and Photography Tour. Most are family-friendly, and each is unique in its own way. Redinger strives to personalize each educational tour, and shuttles guests in a vintage open-air Hummer.
"The ranch is so vast, and we have a diverse population of wildlife and flora," Rodgers said. "Guests are likely to see eagles, hawks, wild pigs, deer, and maybe even bobcats and bears."
Larsen added, "California has a lot of foraging potential, and most people are amazed to find out about the different plants during our tours including how they are used as food, tea, or medicinally; these are really educational tours."
Escape rooms
The newest activity to join the lineup is an indoor escape room, aptly named ESCAPE! at Margarita Adventures. Built and designed by our own Mr. Gadget, Frank Rodgers. In collaboration with SLO CAPED (Cal Poly Amusement Park Engineers and Designers), Frank has designed one of the most interactive escape rooms in the state. The development team has leveraged computer science, robotics, and analytics to create a one of a kind experience that can be enjoyed with family and friends.
"This first room is called Rita's Relics," Rodgers said. "The entire project was all built in-house, which is exciting for us, and we are building more. Plans are in the works to have three different options for people to choose from over the upcoming year, and they are all quite technologically-based."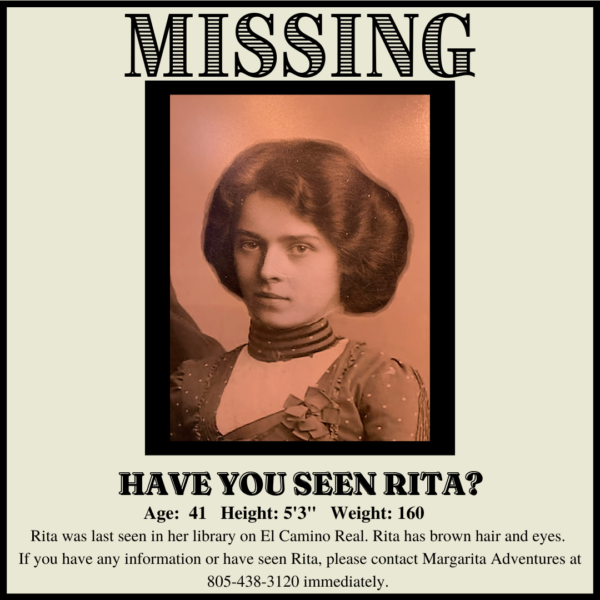 Team building
Especially appealing to workers, managers, and corporations are the team building events at Margarita Adventures. Larson will customize each event based on the needs of the group, whether that involves working on communication, problem solving, or general bonding.
"These events are designed to help everyone focus and work together to complete a particular task, all while having fun," Larson said. "We will create the perfect day for your team, with additional options such as catered lunch and wildlife tours available."
Ranch hospitality
Whether it's the ziplines, the nature tours, the escape rooms, or the wine tasting at Ancient Peaks, make plans today to visit Margarita Adventures where you'll experience history, nature, and good 'ole ranch hospitality.
"We have something that will appeal to anyone – families, couples, groups of friends – we want everyone to come here and feel welcomed and safe while sharing exciting and memorable times together."
Gift certificates are available and make the perfect gift for holidays, birthdays, and other special events.
For more information, call (805) 438-3120 or stop by the Margarita Adventures office at 22719 El Camino Real in Santa Margarita; open daily, excluding major holidays. Find a full list of adventures, group rates, reservations, and booking calendar at margarita-adventures.com and be sure to give them a follow on Facebook and Instagram.
—Meagan Friberg
comments