Highlighting the beauty on the Central Coast
Residents of the Central Coast are known for their enthusiasm for outdoor activities. With its mild winters and cooling coastal breezes during the summer, the Central Coast fosters this enthusiasm. Hiking, cycling, surfing, running, golf, and horseback riding are all available in the area.
In recent years, another sport has gained popularity here: disc golf. Disc golf is an activity that seems tailor-made for the Central Coast. The sport takes advantage of the area's natural beauty, diverse landscapes and generally mild weather.
For laid-back nature lovers
Disc golf also seems to fit with the positive and laid-back attitudes found on the Central Coast. Courses are open to the public and most are free to play. Some courses are dog-friendly and some even allow open containers of alcohol. With a low start-up cost, players need only a driver, a putter (each of which costs under $20) and an all-are-welcome mindset.
In disc golf, a player uses discs that are smaller and heavier than a traditional Frisbee to move through the course, throwing the disc into a basket at the end of each hole. Disc golf is similar to the sport of golf in that a player attempts to reach the basket in the least amount of throws possible. Much of the terminology of golf has been borrowed by disc golf players, and birdies, bogies and eagles all describe how far over or under par a player is on each hole.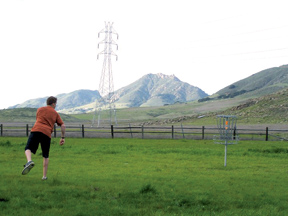 Disc golf courses are less intrusive on a natural habitat than a traditional golf course, as play can be conducted on a variety of terrain. Many courses meander through wooded areas and play around hills and gulches, and can often blend in with their surroundings. For these reasons, disc golf draws players who enjoy being out in nature.
SLOThrowers: Increasing Awareness in SLO County
The presence of disc golf in San Luis Obispo County has been bolstered largely by the SLOThrowers Club, which was started in 2005 by Brian Anderson, Matt Anderson, Devin Newton and Scott Martin. Brian says that they started the club as a way to increase awareness of the sport and to raise money and gain support from the community in order to build disc golf courses.
Since its start, SLOThrowers has constructed 3 disc golf courses in San Luis Obispo County. The 9-hole course at Sinsheimer Park in San Luis Obispo was completed in 2004 and was the first disc golf course in San Luis Obispo city limits. In 2007 the 18-hole course at Heilmann Park in Atascadero was opened. The 18-hole course at Laguna Lake Park in San Luis Obispo was finished in the spring of 2008.
All of the courses are located in parks that facilitate a variety of activities, including sand volleyball, fishing, boating, horseback riding, running and walking. Also included among the grounds of the three parks are horseshoe pits, BBQ pits and dog parks. For outdoor activity fans, disc golf can be part of a full day.
As listed on the SLOThrowers website, the club is dedicated to "promoting the sport of disc golf and fostering a sense of community for disc golfers in San Luis Obispo County." The SLOThrowers organization sees disc golf as "as an environmentally friendly, family oriented, and socially beneficial sport that helps enable lifelong fitness and can coexist amicably with other recreations in urban areas and parks."
The club also exists in order to build and maintain local courses and organize tournaments in San Luis Obispo County. SLOThrowers' weekly tournaments are open to non-members for a nominal fee.
For SLOThrowers co-founder Brian Anderson the reasons for his interest in disc golf are simple: "Why do I like disc golf? It's fun, it's relaxing and it easily brings friends together," says Brian.
Play disc golf at Heilmann Park, 9400 El Bordo Avenue, Atascadero, Laguna Lake Park, 504 Madonna Road, San Luis Obispo and Sinsheimer Park, 900 Southwood, San Luis Obispo. For more information on disc golf in San Luis Obispo county visit the SLOThrowers website, slothrowers.com.
— Kate Joyce
comments