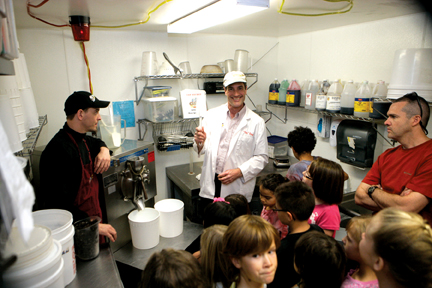 I scream, you scream, we all scream for ICE CREAM! That's the song that fans of Doc Burnstein's Ice Cream Lab sing as they enjoy the marvelous delights of this shop located on West Branch Street in the historic Village of Arroyo Grande. This is an old-fashioned ice cream parlor, the nostalgic kind of place visitors want to hang out in, not just because of the product, but the warm, friendly feeling guests get when they step inside.
Greg Steinberger was raised in Wisconsin and spent eight years in the Navy, ultimately stationed in the Bay area in California. He liked California, especially the warmer winters, but missed the small town feeling that he grew up with. "I was looking for a business to get into and decided to see what Arroyo Grande had to offer," he said. He found Burnardo'z Candy Kitchen & Ice Cream Parlor, which was originally begun by Chuck Burns. After some persuading, he was able to buy the shop from the new owners, and was introduced to Chuck in the process. Chuck is a local legend in this area when it comes to the creation of ice cream, and he and Greg became fast friends. "Burns taught me everything he knew about making ice cream," Steinberger said. "His grandson actually made the first batch of ice cream in my store," he said, "and he stayed on with me through his high school years."
Steinberger also attended several Ice Cream University seminars that included instruction on the business side of an ice cream shop. Then he attended a special five-day class offered by Cal Poly on the creation of ice cream.  "Chuck taught me the art of making ice cream," he said, "and Cal Poly the science."
"When I took over the business I did a remodel that included adding a party room, more windows, lighter colors, and a window in the manufacturing room so people can see the ice cream being made," Greg commented. He also set about simplifying the original recipes. "I found that the more straightforward and simple the product was, the more successful it was."
Greg, who is now known as Doc, says the name is a combination of Doc Brown from "Back to the Future" and Alfred Einstein. In his lab, Doc Burnstein specializes in hand-crafted super premium ice cream. The product is produced using hormone free cream from a dairy in the Bay area. The dairy uses a lower-temperature pasteurization process that results in a creamier ice cream. "Our Super Premium label has more cream than any other ice cream produced on the Central Coast," Doc said.
A recent visit from a group of seventeen children had Doc showing them how ice cream was originally made by using the old-fashioned hand crank in a bucket with milk, cream and sugar. The kids also got to make their own waffle cones. "But the thing they liked best," Doc said, "was walking into the freezer."
Ideas for new flavor combinations come from all kinds of sources. Patrons suggest them as do restaurants. Not all flavors work out. Doc once made a batch containing Guinness. "That was the worst flavor combination I made," he said, "I flushed that down the drain." He also participated in a turkey challenge contest put on by KCOY and made turkey ice cream, mashed potatoes and gravy ice cream, and cranberry sorbet. "The turkey ice cream was a flop," he said.
"The best flavor combination we've produced is our Merlot Raspberry Truffle," Doc said, "and this is made with real wine. It's our most popular ice cream." With over 140 flavor combinations visitors to the shop definitely have their choices. "Our second most popular ice cream is Birthday Cake," he said, "made with dough."
The most unusual flavor combinations ever made at Doc Burnstein's are Basil and Pesto ice cream and Chocolate Chile that was also created for a contest. They also make an olive oil ice cream that is sold at all the We Olive stores. "Vanilla remains the clear favorite." Doc said, "More people like vanilla than any other flavor." Doc gets natural vanilla from Madagascar through a processor in Paso Robles. "Many people don't realize that there are about 247 vanilla flavors," he said.
Doc even makes an ice cream treat for man's best friend. "We have a bacon and soy ice cream for dogs," he said. "Dogs can't tolerate real cream." This product is packaged for sale at grocery stores.
Doc's holds an Ice Cream Lab Show every Wednesday evening at 7 P.M. where guests can help invent the next incredible ice cream flavor. This is a comedy show utilizing the old wooden bucket and hand crank as Doc tells the history of ice cream, all accompanied with light and sound effects. Then four base flavors are put out and the audience gets to make four mixes. Everyone votes on the results and they name the combination and it goes for sale at the parlor the next day. "Some of these combinations have made it into our permanent flavors," Doc said.
Doc's also holds a children's Reading Lab on Tuesdays at 3:30pm, where area storytellers get to read selections from children's books to any gathering of kids. "I believe in supporting the community," Doc said. Every two months there is a blood drive at the store and there are over 100 donors who participate. "Anyone who donates a pint of blood gets a pint of ice cream," Doc said. Part of his community involvement is accomplished by donating 10% of his profits to school education. "I also am following a community owned business model," he commented, "where our employees and customers can be shareholders in the business." Doc has started this with 20 of his long time employees and intends to grow this out to the community.
The newest flavor for Doc Burnstein is the opening of a second shop in the Orcutt Union Plaza on West Clark Avenue in Orcutt. This store will have all the famous ice cream flavors as well as a coffee and espresso service.
Doc Bernstein's is located at 114 W. Branch St., Arroyo Grande. They can be reached by phone (805) 474-4068 or online www.docburnsteins.com. They can also be found on Facebook: facebook.com/docburnsteins.
It's safe to say that Doc Burnstein will keep making delicious ice cream flavors for a long time. Stop in to sample some soon.
— Ruth Ann Angus
comments