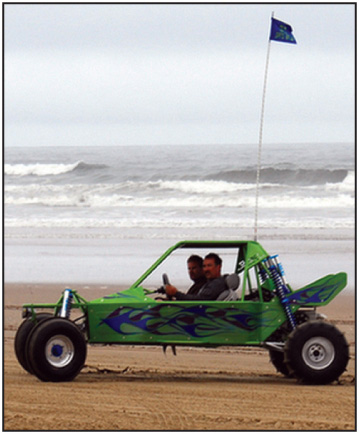 –The beach at the Oceano Dunes is the only beach in California where vehicles are still allowed to drive on the sand. And the dunes were features in "Pirates of the Caribbean: At the World's End." Visitors are able to camp and ride all-terrain vehicles (ATVs) on the beach all year round.
Before you head out to the dunes, the Friends of the Oceano Dunes offers tips on what to bring and what to do and not to do:
• Arrive at the beach at low tide – a tide schedule can also be found on the Website www.oceanodunes.org.
• Air tires down to 20 lbs. per tire.
• Don't make sharp turns in the sand.
• Don't stop going uphill.
• Carry a cell phone for emergencies.
•Don't ride ATVs with a passenger or without a helmet
• Don't take glass bottles to the beach.
• Bring extra keys. They are difficult to find if dropped in the sand.
"Flip flops and shorts can be very uncomfortable and very dangerous," says Zach Zeman with BJ's ATV Rental. He recommends dressing in layers, wearing long pants and closed toe shoes.
While ATVs are available for rent on the beach, you can also stop by an ATV rental's storefront as well.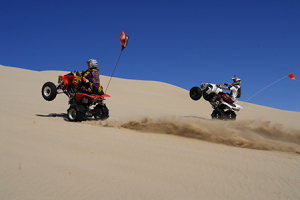 Before you rent an ATV, be prepared to fill out release and liability forms and get basic safety instruction before being released to ride in the dunes. Zeman said BJ's will not rent ATVs to anyone under the age of 9.
"All children are supposed to be supervised," he says.
Oceano Dunes is ranked as the No. 1 place to stay overnight by Reserve America.
"It's a very popular destination," says Jim Suty, president of the Friends of the Oceano Dunes. He has been vacationing at the Dunes for more than 30 years.
Suty says he used to visit the Dunes every six weeks and now he makes it down about five to six times per year, including Thanksgiving.
"We'll be celebrating Thanksgiving down there," Suty said. "We've been doing that for 30 years."
He recommends visitors to the county make a trip to the dunes, even for a day, to walk along the sand, hang out at the beach, ride ATVs or small dune buggies, play volleyball, shop in the nearby towns or go for a plane ride.
"There's a myriad of things to do – it all depends on what they're looking for," Suty said.
How to get there
From San Luis Obispo, exit Highway 101 at Pismo Beach to Highway 1, turn right at the light in Grover Beach to enter the state park. It costs $5 per vehicle to enter. Be sure you're in a vehicle fit to drive along the beach, as the dunes are two miles from the entrance.
Related: California Coastal Commission considering closing the dunes to off-road vehicles. See Freinds of the Oceano Dunes on Facebook for the latest updates.
comments