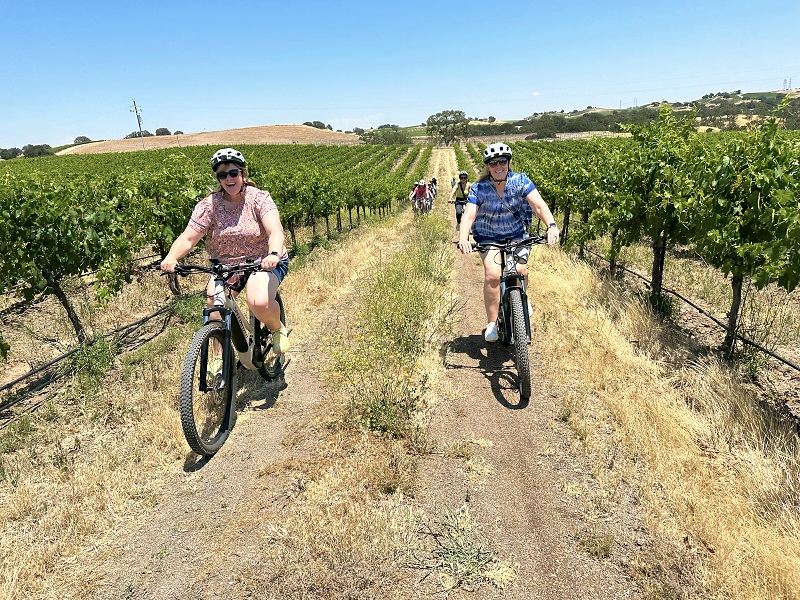 Winery teams up with VineCycle Tours to offer unique e-bike touring experiences
—Robert Hall Winery and VineCycle Tours are now offering electric bicycle tours of the Robert Hall estate every Friday. Touring the estate while riding an e-bike provides guests with an up-close look at the Regenerative Viticulture Living Case Study now in progress at the Robert Hall estate.
This study is an opportunity for the wider wine community to learn about regenerative viticulture through biodynamic farming techniques, comparing the results with the winery's sustainably-farmed vineyards. The purpose of the study is to understand regenerative farming practices and their effect on the vineyards' ability to sequester carbon and overall quality effects on soil, fruit, and wine. The project is led by world-renowned biodynamic consultant Philippe Armenier and Caine Thompson, rt Hall managing director.
"As stewards of our land, we have a desire to constantly improve our soils, fruit, and wine while minimizing our environmental impact," said Thompson. "These tours really bring this project to life."
The e-bike vineyard tours are offered every Friday at 10 a.m. and 1 p.m. and can accommodate up to 10 guests per tour. On a tour, guests learn about comparing and contrasting sustainably farmed vineyards with regeneratively farmed vineyards, walk through the winery and barrel caverns, and enjoy a wine and cheese tasting. The cost of the tour is $175 per person. To make a reservation for the e-bike tour, visit exploretock.com/roberthallwinery or vinecycletours.com.
VineCycle Tours is a two-year-old company that specializes in e-bike tours as a new and different way for winemakers to tell the story of their vineyards and wineries. The bikes allow guests to spin through the vineyard almost effortlessly and arrive at their post-tour tasting invigorated and ready to taste the wine produced from the vineyards they just cycled through.
Robert Hall Winery is located at 3443 Mill Rd, Paso Robles. Tasting room hours are 10 a.m.-5 p.m. To make reservations or for more information visit roberthallwinery.com or call (805) 239-1616.
comments