Taste award-winning wines in picturesque settings from April 1st to May 3rd, 2015
Driving the back roads of San Luis Obispo County's picturesque Edna Valley is spectacular any time of the year with its rolling hills and vineyards, panoramic views, and historic school houses and barns. Furthermore, this region continues to evolve masterfully with award-winning wines. While Chardonnays and Pinot Noirs are among the favorites found along this bucolic country sojourn, each winery offers a unique experience as well as unique wine offerings.
Autry Cellars
Proud to be called one of the area's smallest wineries here in the heart of the Edna Valley wine region, approximately 1,000 cases of high-quality handcrafted wines are produced each year at Autry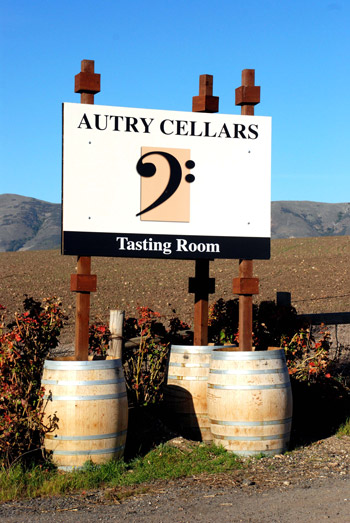 Cellars. What started out as something merely shared with friends and family has now turned into a business complete with its own tasting room.
Located on the outskirts of San Luis Obispo, just beyond the airport on Highway 227, Artisan winemaker Steve Autry produces numerous award winners here including Malbec, Tempranillo, Sangiovese and Petit Sirah along with other star-quality varietals. Is there anything nicer than sipping a fine Viognier outside on a warm, spring day?
With Steve's unique background including aerospace research, beekeeping and music, he now creatively blends his past careers into impressively blended wines. If you're interested in trying something completely new, the Tertian Harmony, a rich Bordeaux blend of Cabernet Sauvignon, Merlot and Cabernet Franc, offers the flavors and aromas of black currants, dark berry fruit, dark chocolate, and caramel.
While peacefully scanning the panoramic views during your visit, an Amtrak train might pass by, several cats might come to greet you and red-tailed hawks will often fly overhead. "It's sometimes easy to lose the quality once you grow too large," explains Steve. He might not only be referring to the wines but the entire experience found here in this peaceful oasis.
Tasting Room hours: 11 a.m. – 5 p.m. daily
5450 Edna Road, San Luis Obispo
(805) 546-8669
www.autrycellars.com
Claiborne & Churchill Winery
A quaint, family owned and operated winery, Claiborne & Churchill opened in 1983 in the heart of Edna Valley. Walking into the tasting room always feels like coming home with their friendly demeanor, low-key charm and welcoming tasting room team.
With owners Clay Thompson and Fredericka Churchill-Thompson highly modeling their wines on the fruity but dry dinner wines of the French province of Alsace, their most popular sellers include those made by their Riesling, Gewürztraminer, and Pinot Gris grapes as well as handcrafted Pinot Noir from several nearby vineyards. They also produce small lots of other favorites including Pinot Blanc, Dry Muscat, Chardonnay, Dry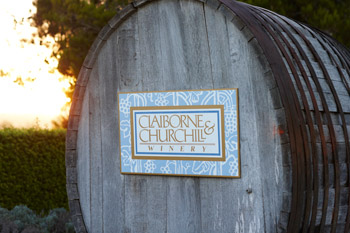 Rosé, Syrah, Malbec, and a simply irresistible Port-style dessert wine.
Completing their permanent winery building in 1995, this unique structure is a "straw bale building," the first of its kind in California. By using this environmental architecture, its 16-inch thick walls offer the insulation needed for a wine cellar so no mechanical cooling or heating is needed.
While using traditional European winemaking techniques including extensive barrel-fermentation and aging, their goal is to create pleasurable dinner wines where there is a harmonious balance of fruit and oak, structure and texture.
Tasting Room hours: 11 a.m. – 5 p.m. daily; some holiday exclusions
2649 Carpenter Canyon Road, San Luis Obispo
(805) 544-4066
www.claibornechurchill.com
Laetitia Vineyards and Winery
Well known for sparkling wines, Laetitia Vineyards and Winery is also equally acclaimed these days for award winning Chardonnays and Pinot Noirs. As one of the first SIP (Sustainability in Practice) vineyards awarded by the area's Central Coast Vineyard Team, they adhere to the highest of standards by using goats for weed abatement, utilizing water reclamation and composting practices as well as carrying that theme forward to the overall well-being of their employees and a strong sense of civic responsibility.
This passion for renewable energy and a strong sense of environmentalism is traced to proprietor Selim Zikha who previously founded a successful wind power company. Laetitia is increasingly regarded as having some of the highest quality, sustainably produced wines in the world. Imagine a Chardonnay with a palate of Bosc pear, pineapple and lemon overtones which slowly unfolds with hints of summer melon, honeycomb cereal and spiced nutmeg. While well paired with a simple Caesar salad with grilled shrimp, it's a good choice for most any meal.
Their tasting room, located directly off of Highway 101 between Arroyo Grande and Santa Maria, is a wonderful mix of elegance, educational visuals and panoramic views clear down to the Pacific Ocean. Their passion for producing premium estate wines while showcasing the distinctive qualities of the Arroyo Grande Valley is alive and well.
Tasting Room hours: 11 a.m. – 5 p.m. daily; some holiday exclusions
453 Laetitia Vineyard Drive, Arroyo Grande
(805) 481-1772
www.laetitiawine.com
Roll Out the Barrels
The increasingly popular Roll Out the Barrels spring wine event is celebrating its 25th year in 2015. Complete with barrel tastings, winemaker dinners and visits to participating wineries through the heart of Edna Valley, it has continuously gained popularity over the years. Hosted by the San Luis Obispo Wine Country Association, it's a favorite venue that many return to year after year.
"Roll Out the Barrels is more than a festival—it's a unique month-long experience designed to foster one-on-one connections between wine enthusiasts and the people behind the wine," explains Heather Muran, Executive Director of the San Luis Obispo Wine Country Association. "Attendees can pick and choose from a wide range of 'mini wine adventures' throughout the month, and along the way they will gain a better understanding of the winemaking process from vine to barrel."
For more information visit www.slowine.com/events/roll-out-the-barrels.php or contact the San Luis Obispo Wine Country Association office at (805) 541-5868.
– Leslie Jones
comments