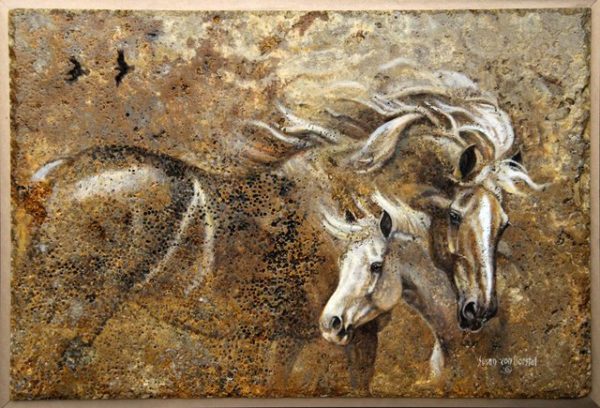 A friendly wind by Susan Von Borstel
Gallery features multitude of mediums from local and international artists
-In the heart of downtown Pismo Beach lies the Seaside Gallery, one of the few fine art galleries in the area. Seaside Gallery is a warm place that invites art into your soul – paintings adorn the walls, along with various sculptures and even some fun musical time pieces. The variety of impressionistic, abstract, fauvist, expressionistic, and realistic pieces showcase the diversity of techniques that are used by local professionals and internationally-known artists.
Tom and Sherie Burgher, owners of Seaside Gallery since 2008, are welcoming and knowledgeable as they walk the room and answer questions about the artists and the styles. Each piece of art has a story to immerse one's self in; find paintings of Pismo and Shell Beach, alongside sculptures of cowboys and horses arrayed throughout the gallery. Even the storage door is adorned with drawings from children as Sherie, noticing their appreciation, gives children the chance to place a piece of their own art on display, reinforcing a new generation of art lovers and burgeoning artists.
When Tom received a phone call that the Seaside Gallery was up for sale, he knew it was opportunity knocking on his door. Up for the challenge, he decided to break boundaries and created a "basis for business to grow." Running a gallery may have its tough points, but it's created a chance to meet many talented artists and art world executives. Plus, he says, "Nobody buys art in a bad mood." Their desire to turn the gallery into a place for high-quality artwork has been successful. Consequently, Tom and Sherie have reorganized their proprietorship to create a new bit of business in the form of Enterprise, LLC, a company that will be the catalyst for art events and public shows to enhance the community and bring in more opportunities for all. Entreprise, LLC includes three elements: Seaside Gallery, SLOPOKE Events, and Digimagination.
Digimagination focuses on fine art photography, digital image file creation for artists, limited edition publication of art on canvas and paper, and graphics and video for art promotion. See www.the-slopoke.com for more information about the two-day SLOPOKE event slated for Fall 2018. Seaside Gallery works to transform Pismo Beach into an affordable, fine art destination, midway between the art communities in Carmel and Laguna Beach.
Visit Seaside Gallery at 580 Cypress Street N-4 in Pismo Beach Monday through Saturday, 10 a.m. to 5 p.m. and on Sundays from 11a.m. to 5p.m. For more information, call  (805) 773-8057 or see www.theseasidegallery.com.                                          
–-Rachelle Tellez
Subscribe to weekly travel news
comments