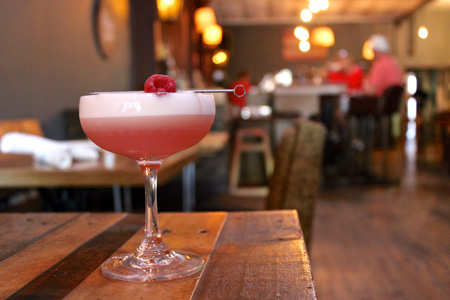 Sidecar will be distilling its own gin, housemade bitters, and tinctures
Take advantage of the short time you have left to visit Sidecar in its current original location because Sidecar will be moving to its brand new creekside location late summer 2019.
Sidecar has been a staple in downtown San Luis Obispo for fantastic craft cocktails and delicious food. If you find yourself in the area or are in search of quality drinks and food you cannot go wrong with Sidecar. Their craft cocktail program is something very unique on the Central Coast and their fun and exciting food is not to be missed.
Although Sidecar has built a fine reputation over the years, they are taking a leap and "growing up" by moving their location just down the block to 1040 Broad St. The new location is located right above the creek and will offer some creekside dining along with multiple stories and multiple bars. In addition, the new location gives Sidecar a very exciting chance to start their own distillery. They will be distilling their own gin, housemade bitters and tinctures, as well as some food-grade essential oils. The new space will have several unique spaces giving them the opportunity to host private events as well. If you are looking for a space to hold your next party, corporate event, reception, etc. Sidecar will have some wonderful options for you.
Sidecar offers happy hour daily from 4-6pm where their signature cocktails are $8.50 and beer, wine and liquor are all $2 off. Also, check them out on Mondays where they have a special Margarita Monday menu and specials. On Tuesdays check out their Tiki Tuesday for some of the best Tiki cocktails around. Sidecar also offers brunch on Saturdays and Sundays.
In addition to the new location, Sidecar's sister event venue, The Penny, opened up earlier this year. The Penny is situated in the heart of downtown and is a unique event venue with an open floor plan, industrial indoor space and outside courtyard. Available for weddings, receptions, parties, corporate events, photoshoots, production, and workshops. The Penny offers flexible rental availability and the space is gorgeous.
Owners and brothers, Josh and Jeremy Christensen, have created something special with Sidecar. Being a positive part of the SLO community is something very important to them. They have created a family at Sidecar that cares about each other, their guests and the community. They have been active in giving back with the work they have done with Family Care Network, CASA, RISE, SLO Food Bank and more. As much as they care about quality food and drinks, people come first for these local owners.
Go and check out the wonderful things happening at Sidecar. Enjoy some great food and amazing cocktails with the people at Sidecar. The staff is top-notch and will undoubtedly take excellent care of you. They are always eager to share with guests their obvious passion for food, drink and hospitality.
Hours of operation:
Mon – Thurs 4 – 11pm
Fri 4 -12am
Sat 10am – 12am
Sun 10am – 11pm
Kitchen closes at 10pm daily
comments