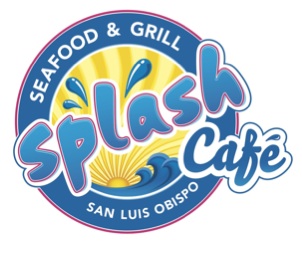 Splash Cafe is opening a third location in San Luis Obispo. The popular eatery known worldwide for its award-winning clam chowder will debut the Splash Cafe Seafood & Grill in the CP Downtown Centre (893 Higuera St.), offering fresh grilled seafood and American fare, fresh baked goods, artisan chocolates and, of course, its popular clam chowder. Splash Cafe Seafood & Grill will open at 7 a.m. on Thursday, May 30th.
"We have been considering a third location for some time and when this location became available it seemed like a perfect fit," says Joanne Currie, co-owner. "We are very excited to be a part of the downtown area and are looking forward to participating in the Thursday night Farmer's Market!"
Splash Cafe, under the ownership of Ross and Joanne Currie, has seen steady growth and the popularity of its clam chowder soar. The Curries perfected and improved the recipe when they bought the original Pismo Beach location (197 Pomeroy Ave.) in 1991. On any given day in Pismo, a line stretches out the door and around the building with customers waiting for the fresh clam chowder, seafood, burgers and a selection of breakfast fare. Customers are known for driving hundreds of miles – from the Central Valley of California, Los Angeles and points north – just to have dinner at Splash and return home.
The Curries opened their second location Splash Cafe & Artisan Bakery (1491 Monterey St.) in 2005. The location added pastries, breads, cakes and their signature sourdough bread bowls that compliment the clam chowder, all baked daily. They also began featuring organic and fair trade chocolates from Mama Ganache Artisan Chocolates, a company established by Joanne Currie's brother Tom Neuhaus, a food science professor at Cal Poly University, San Luis Obispo.
Continuing to grow, Splash Cafe clam chowder made its debut in California Costco locations in 2009 and opened its catering division in 2010. Between the two locations, Splash Cafe sells more than 30,000 gallons of its clam chowder per year.
"The menu in the café and grill will feature all of our signature items but we are going to focus more on the grill and fresh, good for you fare," added Joanne. "We wanted to offer new menu items so this location would have its own personality. We will be opening at 7:00am every day with our freshly baked pastries, breakfast burritos and breakfast sandwiches. "
Splash Cafe Seafood & Grill added new menu items for the downtown crowds will include flatbreads, panini sandwiches, salads and wraps, a selection of seafood tacos and deluxe grilled burgers. The newest Splash eatery is a sponsor of Concerts in the Plaza this summer and will offer a special "Fish Friday" each week when customers mention the concert.
Splash Cafe Seafood & Grill is open 7-days-a- week from 7 a.m. to 9 p.m. Sunday thru Wednesday and 7 a.m. to 9:30 p.m. Thursday thru Saturday. Splash Cafe menus and catering options can be viewed at www.SplashCafe.com.
Subscribe to weekly travel news
comments