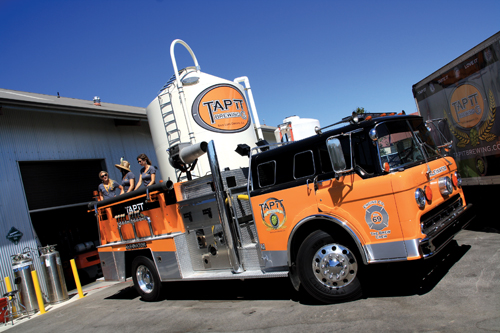 San Luis Obispo craft brewmasters unite
Wine appreciators come from far and wide to taste the famed wine of San Luis Obispo County. But those who prefer beer may soon see signs for their kind of tasting trail due to the region's increasing acclaim as a "beer country" destination, and to the work of the newly formed SLO Brewers Guild.

Firestone Walker Brewing Company in Paso Robles paved the way by being named "Champion Mid-Size Brewery & Brewmaster" at the World Beer Cup—and then by repeating that for a record number of four times—as well as by winning numerous gold medals at the Great American Beer Festival. From there, the local brewing scene (now totaling more than 10 craft breweries) grew in step with surging demand for craft beers, culminating last year in downtown San Luis Obispo's Tap It Brewing Company winning a gold medal from among 200 American-Style India Pale Ale entries in its first showing at the Great American Beer Festival.
Clearly, there is something in the water.
Doug Martin of German-style Einhorn Beer Company, also in San Luis Obispo, was onto the scent early on. Though one of the smaller craft brewers by production in the area, he has been a force behind the recent formation of the SLO Brewers Guild, a member-based entity working to educate the public on SLO County's emerging homegrown craft beer industry through cooperative marketing programs, public events, tours and promotional materials such as beer tasting maps (expected to be available this summer).
Martin says it might seem "Kind of odd that I would be the one to start pushing the Brewers Guild from the get-go, but I had a vision of where it could be and where it could go, and started working towards that."
Efforts began four years ago with the organization of the Brews & Bites event held annually at the Mission Plaza, which was conceived in part as a generator of seed funds for a future Brewers Guild. The now officially formed Guild encompasses about 15 companies from Buellton to Paso Robles and recently voted in its first board of directors, including Chairman Jamie Smith of Firestone Walker, VP Aaron Wharton of Cambria Beer Co. and Treasurer Eric Beaton of Creekside Brewery in downtown San Luis Obispo.
Hosted by Tap It Brewing Company, the Seven Sisters Fest will provide a perfect opportunity for beer lovers to taste superior suds from more than 40 craft breweries from both the Central Coast and around the state. Lauren Friedman, Events/Tap Room Director at Tap It and a board member of the guild, says that they see the event as a chance to "put all the local breweries on the map. We just feel this is a great opportunity for these newly emerging breweries to have a presence in the community, and also to have a really fun time with awesome beer."
Next up, Martin says the Guild foresees expanding to include more breweries from the entire Central Coast as far north as Santa Cruz, and holding a Central Coast Beer Week sometime in early 2014, following a trend for similar events in bigger cities like San Francisco and Sacramento. "We don't need to reinvent the wheel," Martin says. "If we all make great beer and raise awareness, we all benefit."
Raise a glass to raising awareness for local craft beer at the Seven Sisters Fest this summer. Tickets are available now at www.SevenSistersFest.com or www.Vallitix.com; by phone at 888-825-5484; and locally at Tap It Brewing Company and Boo Boo Records in San Luis Obispo, and the Paso Robles Mid State Fair Business Office. More information is available by calling the Seven Sisters Fest toll free hotline, 1-855-9-MORROS (966-7767).
— Jamie Relth
Subscribe to weekly travel news
comments