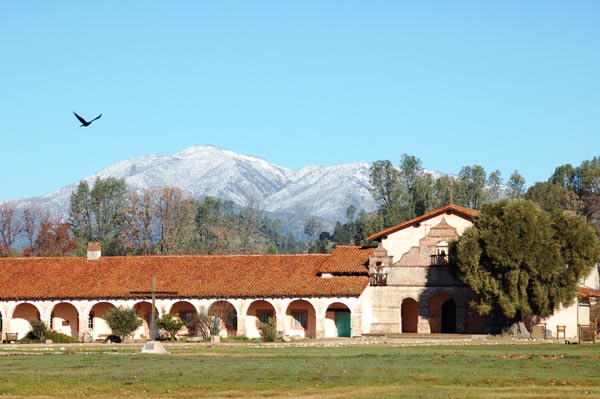 –The Mission San Antonio de Padua is a Central Coast treasure; its remote vista a charm that fuels the imagination and encourages visitors to step back to 18th century mission life.
The mission is located about 45 minutes northwest of San Miguel. The long winding drive set approximately 26 miles back from scenic Highway 101, is full of stunning views and wide-open spaces. Located on eighty pristine acres on what was once the Milpitas unit of the sprawling Hearst Ranch, the humble mission and church are barely changed in 200 years.
Founded by Padre Junipero Serra in 1771 it was moved from its original location in 1773 to a place farther up Los Robles Valley because of the unstable water source. At the end of 1773 the mission had established workshops, a small church and dwellings at the new site constructed of adobe brick.
Present day, a museum is located in the front section of the quadrangle of the main building. The museum offers access to the original grape vats and wine cellar; the mission kitchen and Padre's bedroom take you back to life in the early 1800s.
Once through the museum you'll enter Padre's Garden. The garden and original well has some of the original grape stock from Mallorca, Spain and considered some of the first planted on the West Coast. The Great Church, which began construction in 1809 features 18th century works of art and resonates with the pungent scent of incense and notes of Gregorian chants to calm the senses.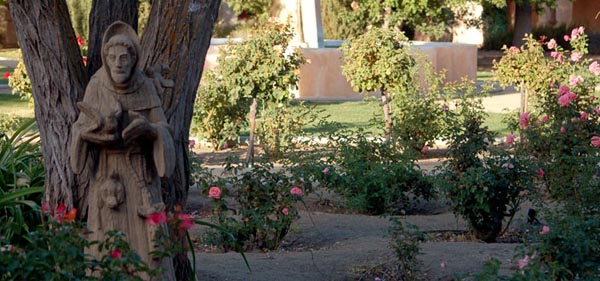 A sprawling oak, planted when Serra founded the mission site, sits outside the church. Close by are foundations of the old storage and workrooms of an unrestored wing of the mission and into what was formerly the mission orchard. Today, only a single olive tree remains of a once thriving orchard of apple, pear, olive, fig, and pomegranate trees.
Remains of the original mill pond, foundations of the Married Indian housing wing which housed 1,300 Salinans in the early 1800s at the height of the mission era can be found onsite as well as the filter house, threshing floor, the grist mill, cemetery and olive crush wheel.
The mission even has its own famous resident, Rosario the cat, arriving in June 2007 as a little black kitten he is know a visitor favorite and even has his own wine – Rosario's Red – available at Marin's Vineyard.
The Mission San Antonio Padua located at the end of Mission Road, Jolon, CA is open 10 a.m. to 4 p.m. daily. A tour through the museum is self explanatory, with a donation of $5.00 per adult and $3.00 per child requested. The grounds outside offer a realistic example of life in the mission days, with signs to read at places of interest. There are picnic grounds with tables under the shade trees to relax and enjoy the peace and quiet of the secluded area.
comments