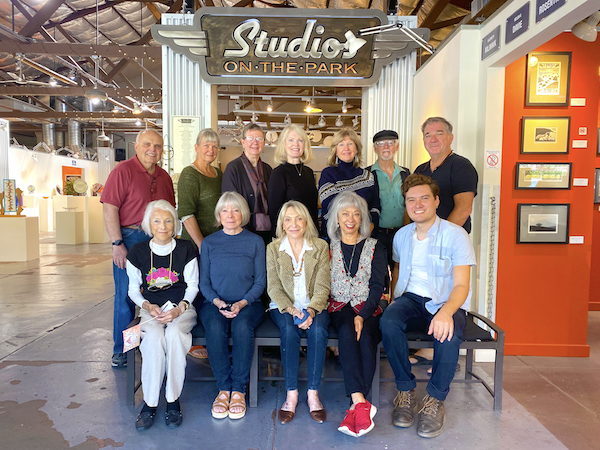 Watch artists at work in their studios
—Thanks to artist Anne Laddon's vision for an active, engaging space for artists and art lovers alike, Studios on the Park in downtown Paso Robles serves as a major hub of the Central Coast's thriving art community. Dedicated to sharing the creative process with locals and visitors, this nonprofit organization and open studios art center has grown to include eight studios with 16 14 artists, four galleries and a fine craft gift shop since opening in 2009. The not-to-be-missed galleries are the Lonnie Hood Photography Gallery, Paso Robles Arts Association Gallery, The Kids Art Smart Gallery, and the San Luis Obispo County of Education Gallery.
Local artists work in a variety of mediums at Studios on the Park, including acrylic, charcoal, collage, mixed media, mosaic, oil, pastel, pen & ink, photography, printmaking and watercolor. Styles range from traditional to contemporary. The unique combination of artist workspace allows visitors to view the art as it is being made.
The heart of Studios on the Park, with artists as "professionals who inspire others to create, explore, educate and share," is based on an interactive art community Laddon had been a part of in the Washington DC area during the 1970s and 80s. Visitors are encouraged to pause, ask questions, and watch the artists as they work.
"Studios on the Park is committed to providing arts access and education in Paso Robles," Laddon said. "It is so much more than a gallery."

History and community connection
From its location along the tree-lined eastern edge of the downtown city park, Studios on the Park boasts an array of activities for visitors and community members, as well as the opportunity for visitors to purchase and learn about art being made locally. Residing in a historic building that once housed an auto repair shop and a variety of auto showrooms, the art center has maintained the original character of the building through its repurposing. The facade, with its floor-to-ceiling windows, lets in abundant light; the sign on the front of the building was designed to mirror old-fashioned auto repair shop signs; and decorative touches throughout remind visitors of the history of the space.
A connection to the community was a part of Laddon's vision from day one – a variety of classes are offered throughout the year. With its Kids Art Smart program, the nonprofit provides free, hands-on art classes to local elementary and middle school children, more than 20,000 to date. Studios on the Park also celebrates Art After Dark Paso, a fun tradition of art, wine, and live music-filled evenings on the first Saturday of every month.
With its continued presence both in the community and in its space downtown, Studios on the Park continues to make a huge impact on the landscape of the arts in Paso Robles and the entire Central Coast.
Studios on the Park, located at 1130 Pine St. in Paso Robles, is open Sunday-Thursday Noon – 4 p.m. with extended hours until 9 p.m. on Friday and Saturday. Call (805) 238-9800 or visit studiosonthepark.org for more information, including a full listing of demonstrations, classes, and events for children and adults.
– Kate Joyce
comments