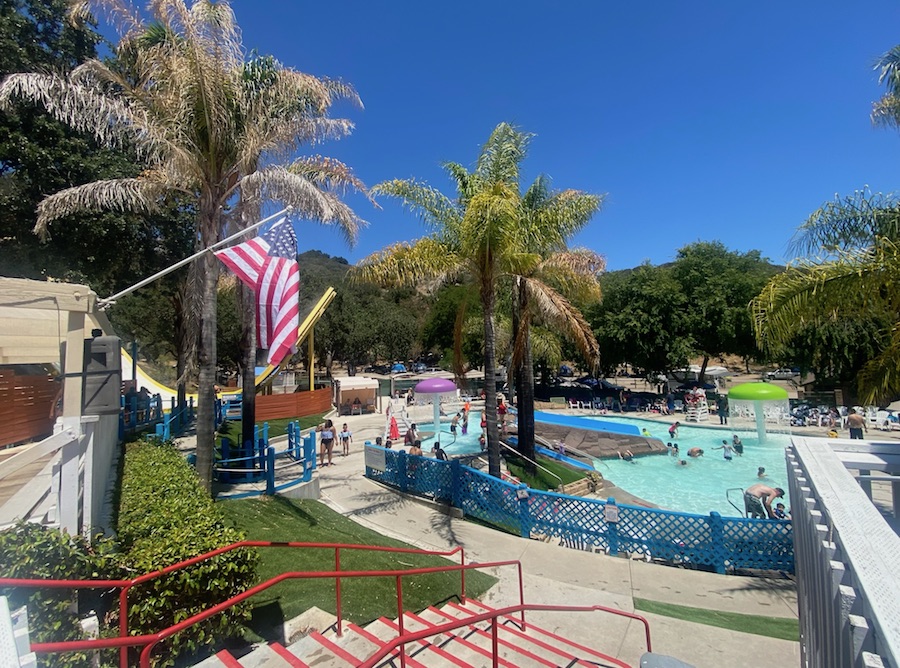 Two 600-foot waterslides, ropes courses, ziplines over the lake and barbecue, too!
—Just a short drive from Arroyo Grande or Pismo Beach is the perfect place to enjoy summer fun with family and friends. Along with the scenic Lopez Lake, its marina, camping and picnic areas, there are the Vista Lago Adventure Park and Mustang Waterpark, filled with fun and exciting challenges for everyone.
Giant water slides, inner tube stampedes and kiddie pools at Mustang Waterpark
Mustang Waterpark has been a popular spot for decades, with their two winding, 600' waterslides, the giant half-pipe Stampede, an awesome kiddie pool, and gorgeous cabanas to rent while you relax.
Make no mistake—this isn't the same waterpark you remember from the 80s. This place has been fully renovated and is always a fun time with certified lifeguards on duty for everyone's safety.
Start on a hilltop overlooking Lopez Lake and speed down a 600-foot waterslide. Splash down into the pools at the bottom of the slides then do it all over again! The park has two curving waterslides for exciting rides.
Ride the Awesome Stampede, plummeting 38-feet down one side of the giant half-pipe in an inner tube and 38-feet up the other side, the repeat then wild ride backwards! Take the ride yourself or go in a double tube with a buddy.
Your little ones can safely slide and splash in two inviting wading pools for kids under 48-inches in height, three mini-slides and two waterfall mushrooms. Parents can splash with their youngsters or relax in the sun on the deck while the kids have fun in the water and are safely entertained for hours.
Zipline over the lake at Vista Lago Adventure Park
Located just around the corner from the waterpark is Vista Lago Adventure Park, where you can test your agility on the ropes course and zipline over the lake! Not such a thrill seeker? Enjoy great barbecue and beverages at the Sipline Bar & Grill, or hang out and play games on the viewing deck!
The park features over 50 elements varying in difficulty that leaves you feeling like a ninja warrior. Feel the rush of air excitement on any of the three zip lines totaling over 1,800 feet, including two high speed zip lines over the lake or lose your stomach on The Ledge, a 45′ free fall Quick Jump.
The little ones are not forgotten either. The Cub Course for 4-8 year olds gives youngsters an hour to climb, balance and wiggle over the course, in gear that is safely connected and little fingers can't disconnect.
Visit Both Parks at a Discounted Price
This year, the both parks have teamed up to offer a Park Hopper Pass that allows you to spend a day at both parks with a discounted price!
Whether you're celebrating a birthday, an anniversary, or planning a fun date or family outing, you can be sure memories will be made that will last a lifetime!
Where are these amazing places?
Mustang Waterpark and Vista Lago Adventure Park are both located in the Lopez Lake Recreation Campground Area at 6800 Lopez Drive in Arroyo Grande. For reservations, tickets and more information, visit mustangwaterpark.com or vistalagoadventurepark.com. For information about camping at Lopez Lake, visit slocountyparks.com/camp/
comments