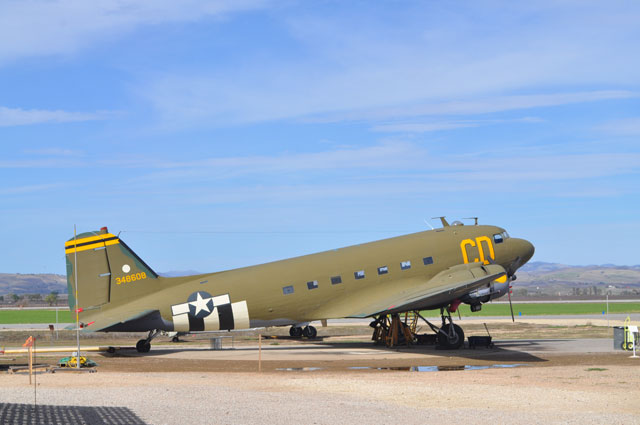 See some of the rarest airplanes, vehicles and military collections in the United States
The Estrella Warbirds Museum is the home of the Gooney Bird Group and their C-47B, Betsy's Biscuit Bomber. Betsy took a historical flight and joined the largest fleet of C-47s since World War II, joining her comrades in Normandy for the 75th international anniversary of D-Day. For the second time in her career, Betsy crossed the Atlantic, flying 13,000 miles, 130 hours and over two continents. The 2019 summer anniversary of D-Day was the largest commemoration of a tragic period in world history and an occasion to celebrate peace, liberty and reconciliation.
Betsy's Biscuit Bomber was restored by the Estrella Warbird Museum's restoration crew and returned to flight status August 1, 2009. Before being recovered from Canada where she had been sitting for six years, Betsy saw service with the United States Air Force, the Belgium, French and Israeli Air forces. Prior to being flown home by the museum crew, Betsy had a total of 9,420 flight hours.
Betsy's Biscuit Bomber is only one of the many historical airplanes on display at the Estrella Warbird Museum. The displays include restored aircraft from the 1940s through the 1990s, a growing collection of armaments and ordnance, restored military vehicles, and a full size F/A-18 cockpit simulator that was actually used for pilot training, a fully equipped old Indy car garage, the WWII Red Ball Express Motor Pool, and the 16,000, soon to be 19,700, square foot Woodland Auto Display, that includes historic NASCAR cars, a Steve McQueen Indian motorcycle with a side car, along with an always-changing assortment of street rods, and antique and classic vehicles.

The Estrella Warbirds Museum and Woodland Auto Display is one of the fastest growing nonprofit museums in Central California and a "must-visit" for airplane, vehicle, and military memorabilia fans. Bring the family and plan on spending most of the day.  The grounds and buildings cover more than 10 acres!
Estrella Warbirds Museum is a 501 (c) 3 nonprofit, dedicated to restoring and preserving military aircraft, vehicles and memorabilia and to honoring those who flew, drove and worked on them and to helping future generations understand that the American way of life does not come without sacrifice.
Estrella Warbirds Museum and Woodland Auto Display, located at 4251 Dry Creek Road in Paso Robles, is open Thursday – Sunday, 10 a.m.-4 p.m., some Mondays for major federal holidays. Call to verify Monday and holiday hours. For tickets to events and more information exhibits and hours, visit www.ewarbirds.org, or call (805) 238-9317.
comments