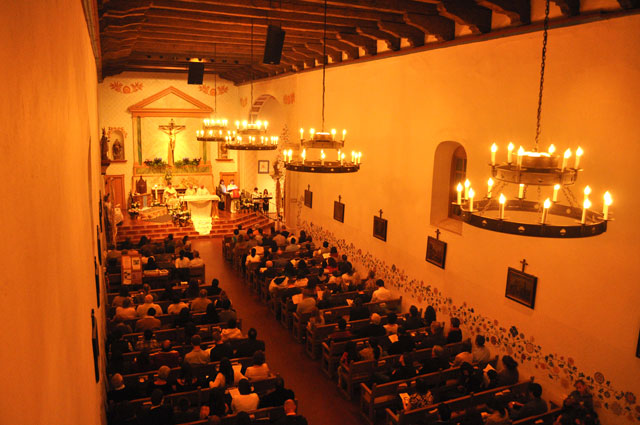 Explore the mission on docent-led tours
Mission San Luis Obispo de Tolosa, founded in 1772 by Franciscan missionaries, is the fifth of the 21 Spanish missions established in Alta California. The mission has always been situated near its present location, close to the reliable water of San Luis Creek. Located in the heart of downtown San Luis Obispo, the old mission has become a historical treasure admired by visitors from all over the world.
The gardens are an integral part of the mission campus. They have grown and evolved over centuries. The grape arbor is a reminder of the vineyards that once stretched for acres. Over time, pastors and guests have planted cacti, succulents, roses, oak and citrus trees. Bring a book, find a bench and take a rest in the garden.
Take a docent-led tour of this historical site and learn more about the history of the mission, its construction and the place it has held in the community. Guided tours start at 1:15 p.m. Monday – Saturday and at 2 p.m. on Sunday and begin in front of the gift shop. Group tours for schools and other organizations are also available with a two-week advance reservation. Reservation forms are available on the mission website, or call (805) 781-8220.
The docents enjoy sharing their love of the old mission. You will learn how the Mission grew in stages, who is buried in the floors and walls of the church, and the story behind the centuries-old art still hanging from the adobe walls. The mission originally constructed from rudimentary thatch, bows, and logs, grew to the substantial walls and tile roofs still standing today. In contrast to some missions, San Luis Obispo never fell into complete ruin or abandonment following the secularization period under the Mexican government. Perhaps its most unusual feature is its "L" design. The original church consisted only of the main wing leading to the sanctuary and altar. In the 1880's and again in 1948 the annex wing was extended in stages to provide seating for the rapidly growing San Luis Obispo community.
Pilgrims and visitors of many faith traditions find the quiet and peace of the Old Mission Church, its grounds and gardens, to be a place of rest and renewal for the spirit. Unlike many California Missions, the church of San Luis Obispo de Tolosa does not charge admission but welcomes donations, and its doors are open to all most days of the year. There are two daily Masses and six Masses on the weekend in English and Spanish.
For more information, schedules of masses and events, or to arrange a group tour visit www.missionsanluisobispo.org or call (805) 781-8220.
comments