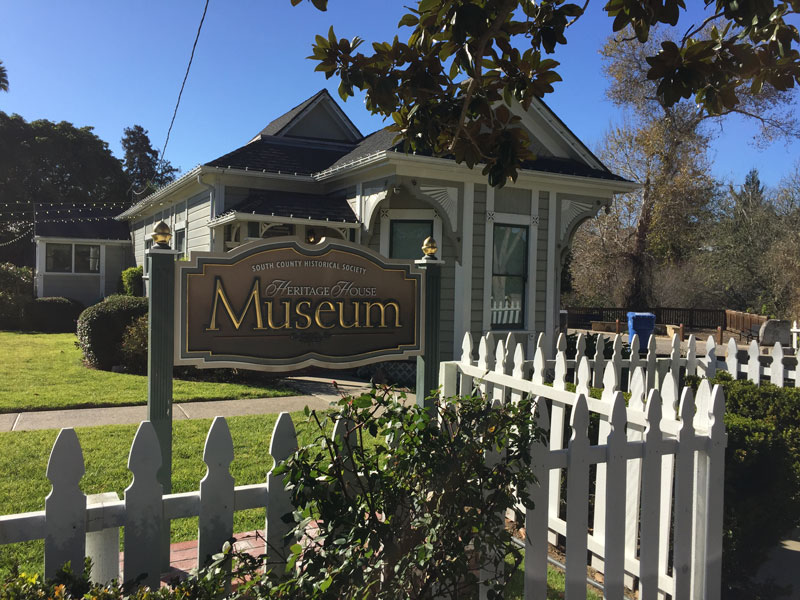 Take a step back in time with a stroll through town
Step back in time and see what life was like in the late 19th and early 20th centuries with a visit to the historic Village of Arroyo Grande. The site encompasses the downtown area of the town where most of the shops are in historical buildings.
Branch Street is the main road through town and is named after Francis Z. Branch who was instrumental in the finding of the town. He had come to the area in 1832 to hunt bear, fell in love with the valley, and purchased 16,000 acres to raise cattle.
A drought hit in 1864 so Branch sold some of his land to settlers. Thirty-five families were living in the valley by 1867. There were two stores, a wheelwright, a butcher, a laundry, livery and feed yard, and of course, two saloons.
The Pacific Coast Railway served the valley from 1876 until 1942. It ran from Avila to San Luis Obispo and Edna and then through Arroyo Grande to Nipomo, Santa Maria, Orcutt, Los Alamos and Los Olivos. The railroad helped to make Arroyo Grande grow into the town it is today.
In Heritage Square Park on the Village Green is the Rotary Bandstand where you can bring a lawn chair and a picnic and enjoy a musical concert every Sunday afternoon in summer.
Heritage Square Park contains several of the restored historical buildings. The South County Historical Society is located in Heritage House at 126 S. Mason Street. The exact date of construction of this house is unknown but there are records indicating a property sale at this site in 1895 so it is thought the house was there at that time. Dr. H. S. Walters bought the house in 1906 and ran a sanitarium there.
There were many changes to the place over the years. In 1948 it became a duplex residence and in 1976 the city purchased it and used it as a daycare center and home for the Recreation Department.
After so many uses, the Historical Society bought the home in 1997, did a major renovation, and turned it into a museum and visitor center. This is a great place to start your tour of the Village. Docents are on hand every Saturday from Noon to 3 P.M. and most Sundays from 1 P.M. to 3 P.M.
A short way down Mason Street is Ruby's House that was constructed in the late 1800s. This structure too was restored to its former elegance and is the Patricia Loomis History Library and Research Center. It contains research materials on South San Luis Obispo history as well as California history and is used by teachers, students, and journalists. There is also a catering kitchen and bridal room that can be rented for weddings. It is open weekdays from 1 P.M. to 5 P.M.
Be sure to walk over to the Santa Manuela Schoolhouse and step inside. Here is a one-room schoolhouse that was built in 1901 and used to be located on the property of Joseph Jatta that was covered by the waters of nearby Lopez Lake when the reservoir was created. The schoolhouse escaped this fate and was moved to its present location. Inside you will find desks, school books, slates, pictures and more from that earlier era.
Near to the schoolhouse is the Barn Museum. Here you will see all the agricultural artifacts that tell a story of the farming history of the Arroyo Grande Valley. Also housed here are many antique vehicles and carriages.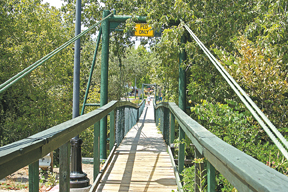 Just up from the schoolhouse is the Swinging Bridge that spans Arroyo Grande Creek. If you are brave, cross over the edifice. It doesn't so much swing or sway as it bounces up and down rather vigorously. If you are prone to motion sickness, this may not be the crossing for you!
This bridge was originally built in 1875 from rope and sides were added in 1902. In 1911 the city acquired it. Tragedy befell the bridge in January of 1995 when, during a bad storm, a tree fell on it and damaged it beyond repair. Local businesses and residents did some fundraising projects and also acquired Federal funding to rebuild the bridge. It opened for use again in May of 1995. The swinging bridge is 17 feet in length and rises 40 feet above the creek. It is the only one of its kind in the State of California.
Top off your tour of the Village with a visit to Doc Burnstein's Ice Cream Lab for a cone or a sundae or try a tasting of specialty wines at Phantom Rivers Wine, both on Branch Street.
comments