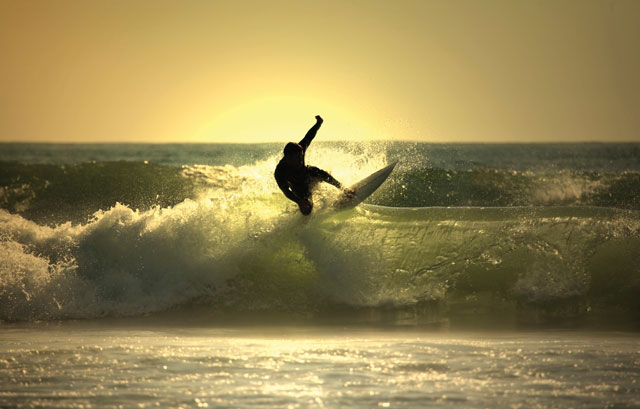 Considered by many to be one of the last California vintage surf towns, Cayucos is a surprising fusion of small town soul with a world beat. Its village charm, vast stretches of spectacular California coast line, some of the best food and wine, family dining and shopping in the region makes Cayucos a favorite for locals and visitors.
The name, Cayucos, is the Spanish word for the canoes used by the Chumash who originally inhabited the area. The town took its name from the original Mexican land grant, Rancho Moro y Cayucos.
Shopping, strolling, surfing, and the Polar Bear Dip
Surfing, stand up paddle boarding, skin diving, swimming, and boats are certainly traditions rooted in the town's relationship with the ocean.
The buildings are an eclectic collection of architecture that house local businesses including antique shops, gift shops, candy and ice cream shops, surf shops, fine dining, and an old-world tavern. The Cayucos Pier, originally built by town founder, Captain James Cass in 1867, is a popular location for fishing, strolls and watching surfers, dolphins, sea lions and otters. The annual New Years Day Polar Bear Dip is held in full view of the pier. Hundreds of people show up each year to take the icy plunge and cheer on the swimmers.
Sea glass collectors and beach walkers enjoy miles of shoreline. Serious beach walkers can hike the beach from Cayucos to Morro Bay, except at high tide. Leashed dogs are welcome along most of the beach and there is a small section along the way known as Dog Beach. It is one of the few beaches where dogs are allowed off-leash.
Sea glass, antiques, art and street fairs
The annual Cayucos Sea Glass Festival draws fans from all around the world, as do the two antique fairs held every year. The summer farmers market, Independence Day Fireworks, car shows, art galleries, the Cayucos History Museum, garden tours and speaker series at the library means there is always something for everyone to do in Cayucos.
Downtown Ocean Avenue turns into a traffic-free town center during festivals and fairs. Browsers and shoppers enjoy the beautiful weather, live music, and the many vendors and exhibitors.
Just off Highway 1, and about 30 minutes from Hearst Castle, Cayucos is a great place for a travel break or to spend a few days or more. There are a variety of hotels and accommodations, many with beachfront views, and lots of things to do and see for the entire family.
Read more about what to see and do in and around Cayucos at slovisitorsguide.com. Check out the Cayucos Chamber of Commerce event calendar at cayucoschamber.com.
comments