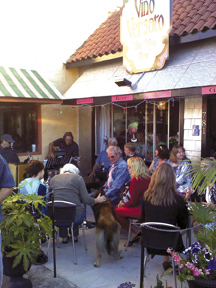 The latest trendy thing for wine aficionados to do is to visit wine bars and Vino Versato in Pismo Beach is one of the best. You won't find the typical bar scene here. This small boutique wine bar is where elegance and sophistication reign.
"We believe in supporting our local vendors," Cindy Giovacchini says, and in so doing she and her partner Johnna Bramblett only offer you exclusive hand poured wine selections.
They offer $5 wine tasting flights, glasses and bottle for purchase and three beers on tap and an array of specialty pints in a fun and upbeat atmosphere. They feature a list upwards of 45 wines with emphasis on local boutique producers under 400 cases. "We put a lot of effort into finding exceptional wines that are rarely seen by the public," says Johnna.
"We enjoy introducing people to great vintners like these," Cindy said, "from day one on we have had regulars." The owners were so appreciative of these loyal patrons that some of them have earned their own exclusive bar chair with their name emblazoned on the back. "Other customers are jealous," Cindy said, "and want their name on a chair too." She may have to consider placing names on the little round bistro tables.
Every Wednesday night from 5:30 p.m. to 7:30 p.m. is "Winemaker Wednesday" where you will meet the winemaker, taste the selections, and learn about the wines. Some of the recent winemakers participating were from Mc Keon-Phillips, by winemaker Ardison Phillips of Santa Maria, Red Zeppelin of Paso Robles by winemaker Stillman Brown, and Core Wine Company of Santa Maria by winemakers Dave and Becky Corey.
There is seating inside and outside on the patio where you can sip your wine or beer and people watch on Pismo's "Restaurant Row."
There is a European feel to the black, silver and pink décor of the shop. The pink does double duty as the owners are supportive of breast cancer awareness having had friends afflicted with this disease. Pink is the representative color for breast cancer.
Vino Versato celebrates wine, women, and song and men enjoy this ambiance too. One of the best deals is the "5 at 5" offering where from 5:30 P.M. to 6:30 P.M. you get a $5 glass of premium wine and $5 appetizer of your choice while listening to recorded musical selections that range from Andrea Bocelli to Billie Holiday. Appetizers include spicy black bean dip with parmesan crisps and nuts, cappocolla, salame, prosciutto with double cream gouda and French blue cheese, and the decadent Belgian chocolate pudding with chocolate wafers and French truffles. Yum!
Entertainment includes local favorites like Tim Jackson, Dave Miller and Michael Nunez every Friday and Saturday evening.
You can keep up with special events at Vino Versato on Facebook. Located at 781 Price Street in Pismo Beach, they are open Monday to Saturday from 2 P.M. to 9 P.M., but closed on Tuesday, and on Sunday from 12 P.M. to 6 P.M.
– Ruth Ann Angus
comments