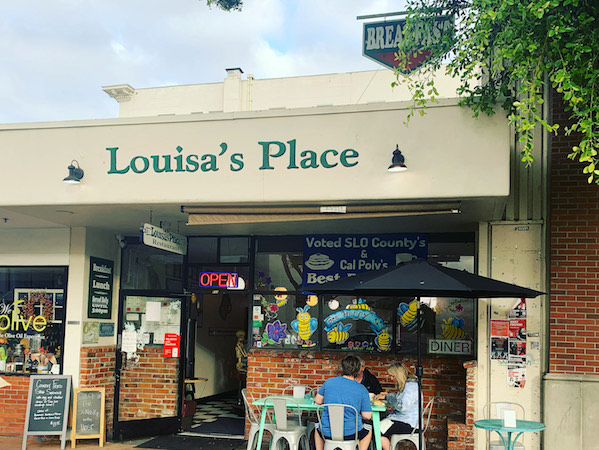 Louisa's Place: The Breakfast Champion
Longevity is typically a rare and hard-won battle in the restaurant industry, and it's no different in San Luis Obispo. In fact, if you consult the unequivocal authority on SLO business history, the 1985 special edition "SLO Monopoly" game board, you discover quickly that of 30 featured main street shops and eateries, there are maybe four or five that still exist in the 20 years that have since transpired.
From humble beginnings
One of those precious few is Louisa's Place, a classic fifties-style diner and a San Luis Obispo stalwart of over 50 years.
Originally opened as the "Best Ever Grill" in 1958, the diner was purchased in 1976 by a woman named Louise Webb, "Louisa's" became an instant success. Purchased by the Sweeney family in 1991, Louisa's has remained a local icon for good, solid breakfast, lunch and connecting with friends. Aubrey Pyle, the newest owner, recently took over Louisa's from Scott Sweeney.
Breakfast is a specialty
There are 26 omelets alone on the menu along with the "build-your-own" option. There are also pancakes, local sausage, bacon, waffles (they are famous for their bacon Belgian waffles, with generous chunks of actual, house-cooked bacon folded into the batter), oatmeal, breakfast burritos and huevos rancheros. The menu goes on and on. Open from 7 a.m. until 2 p.m. every day of the year, they also have a full offering of lunch items like burgers and salads.
No fads, just good, home-style cooking
Judging by the line out the door and the packed seating on any given weekend, Louisa's is clearly the place for most people.
Dine-in or call ahead for takeout. Private parties and catering are available, including for breakfast! Breakfast and lunch served Mon-Fri from 6 a.m.-3 p.m. and weekends from 6 a.m.– 3 p.m. Start your day—or afternoon—out right at 964 Higuera St. in downtown SLO, call (805) 541-0227or visit www.louisasplace.com for more information.
comments