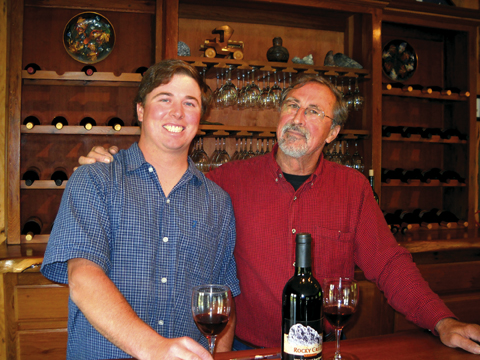 Father and son John and Dustin Somogyi make wine at their winery with dedication to each part of the process.  From building their own hillside tasting room—including pouring the foundation, milling the wood and building the counters—to farming their estate vineyards and making their wine, this two-man team has literally built Rocky Creek Cellars from the ground up.  And, it seems that this approach is paying off: John points out that their 2001 Cabernet Sauvignon was awarded a gold medal in a blind tasting at the Central Coast Wine Competition.
As Rocky Creek Cellars is a small, family-owned winery, John and Dustin both tend to many different aspects of running a winery.  They both live on the property, which the family purchased in 1986.  Dustin grew up on the property, attending school locally and learning the wine business as Rocky Creek Cellars developed.  Winemaker Dustin says that he and his father both "wear a lot of hats" and essentially play all the roles at the winery—everything from janitor to gardener to mechanic.
For Dustin the work is more enjoyable because he is part of the whole process.  And, the results show in the wine they make.  Rocky Creek Cellars strives to make wine that is true to varietal and that gets better with age.  Describing why their involvement in every part of the winemaking process is important, John says, "To me a wine should be personal."
The Rocky Creek Cellars winemaking philosophy of aging wine for 3-4 years in barrel is somewhat unique; this technique is designed to create the softer wines that John and Dustin prefer.  They strive to create a "soft and smooth, more drinkable wine," says Dustin.  John also sites making lower-alcohol wines as one of their goals—most of their wines are around 12-13% alcohol—as well as making wines with less tannins and more fruit, with a focus on fragrance and bouquet.  Rocky Creek Cellars produces only single-varietal red wines, and makes about 1,000 cases per year.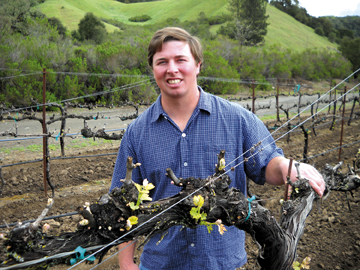 Another major focus of the winemaking at Rocky Creek Cellars is the work that happens in the vineyards.  Dustin says that in essence they "grow our wines on the vines."  With their involvement in growing and picking the fruit they can produce and select the prime fruit that they want.  They grow grapes on their estate and source fruit from other local vineyards.
Both in their estate vineyards and in the vineyards with which they contract they spend time walking the rows during each stage of the vines' growth.  Dustin lives within a stone's throw of the vineyards on the Rocky Creek Cellars property, and John says that their involvement with the vineyards allows them to monitor any pests more easily.  This in turn means that they can forego the use of harsh chemicals on their vines.  John is proud that Rocky Creek Cellar's grapes are grown using no herbicides or pesticides.
Another important factor in how John and Dustin grow their fruit is their respect for the differences between varietals.  Dustin sites the microclimates within the Paso Robles area as providing many optimal growing conditions for each type of grape.  This allows them to keep their focus on the qualities their grapes develop on the vine, and to keep true to their goal of varietal integrity.
With both John and Dustin's homes as well as the winemaking facilities on the property, and their close involvement in the entire Rocky Creek Cellars operation, visitors to the Rocky Creek Cellars tasting room will usually get to meet one or both of this father-son team that is the heart of a true Paso Robles family-run winery.
Rocky Creek Cellars offers tasting at 8687 Apple Road (off of Highway 46 West) in Templeton from 10am-5pm daily.  Call (805) 238-1919 or visit their website, www.rockycreekcellars.com, for more information on the winery.
—By Kate Joyce
comments