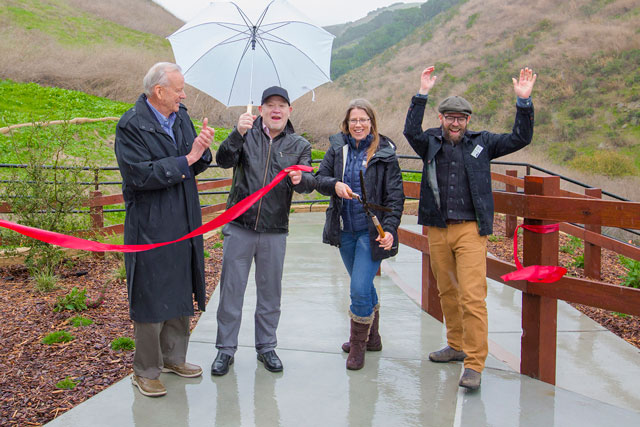 The 880-acre Pismo Preserve was officially opened on January 25, 2020 following six years of fundraising, design, permitting and construction. Purchased by the Land Conservancy of San Luis Obispo County in 2014, the preserve offers exceptional experiences for hikers, mountain bikers and equestrians.
Over 11 miles of high-quality single-track trails wind through serene oak woodlands, canyons and coastal ridgelines with panoramic views of the Pacific Ocean.
The Jan 16 ribbon-cutting ceremony was attended by community leaders, city, county, state officials, representatives from the Northern Chumash, the Wildlife Conservation Board, State Coastal Conservancy, and children from The Land Conservancy's Learning Among the Oaks Program who braved stormy weather for the occasion.
Kaila Dettman, Executive Director of The Land Conservancy, speaking over howling wind noted, "I think the storm is fitting – it will wash away the construction dust, water our grasslands, and welcome a new era for the land and for our community.
The Land Conservancy of San Luis Obispo County raised $12 million for the preserve. The Land Conservancy is a community-supported local nonprofit land trust working to conserve and care for the diverse wild lands, farms, and ranches of the Central Coast, connecting people to the land and to each other. The land trust helps to protect drinking water sources, prevent poorly planned development, restore wildlife habitat, promote family farmlands and ranches in our region, and connect people of all ages and backgrounds to the land. The Land Conservancy leads collaborative efforts, which have resulted in the permanent protection over 20,000 acres of land in San Luis Obispo County.
There is a 54-vehicle parking lot plus three horse-trailer parking spaces that can be reserved on a twice-daily basis through a free online reservation system. Equestrians are encouraged to visit http://lcslo.org/pismohorseparking for more details.
The preserve is open daily starting at 6 a.m. Seasonal closing is at 7 p.m. Nov-Feb and 9:30 p.m. Mar-Oct. The gated property is locked at closing time every evening and overnight parking or camping is prohibited. For more information visit LCSLO.org or call (805) 544-9096.
comments