–Spring often comes early to San Luis Obispo County. Abundant rains in early winter months followed by lazy warm days bring out the best of nature's displays – wildflowers.
Probably the most popular spot for folks who love wildflowers is found in the eastern part of the county way out Highway 58. You can't miss it in a good flower year. As you approach Shell Creek Road the fields are bursting with miles of yellow flowers. People come by busloads to see the spectacle and to take photographs.
Wildflowers you might see there are goldfields, tidy tips, baby blue eyes, owl's clover, poppies, and several varieties of lupine. Farther down Highway 58 is the Carizzo Plain and more of the same flowers.
While the Shell Creek Road display is the epitome of wildflower viewing, flowers grow everywhere in the open spaces of the county. Where should you look? Check the sides of the roads. Mustard plants are sometimes the first plants to show up in fields and alongside the edges of highways. Other areas to watch for would be places where rain runoff occurs or any area near a stream, rocky outcrops, open grasslands, woodlands, orchards, and chaparral-covered hillsides.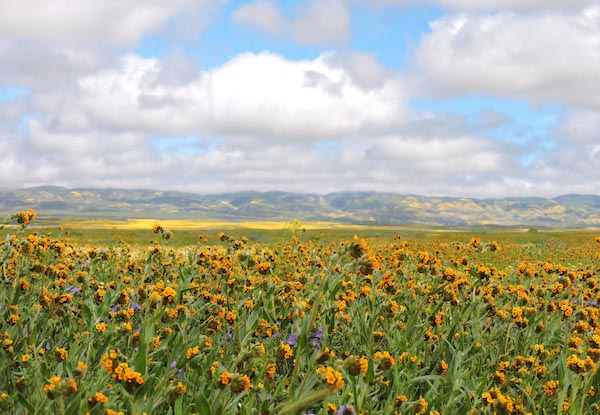 Here are some plants you might see and types of locations where they have been spotted.
Sweet Pea grows on the rocky hillsides along the road by Whale Rock Reservoir and on Highway 46. Also at El Chorro Park, Laguna Lake, See Canyon, Prefumo Canyon, and Poly Canyon.
Oxalis, which is considered a pest but has the odd name of Bermuda Buttercup, springs up on lawns, roadsides, fields, orchards, and woodlands everywhere.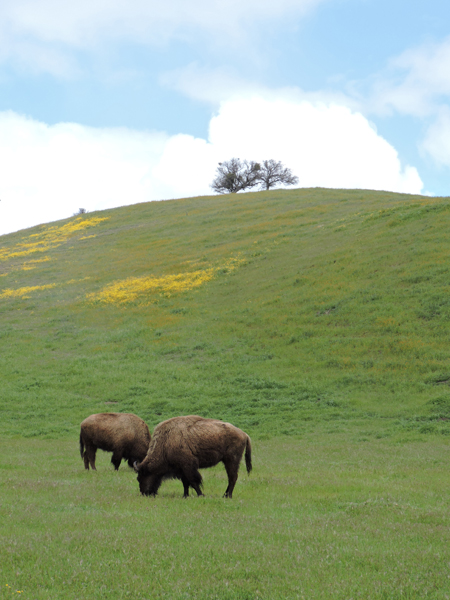 Montana de Oro State Park is so named Mountain of Gold due to the yellow and gold wildflowers growing there. Check the Elfin Forest for an assortment of native plants. Find Prickly Phlox springing from the sandstone cliffs on Highway 58. Look for mustard growing among the grape vines on Orcutt Road and vineyards everywhere.
Drive up See Canyon and through the Irish Hills or stop at Harmony on Highway 1 or take Santa Rosa Creek Road out to Linn's. In good years the fields alongside Highway 1 traveling north should show the tiny violet colored storkbill filaree and varieties of yellow dandelion.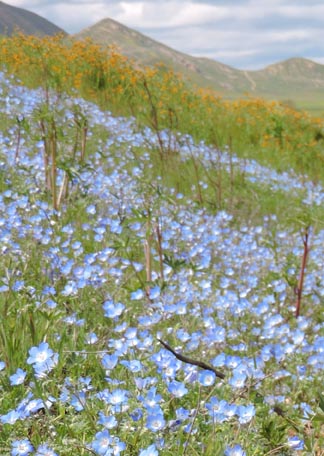 Turri Road between Los Osos Valley Road and South Bay Boulevard often has good displays of lupine growing in the fields. Lupine is also found on roadsides throughout the county.
Keep your eyes open, buy a good flower guide, and don't forget to always have your camera with you! Enjoy wildflower season on the Central Coast.
— Ruth Ann Angus
comments